Parrot pitches easy drone bundles at would-be DJI Spark pilots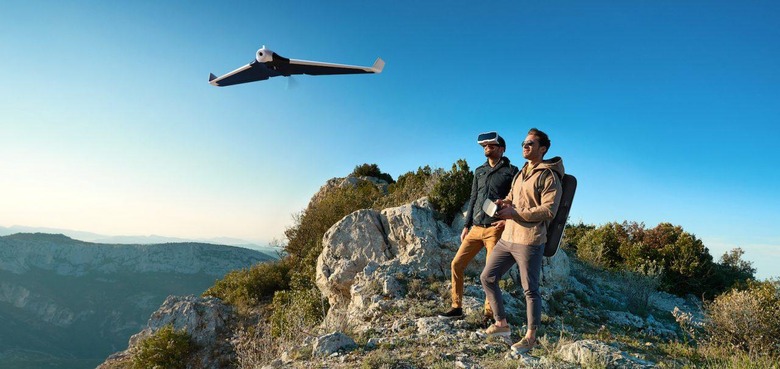 Easy-to-fly drones are big business these days, and Parrot is looking to get novice pilots off the ground sooner with a pair of "Adventurer" packs. Combining two of Parrot's most popular models – one fixed-wing; one quadcopter – the bundles allow newbie pilots to get a drone's-eye view courtesy of a head-mounted display. Meanwhile, there's also potential for autonomous flight.
The cheaper of the two bundles is built around the Parrot Bebop 2. That's a quadcopter with a fixed camera at the front, and Parrot throws in a Skycontroller 2 for actually using it; alternatively, Parrot's FreeFlight Pro smartphone app can be used for more casual flights. It'll manage up to 25 minutes in the air on a single charge, and can reach speeds of up to 37 mph.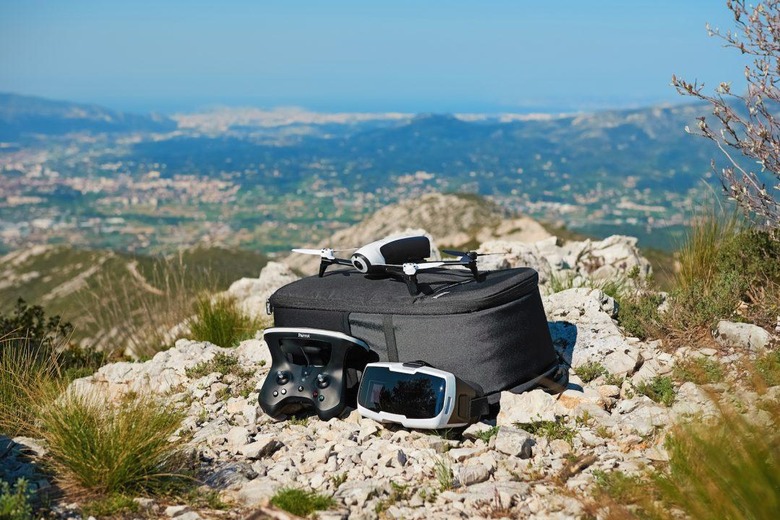 The front camera is 14-megapixels, and has a fish-eye lens for wide-angle shots. It'll capture Full HD video, too, and can beam back a live view to the Parrot Cockpitglasses: a "first-person view" headset. On the software side, there's an app that allows the drone to follow your phone, keeping you in the center of the frame even as you walk, run, bike, or otherwise move around.
Those who want longer airtime might want to look to the Parrot Disco Adventurer pack, however. That's based on the Disco fixed-wing drone, which has up to 45 minutes of airtime, and a top speed of up to 50 mph. It too comes bundled with the Skycontroller 2, for up to 1.2 miles of range.
A 14-megapixel camera on the front also supports Full HD video capture, and the FPV goggles. Parrot bundles a second battery, too, for up to 90 miles of range. On the software side, a copy of the Flight Plan app can be used to set autonomous routes: pilots can set waypoints with heading, altitude, speed, and camera angle, and the Disco will automatically take off, follow that route, and then land at a preconfigured spot.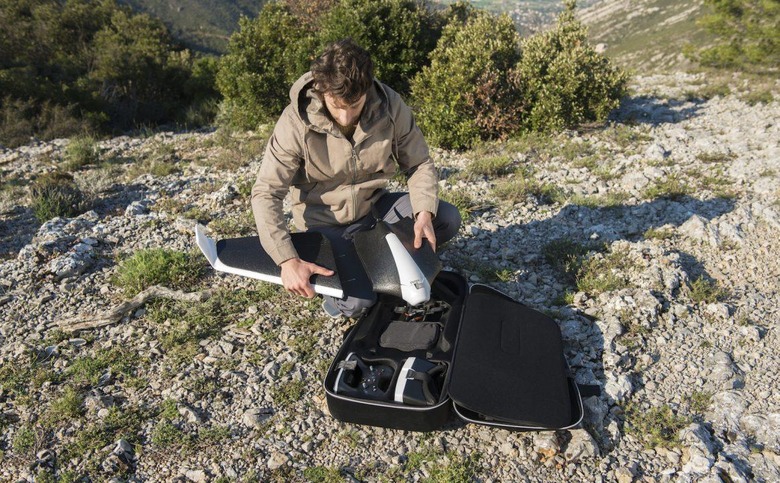 It's been a good few weeks for smarter drones. Back in May, DJI set its Spark drone loose in the skies, a fairly tiny sibling to the DJI Mavic, and which can be launched from the palm and controlled by hand-gestures.
Both Parrot Adventurer bundles come with a backpack to carry the whole kit around: the Bebop 2 gets a smaller, ergonomic pack, while the Disco gets a larger, rigid hull bag for extra protection. The Parrot Bebop 2 Adventurer bundle will be $579.99, while the Parrot Disco Adventurer bundle will be $999.99. Both will go on sale this month.