Parrot Bebop 2 drone boasts 25 minute flight time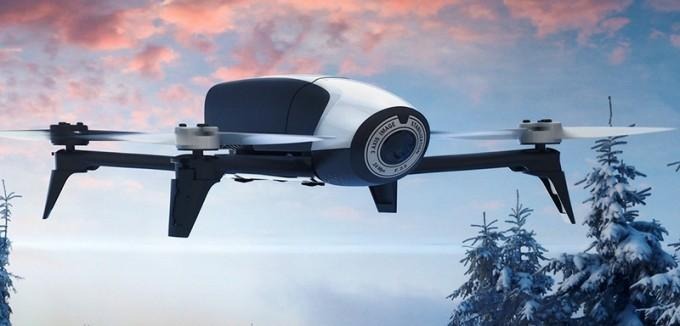 If you've been in the market for a consumer-grade drone, then you'll be happy to hear the latest announcement from Parrot. At a press conference today, the company announced the successor to their popular Bebop drone. The newer model has a lot of the same features that we saw in the original, with some very nice improvements.
To me, one of the most important features of any drone is battery life. After all, it doesn't do you much good when it's on the ground recharging. With that in mind, Parrot has announced that the Bebop 2 will have more than double the flight time of the previous model (25 minutes, up from 11 on the original).
The Bebop 2 features 6-inch propellers and more powerful motors, which the company says will provide a higher thrust-to-weight ratio, climbing to a range of 330 feet in just 18 seconds. You'll be able to reach speeds of 37mph horizontally, and 13mph vertically. The rotors will be the only moving parts on the device, which should help keep damage to a minimum, should you have a crash landing.
A lack of moving parts does mean that the company has decided to continue to use 3-axis digital stabilization in place of motorized gimbals. In fact, the 14-megapixel camera is relatively unchanged. You'll be able to capture a 180-degree image at 1080p, which will be stored on the 8GB of internal memory.
Like the original, you'll be able to control the Bebop 2 with your smartphone. You'll also have the option to purchase their special Skycontroller. You can pick up the Bebop 2 by itself for $550, or in a bundle with the Skycontroller for $800 when it goes on sale December 14th.