Tiny DJI Spark drone flies by gestures: Pricing, camera, and Autopilot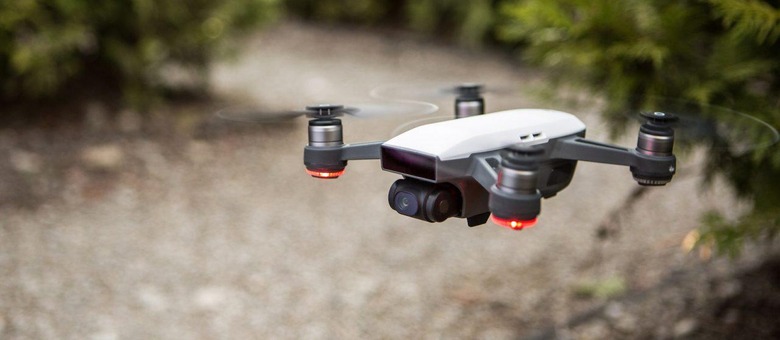 Drone pilots have a new, compact camera-drone option, with the DJI Spark promising not only portability but piloting so simple you don't even need a controller. Smaller than the DJI Mavic, the Spark mini-drone is designed to be controlled by hand gestures. Indeed, once it's powered-on and it takes off from your palm, it automatically starts watching for instructions.DJI is calling it Gesture Mode, and it gives control over the basics without needing to stare at your phone or a traditional control pad. You'll be able to send Spark up and away from you and then summon it back, along with taking photos, all with palm movements.
At the same time, there are still more traditional control options for those wanting to get a little more involved. It'll support both a dedicated controller, or using a smartphone or tablet. Like DJI's larger, more expensive models, there are various preset flight modes, too, intended to make creative shots more straightforward to novices.
DJI calls it QuickShot Intelligent Flight Mode, and it basically uses a preset flight plan and subject tracking to shoot a quick video. There are four different options: Rocket sends the Spark straight up, filming underneath it, while Drone flies it up and away from the subject. Circle rotates the drone around the subject, and finally Helix spirals it up in the air and away. QuickShot automatically captures a 10-second clip intended for social media sharing.
Two further modes are borrowed from DJI's grown-up drones. TapFly has been updated with a Coordinate sub-mode, that lets Spark automatically swoop over to a location you choose from your smartphone. A Direction sub-mode, meanwhile, flies the drone automatically in a direction you choose from the screen. ActiveTrack, meanwhile, locks onto a person or object you choose, and then follows it, making sure it stays in the center of the screen.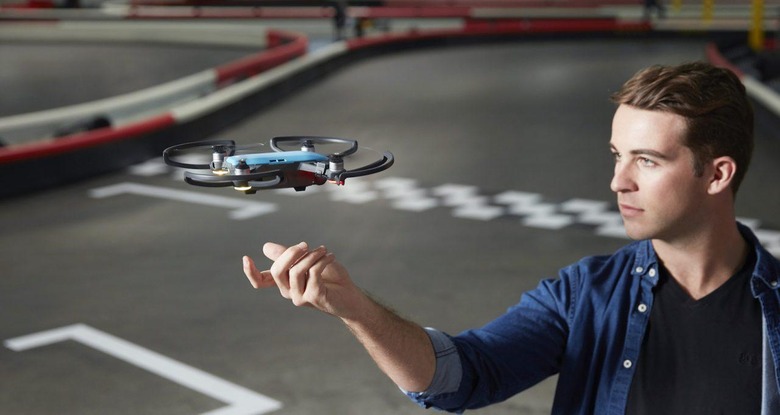 If you have the optional controller, however, you can also activate Sport Mode. That raises the Spark's top speed to up to 31 mph, and sets the camera gimbal to first-person view (FPV). If you've got DJI Googles, the company's drone-centric headset, Spark is compatible with that too.
As for the hardware, there's dual-band GPS, GLONASS, a forward-facing 3D sensing system, downward-facing vision system, inertial measurement, and 24 computing cores to process all that. Spark offers visual system assistance at up to 98 feet, and can sense obstacles at up to 16 feet away. If the battery gets low, the connection with the controller is lost, or the user presses the "Return to Home" button, it uses GPS to navigate back to its launch point, avoiding obstacles along the way.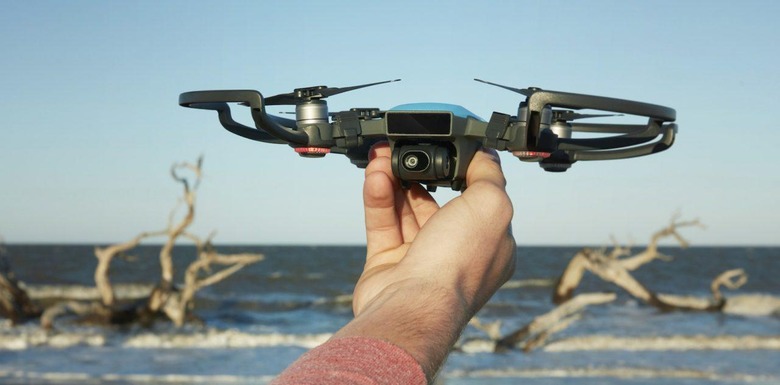 The 10.6 ounce drone uses a removable LiPo battery for up to 16 minutes of flight time. With the controller, it can beam back 720p video in real-time over up to 1.2 miles. The camera itself, though, has a 12-megapixel 1/2.3-inch sensor, that can capture up to 1080p videos. There's a 2-axis mechanical gimbal and DJI's UltraSmooth stabilization technology.
DJI has also thrown in some of its camera modes, but adds two new options on Spark. Pano Mode takes horizontal or vertical panoramas, automatically adjusting the drone's flight to capture enough still images to stitch together cleanly. ShallowFocus Mode, meanwhile, creates artificial depth-of-field pictures, keeping a section of the frame in focus while blurring the rest. The DJI GO 4 app also has various filters and auto-editing templates.
DJI Spark is available for preorder from today, priced at $499. That gets you the drone itself, a battery, a USB charger, and three pairs of propellers. It'll be available in four colors – Alpine White, Sky Blue, Meadow Green, Lava Red, and Sunrise Yellow – and is expected to ship in mid-July.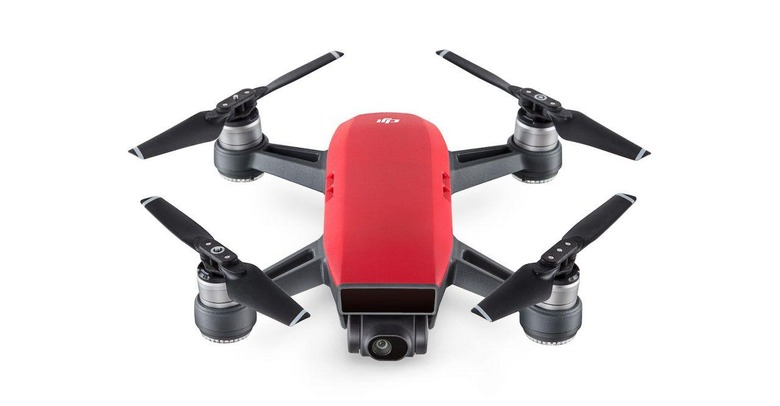 Meanwhile DJI will also offer a Spark Fly More Combo pack. That'll be $699, but throw in a second battery, four pairs of propellers, a remote controller, propeller guards, a charging hub, and all of the necessary cables. DJI will even include a shoulder bag to carry the whole lot.