Parrot Bebop Drone vs AR.Drone 2: What's Changed?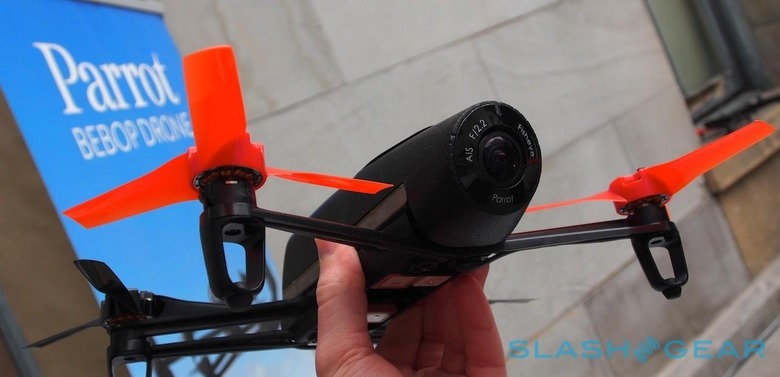 Parrot's hanger of drones is getting bigger, with the new Bebop Drone joining rather than replacing the AR.Drone 2. The new model flies further, promises to shoot better quality video, and has a smarter autopilot on-board, but it's also going to cost more than the AR.Drone 2 it will sit alongside on store shelves. So, will it be worth the upgrade?
The AR.Drone range is now in its second generation, with the AR.Drone 2 – revealed all the way back in 2012 – being easier to fly than its predecessor, as well as stepping up to 720p video. A GPS upgrade in 2013 made it smarter, too.
It also plays nicely with a range of controllers, as we saw with its NVIDIA SHIELD integration.
Size and Construction
Bebop is smaller than the AR.Drone 2, helped by a much more compact "hull" for safer flight indoors and when near people. The AR.Drone 2 measures in at 45 x 45 cm without its hull (57 x 57 cm with it in place), versus a considerably more compact 32 x 28 cm for the Bebop drone (38 x 33 cm with the hull).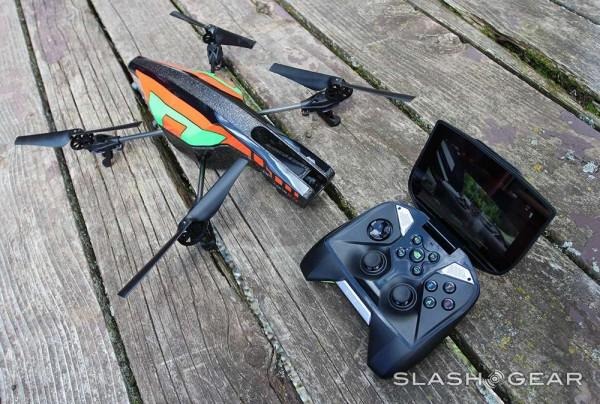 That makes for a smaller, lighter, more nimble drone, particularly useful when indoors. Both use a glass fiber reinforced ABS structure, with EPP hulls; the Bebop's bumpers are easier to attach and detach, however, simply clipping onto the motor hubs.
We've seen the Bebop Drone take some seriously rough landings without breaking, but as with any consumer drone there's always the chance that poor or unlucky piloting could lead to damages. Parrot has updated the motor and propeller mounts to allow for easier repairs on the new drone.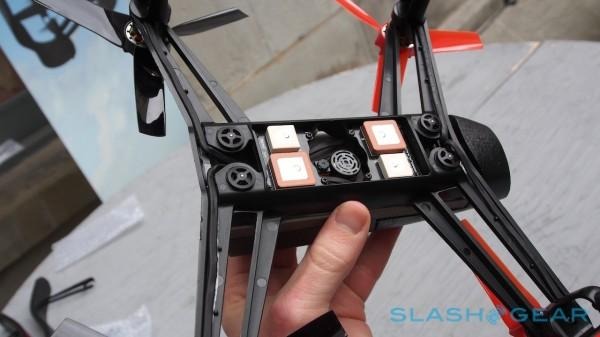 Flying Smarts
As any true R/C helicopter owner will tell you, flying them can be devilishly tricky. Parrot and other consumer drone companies have tackled that by building in complex autopilot systems, so that both the AR.Drone 2 and the Bebop Drone can tackle things like takeoff, landing, and stabilization even in windy conditions by themselves.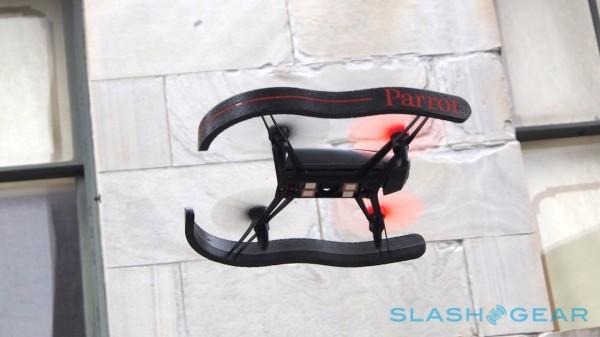 Each has a 3-axis accelerometer, 3-axis gyroscope, and a 3-axis magnetometer, as well as an ultrasound sensor, pressure sensor, and a vertical camera which can track ground-speed based on movement underneath the drone.
The AR.Drone 2's GPS Flight Recorder – which plugs into the drone's USB port – adds GPS, but the Bebop has GPS/GLONASS/GALILEO baked in, for more accurately following preset courses (including the pilot specifying which way the drone should be facing at each point) and returning not only to the point of takeoff, but where the pilot is currently.
All that requires extra processing, so Parrot has upgraded the Bebop's brain, too. It has a dualcore ARM A9 processor, with a GPU and proprietary Image Signal Processor. In contrast, the AR.Drone 2 makes do with a single-core A8.
Controller Cleverness
Parrot's usual method of control is via its iOS or Android apps, which show a live video feed from the drone's camera, and allow the pilot to adjust movement in all directions as well as trigger auto-takeoff/landing, and snap photos or begin video recording. The same app can also be used to set autopilot courses.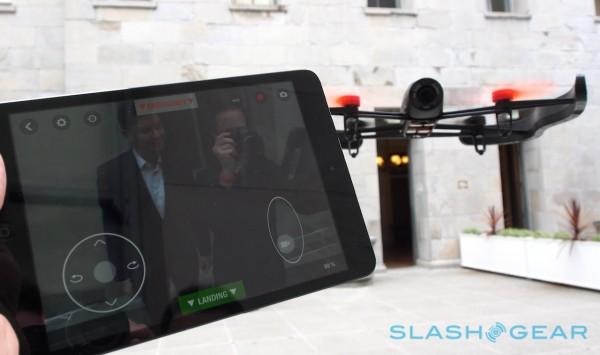 Where the models differ is in WiFi range. The AR.Drone 2 has WiFi b/g/n for a claimed range of just 200 feet with line-of-sight; if it wanders outside of that, it'll automatically try to return home.
In contrast, the Bebop Drone has WiFi 802.11ac with a quad MIMO antenna array and pilot-selectable 2.4/5GHz support, a much more powerful system. Parrot says that's good for up to 525 feet of range with line-of-sight, controller device depending.
If that's still not enough for you, Parrot has a new Skycontroller: effectively a massive, boosted WiFi antenna array that, at 36dBm,nudges up against the legal limits for wireless strength, the company tells us. With it, the Bebop Drone can fly up to 2km (1.24 miles) away and still be under control, with a mount for an iPad or smartphone in the middle, and traditional joysticks for easier piloting.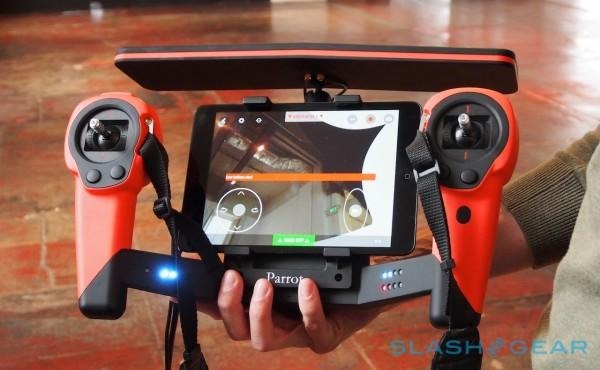 The Skycontroller also opens the door to things like Oculus Rift integration, since it has an HDMI output. That should, in theory, work with other VR headsets like Epson's Moverio BT-200, the previous version of which we've already seen controlling the AR.Drone 2.
Since there's still some lag between the video feed and what the drone is actually doing, the Moverio's transparent displays might be an even safer bet than Oculus' headset, since you'll be able to simultaneously see both the Bebop's view and what's happening around you.
Cameras
Parrot is positioning the Bebop Drone as a videography tool, and it introduces a significant step up in picture quality versus the AR.Drone 2. The second-gen model can record 720p to the GPS dongle's 4GB of internal storage (assuming it's installed); in contrast, the Bebop has 8GB of storage and records 1080p.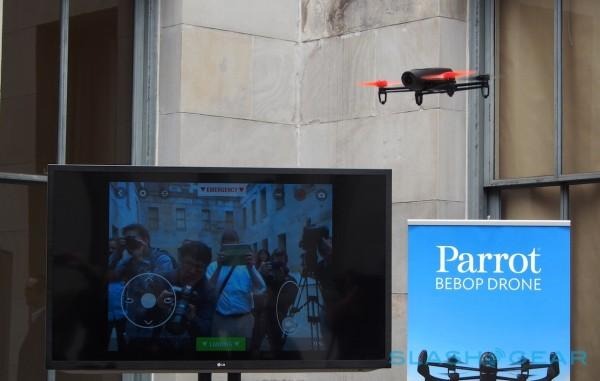 That's not the only improvement, however. Recent camera drones, like DJI's Phantom 2 Vision+, have increasingly put their cameras on an independently controlled mount, and like them the Bebop Drone's video perspective can be adjusted. Parrot, however, does it with no moving parts.
Instead, it uses a hefty 14-megapixel camera sensor paired with a 180-degree fisheye lens. A 1080p clip is only a small subsection of that overall frame, so by adjusting the crop, Parrot can give the impression of a moving camera while also feeding the video through digital image stabilization and correcting for Earth curvature. It's an impressive approach, capable of looking to the side of the drone, as well as up at the sky and down at the ground, without the Bebop physically moving at all.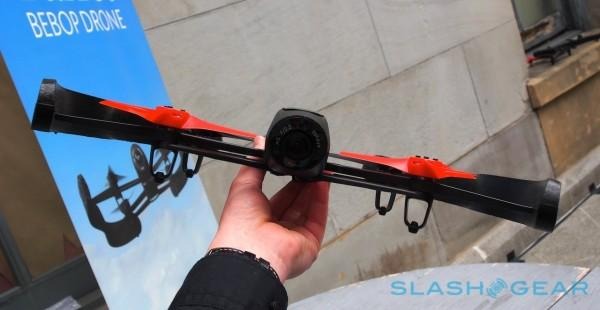 Which is right for you?
If you're serious about remote-control video, there's no question: the Bebop Drone's upgraded videography system is far more flexible than anything its Parrot predecessors can manage. The combination of Full HD stabilized footage and independent panning is a marked step up.
Range is better, too, and the more compact drone proved a little easier for us to fly – particularly indoors – than the AR.Drone 2. Of course, with the GPS Flight Recorder option, the older model is still pretty accurate and gets the auto-piloting system, so that's less of a differentiator.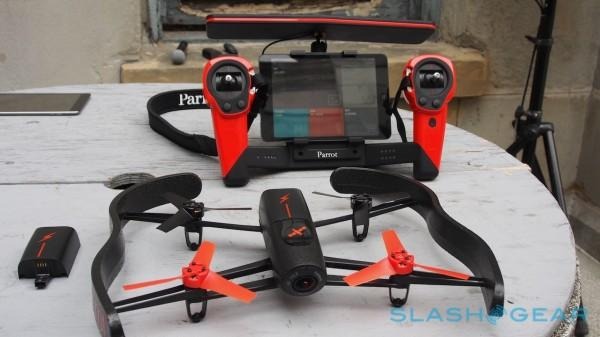 The biggest issue will be price. Parrot hasn't confirmed exactly how much the Bebop Drone will cost, though a source at the company suggested to SlashGear that it would be 2-3x the price of the AR.Drone 2, which will remain on sale. That would put it somewhere in the region of $600-900 (in contrast, the Phantom 2 Vision+ is $1,299) though without the range-boosting Skycontroller.
In short, if you're looking for a fun drone diversion, the AR.Drone 2 may still be the most cost-effective way to get it. Anyone looking to do legitimate flying videography, however, should start saving up for the Bebop Drone's release in Q4 this year.