Parrot AR.Drone controlled via wearable Android headset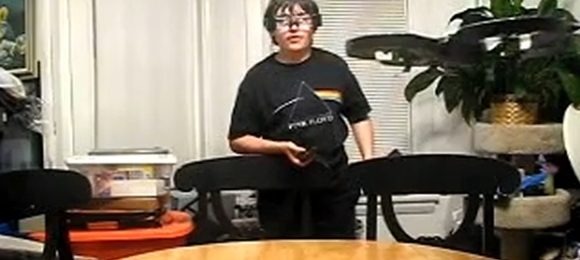 Ever since first coming to the market, Parrot's AR.Drone has found a wide variety of uses thanks to its agile nature combined with a camera able to pipe video directly to your smartphone. Controlling the drone and seeing video on such small screens hasn't always been ideal, though. Thomas Sohmers, tech geek and inventor, has come up with an alternate method of controlling the drone while keeping an eye on the feed.
The Epson Moverio BT-100 was designed as a pair of video glasses running Android, with two small LCD screens that sit close to your eyes, emulating a big screen experience. While they're designed as a portable movie and TV watching solution, Sohmers has taken advantage of the see-through display and controller in order to watch the video fed coming from the AR.Drone while also making basic adjustments such as thrust and rotation.
Because the Moverio is running Android, it can run the AR.Drone application naively. The drone also creates an ad-hoc WiFi network, allowing the Moverio to connect and receive the video, as well as send control commands. It's far from perfect, of course, with some controls still not working.
Still, it's a nifty little demo, even if the price to get everything running is a little high. The Moverio glasses retail for around £500 (~$785), with the AR.Drone itself coming in around $300.
[via Engadget]