Panasonic Toughpad A1 and Toughpad B1 Android tablets revealed

This week the folks at Panasonic have revealed one tablet and named a second, the first being the Toughpad A1, a 10.1-inch Android 3.2 Honeycomb tablet with a processor from no less than Marvell, the most elusive chipmaker of all. Of course Marvell has appeared in mobile devices before, but the last time we spoke about them in regards to a mobile device was in the Vizio Tablet, then before that was a Chinese smartphone and on the Chumby 8. Here we see Marvell sitting inside the tablet with a 1.2GHz dual-core processor, this aside 1GB of RAM, 16GB of storage, and a microSD card slot for expansion up to 32GB more.
The reason the two tablets being announced today are called Toughpad, or at least the reason why the A1 is called a Toughpad, is that it's got a 4-foot MIL-STD-810G drop rating, operating temperatures between 14 and 122 degrees Fahrenheit, and resistance to dust and water ingress. We'll see about that! In addition, the A1 tablet is a massive 2.13 pounds heavy, has a stylus pen, and has front and rear-facing cameras of unnamed size. There's a "serviceable" battery inside, and you've got the option of getting the tablet with access to LTE or WiMAX connectivity.
Take a peek at every other Android tablet getting smashed while the Toughpad takes all the beating a good hardcore tablet aught to:
This device (the A1) also has software encryption, custom deployment and device management that they say is not found in any other consumer tablet, dual-factor authentication, and more business-oriented safeguards that'll keep your boss satisfied with the amount of safe their information is in the guts. Panasonic's A1 tablet will be working with a cloud-based storefront by the name of Business AppPortal and will have a handful of vertical market apps as well as virtualization and security solutions.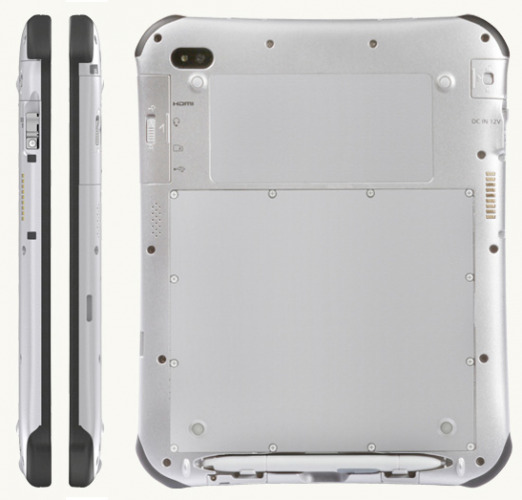 There's also the Panasonic Toughpad B1, the 7-inch version of what's been listed here in the A1, no additional specifications about which have been listed as of yet. We can expect similar specifications, including another Marvell processor.
BONUS: Since it's so rare we get to speak about Marvell, have a peek at an old video of a device platform made by Marvell that may well have been a lost end, but we'd be glad to see it pop up again – Kinoma. What this project consisted of was Symbian running Windows Phone, and the potential of running Android apps, vice versa, and all the way back again. Have a peek at this Mobile World Congress 2011 clip here:
[vms 11dd7e8d9c510137a238]
Maybe we'll see it at Mobile World Congress 2012.