OPPO Find 5 vs iPhone 5: brands' top-tier mobile devices clash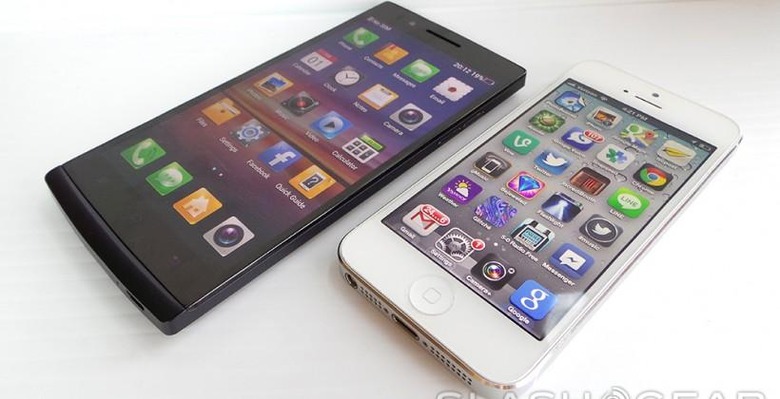 With the OPPO Find 5 seeing a surprising amount of interest in the forums and across-the-ocean mobile carriers of the world this month, it comes time to compare to one of the other most-searched smartphones on the planet: the iPhone 5. Both devices are the hero smartphone for their manufacturer, and both work with the newest (or ever-so-close to newest) mobile operating system available to them. Other than that, they're quite a bit different from one another.
While the iPhone 5 has seen significant success since its launch last year, OPPO's launch of the Find 5 has been limited. The OPPO Find 5 is only out in and around China, and if you're planning on using it in the USA, you'll need to make more than a little bit of effort to have it sent to you. Once you have the Find 5 in-hand, you'll find it impressive as a non-major-brand device can be.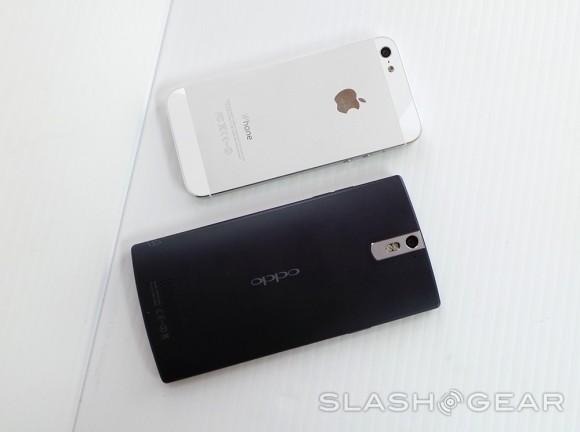 The OPPO Find 5 works with a 5-inch display with 1080 x 1920 pixel resolution, this bringing it up to 441 PPI. Meanwhile the iPhone 5 has a 4-inch display with 640 x 1136 pixel resolution, putting it at 326 PPI. Both devices have generous viewing angles, and the operating systems running on each device is optimized for the screen size they're working with
Android and iOS can be compared, but because they're working with completely different app ecosystems, it'd be a mistake to compare the iPhone 5 to the OPPO Find 5 in any more than a piece-by-piece fashion. It really comes down to user preference when you see these devices in action, and with both using Google or Apple's newest operating system right out of the box, basic system abilities are more similar to one another than they've ever been before.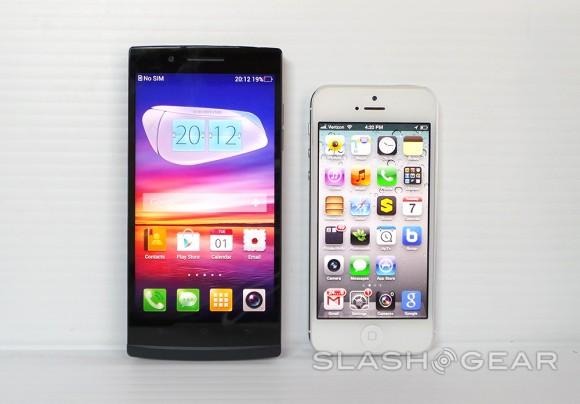 The iPhone 5 is significantly smaller than the OPPO Find 5, coming in at 123.8 x 58.6 x 7.6 mm (4.87 x 2.31 x 0.30 in) with a weight of 112 g (3.95 oz). The OPPO Find 5 is sized at 141.8 x 68.8 x 8.9 mm (5.58 x 2.71 x 0.35 in) with a weight of 165 g (5.82 oz). You'll find the iPhone 5 fits the palm of your hand in a more natural way while the Find 5 brings a display size better suited to those looking to play high-powered games and high-definition videos.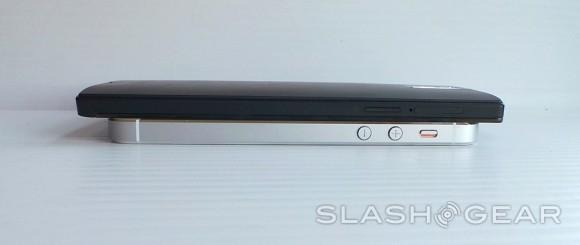 The iPhone 5 and the OPPO Find 5 take fine photos and video, but the Apple product is perfected in a way that allows basically any user to take really nice looking shots. The Find 5 has the ability to capture media that looks nice, but it's not quick to do so. A user not ready to hold their device steady against a solid surface for every photo and video should beware, for certain.
Have a peek at our iPhone 5 review as well as our OPPO Find 5 review and see for yourself which device is ready to command your hand. This selection will likely be based a bit more on your location on this planet than your preference for smartphone prowess and the release size is quite different between these two bits of technology – and let us know if either strikes your fancy.