OPPO F9 teardrop notch up-close hands-on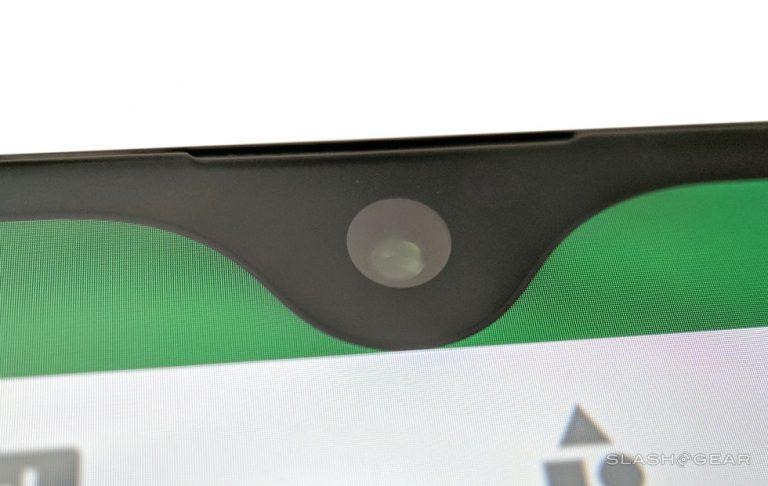 Here up close and personal with the OPPO F9 we've got a look at what could very well be the next wave in OnePlus smartphone aesthetics. Much like the OPPO phones that came before it, this OPPO F9 has a sleek body and a look that defies the norm ever-so-slightly. In this device is a near full-frontal-coverage display. In this device is a peek into the future for America released first in a brand that rarely reaches our shores.
This device is very similar to another OPPO smartphone revealed on the 13th of August, 2018. That is the OPPO R17, a device I also related directly to the OnePlus 6T. I'm doing this not because OPPO phones are lesser, but because OnePlus phones are more likely to reach consumers here in the USA.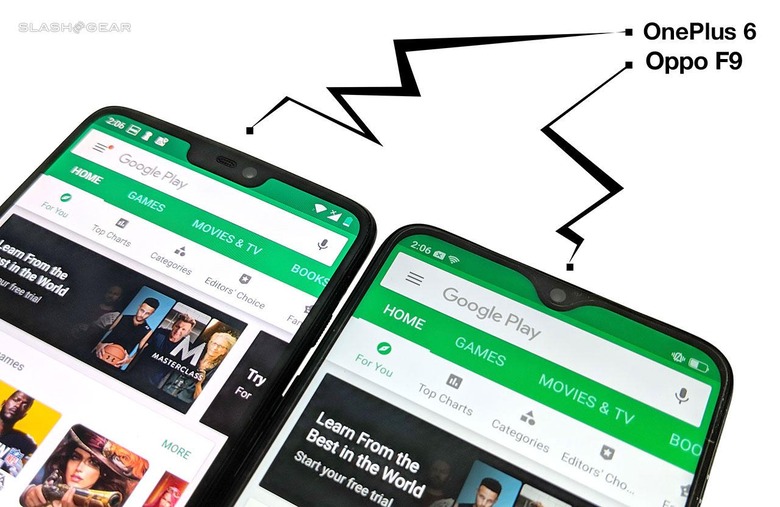 I'm also doing this because precedent dictates that these two very close companies work together to design smartphones. It would seem that the last few years have shown us that the OnePlus smartphone about to be released is always very much extremely similar to the OPPO R-series phone that's just been revealed.
In this case, OPPO also revealed a phone called OPPO F9, a smartphone that's got nearly the same body as the R17 and likely the OnePlus 6T. In this device is an ever-so-slightly different sort of notch than those phones that came before it. This isn't the first one-camera notch – that distinction goes to Essential Phone PH-1 – also the company to release the first notched-display smartphone of them all.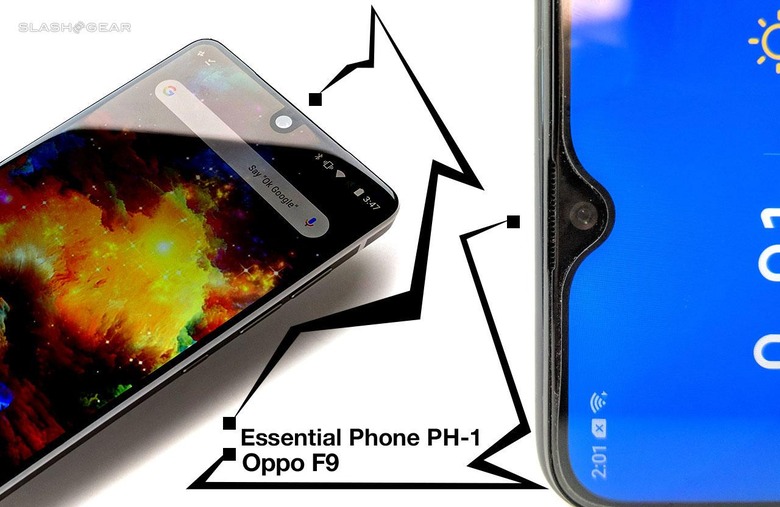 The difference between the Essential Phone PH-1 notch and this one is the style of the black bar that surrounds the camera. Where it's more of a flat-sided U-shape with the Essential Phone PH-1, here on the OPPO F9 it's more of a rounded-edges dip. It feels a little more natural and less interruptive.
But in the end it's still a notch, and we're gonna have to deal with it. Have a peek at our first OPPO F9 details post to learn about this smartphone's specifications. And stick around as we give this phone a full review, top to bottom. UPDATE: See our Oppo F9 Review!