Open Source Virtual Reality gets massive with Unity and Unreal Engine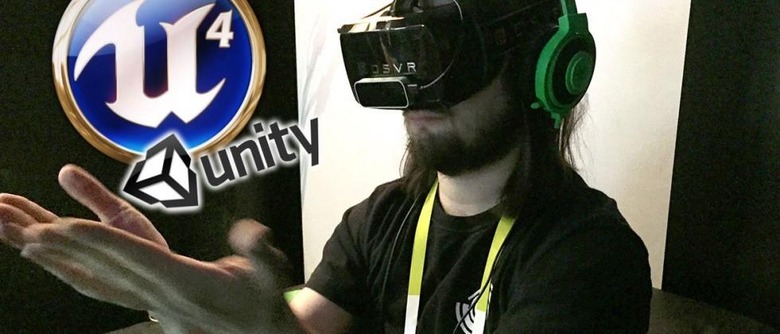 Plugins for both Unity 5 and Unreal Engine 4 have been released to the public for OSVR, the Open Source Virtual Reality program. This system was first initiated by the folks at Razer, appearing at CES 2015 with a brand new OSVR Dev Kit virtual reality headset. In the very short time between then and now, they've racked up quite a few heavy-hitting partners. This system also works with Vuzix technology and has racked up partners like Ubisoft, Seven Hill Games, Homido, and castAR.
This program also has 3DRudder onboard as a supporter. Also included is Impulsonic, Jaunt, Lucidscape, and Cyberith. VR Bits is onboard with VisiSonics, SoftKinetic, Pixel Titans, and Tammeka Games. Below you'll see a demonstration of the game Radial-G: Racing Revolved as presented by Tammeka Games this past month at GDC 2015.
The Open Source Virtual Reality group also has an "Academia Program" which provides 10 OSVR Hacker Development Kits as well as full access to the OSVR source code to any eligible university.
This university much have or be in the process of creating a full VR lab. Imagine expanding a brand new lab with 10 brand-spanking-new headsets right off the bat.
Have a peek at our first OSVR Hacker Dev Kit hands-on from CES 2015 and stay tuned for more OSVR action in our Virtual Reality tag portal through the future!