OnePlus Concept One revealed with color-shifting glass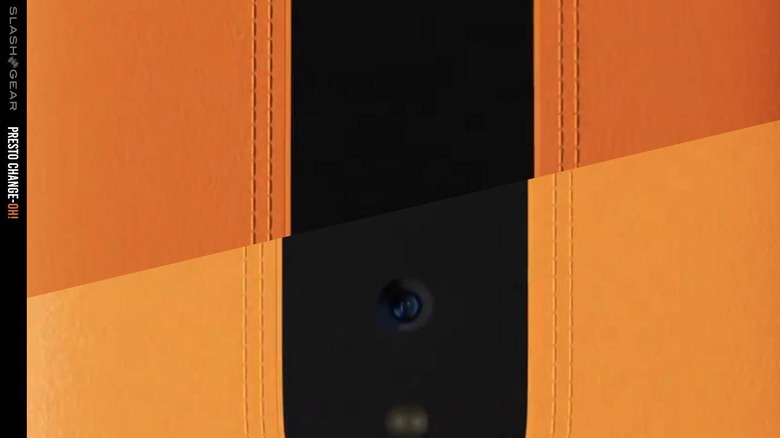 Today a new OnePlus Concept One was revealed at CES 2020. This device is essentially a modified OnePlus 7T Pro (effectively) with a leather back* and some electrochromatic glass over its camera lenses. This is a system that'll at least change the way we see how the back-facing cameras on a smartphone are handled – if not the way we expect smartphone glass to be used entirely.
*The leather here is the same as used in the McLaren 720S. You can see a lot more about this vehicle in our 2020 McLaren 720S Spider First Drive Review. Look at that leather interior! The OnePlus 7T Pro McLaren Edition also has a "plush Alcantara and carbon fibre case," mind you.
One model of the OnePlus Concept One has the eye-searing bright papaya-orange leather of the McLaren with visible stitching, not unlike the McLaren Edition OnePlus models of the past. Down the center of this brightness is a black pane of glass and the OnePlus logo x McLaren.
The OnePlus Concept One uses color-shifting glass to cover it's back-facing cameras for aesthetic purposes. This is the same electrochromic glass technology used in the optional sunroof of the McLaren 720S and the 2018 McLaren 570GT.
If you'd like to know more about the smartphone's design up front, you could take a peek at our OnePlus 7 Pro review. That phone is effectively the same as the OnePlus Concept One with regard to its front-facing display and curved glass and all that good stuff.
The OnePlus Concept One release date is effectively non-existent, since it'll never be available to the public in its current form. The price of the OnePlus Concept One is also non-existent, since it'll never be available for sale. Instead, this is similar to other concepts we've seen at CES over the past decade: Fantastic enough to gain acclaim and show floor awards, serving primarily as a show of what's possible in future devices other than this.