2020 McLaren 720S Spider First Drive Review: The Exquisite Flaw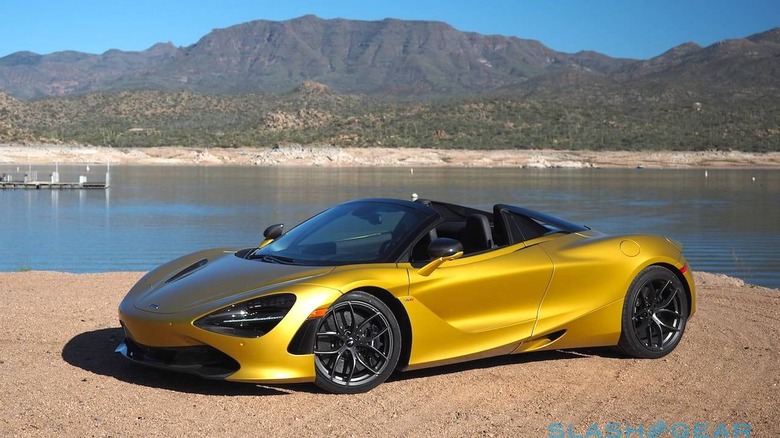 It was while trying to calculate, for the fourth or fifth time, which organ or combination of organs I could sell in order to afford a McLaren 720S Spider of my own that I found myself thinking about perfection. Nothing quite gets the juices flowing like a supercar edition of "which would you buy?"; similarly, nothing provokes so fierce a debate as arguing the pros and cons of incredibly expensive cars few of us could hope to acquire.
Perfection is a moving target. There's straight-line pace, of course, but only the most literal of Top Trumps players would say that 0-60 or top speed are the be-all and end-all of a supercar. Engine size used to be king, but the advent of supercharging, turbocharging, and hybridization has proved that smaller needn't mean lesser.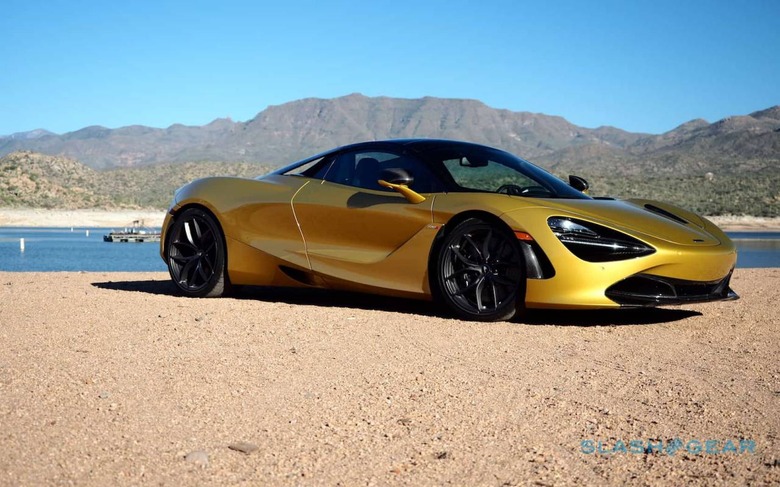 Styling is subjective. How much luxury should be in a supercar, meanwhile, is another matter of opinion. Some expect coddling with their face-warping acceleration; others can't enjoy themselves if they're not in a spartan cocoon of naked carbon fiber.
What I guess I'm trying to say is that I can't tell you if the 2020 McLaren 720S Spider is the perfect supercar. Objectivity simply doesn't apply when you're talking about upwards of $315,000.
720S Spider by the numbers
Figures may only be a fraction of the story, but this convertible 720S doesn't disappoint on that front. 710 horsepower and 568 lb-ft of torque from a 4.0-liter twin-turbocharged V8. 0-60 mph in 2.8 seconds – matching, notably, the 720S Coupe – and 0-124 mph in just 7.9 seconds. A top speed, roof up, of 212 mph.
They're the obvious digits, the ones every car competes on, but in the case of the 720S Spider it's the other numbers that I find most impressive. Take weight, for example. McLaren's deft hand with carbon fiber leaves the car at 2,937 pounds dry, a mere 108 pounds more than the Coupe.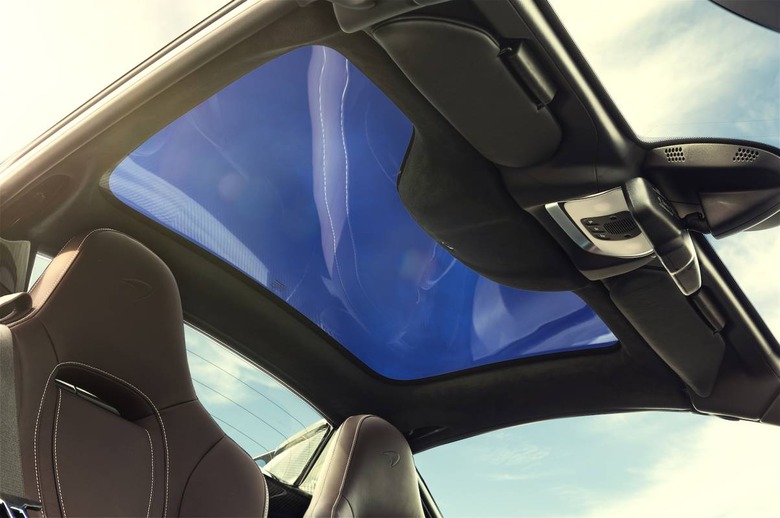 That's despite accommodating a new convertible roof, which McLaren calls the Retractable Hard Top, or RHT. Unlike the two pieces that comprise the 600LT Spider's roof – or indeed the 650S Spider's, the car which the 720S Spider replaces – the RHT is a single piece, shuttled away in 11 seconds and at speeds of up to 31 mph. Spend just shy of $10k more, and McLaren fits it with an electrochromic glass panel that flips from near-opaque to transparent at the tap of a button.
The miserly increase in curb weight is down to McLaren's particular breed of obsession. The 720S was designed with both Coupe and Spider variants in mind: its carbon fiber tub has all the reinforcement required to keep the car flex-free and stable, even without the central strut that joins windshield to rear window in the Coupe. It's foresight that underscores how special this car really is: removing the roof in most vehicles is a shortcut to poor driving dynamics, but that problem simply isn't here.
The usable supercar
Lacking the useful cut-outs in the roof of its sibling, which give entry and exit a little more chance of being close to graceful, the 720S Spider's dihedral doors have been tweaked. They open higher, now, though not as wide as those of the old 650S Spider. That way you get more space to shimmy in, and aren't as likely to be trapped in narrow parking spots. The most elegant way, I found, is to drop in rump-first, swinging in your legs as you fall, and then using the last of your momentum to grab the door by its handle and pull it closed.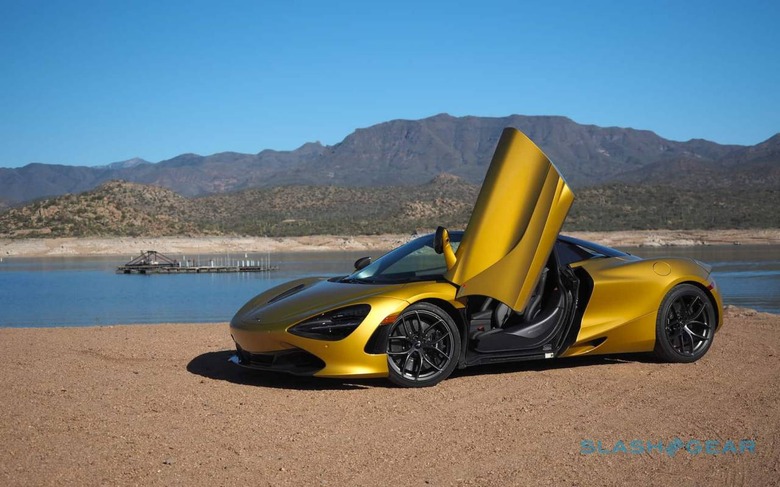 Inside, McLaren's charm is in full effect. The custom switchgear – each button, dial, and control crafted especially for the automaker – is a pointed reminder of how much parts-bin sharing goes on, even in some of the most expensive exotica out there.
This Aztec Gold 720S Spider is the Luxury specification, which means special leather, electrically-adjustable and heated sports seats, and an 8-inch touchscreen display. Someone at McLaren had clearly gone to town on the options, however. $44,000 on carbon fiber packages and upgrades alone; another $4,420 on a 12-speaker Bowers and Wilkins audio system.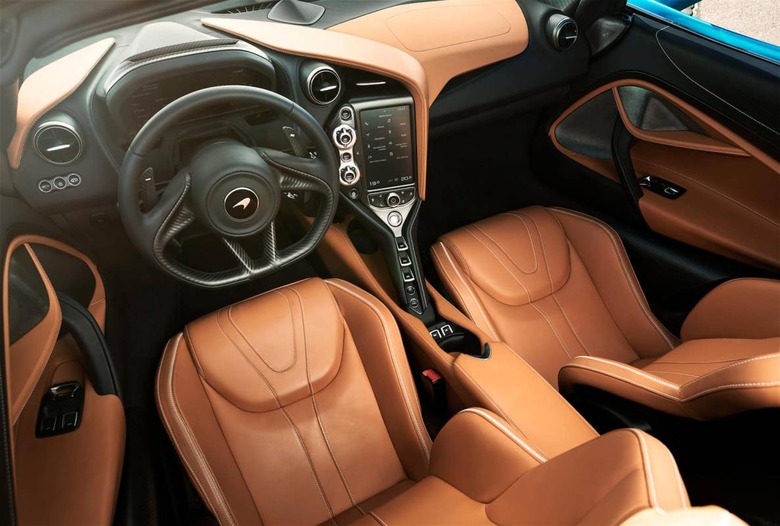 I left the latter switched off. One the best features of the 720S Spider doesn't cost you any more, the glass rear window being independently controllable from the convertible roof. With the RHT up, you can drop the rear glass and allow more of the V8's siren howl into the cabin. When the RHT is down, meanwhile, the window acts as a wind deflector.
A song of performance
Anything which brings more of the 720S Spider's engine noise to your ears is a deeply pleasing thing. It's high-revving and eager, coaxing you to get closer each time to the 7,500 rpm where peak horsepower arrives.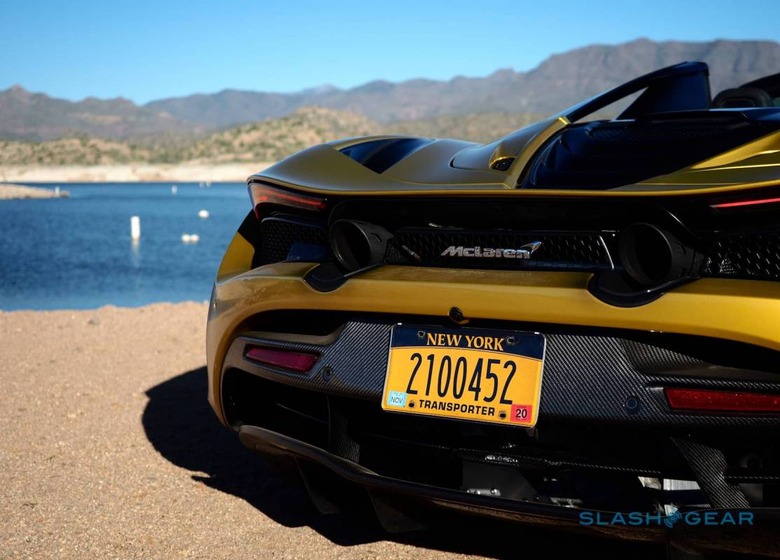 The speed it unlocks is a tangible, visceral thing. Graze the accelerator and the McLaren surges forward. No braying, twitching, or rear-end shimmying: just six-figure British engineering somehow managing to feed 710 horsepower through the rear wheels without disaster ensuing.
You can change gears yourself, clacking through the 7-speed SSG transmission with paddle-shifters shaped like an oversized Batarang, or leave the 720S to do all that for you. Grip, instead, the perfectly-sized steering wheel, with its perfect weighting, and tune in to the perfect amounts of road feedback it telegraphs into your body.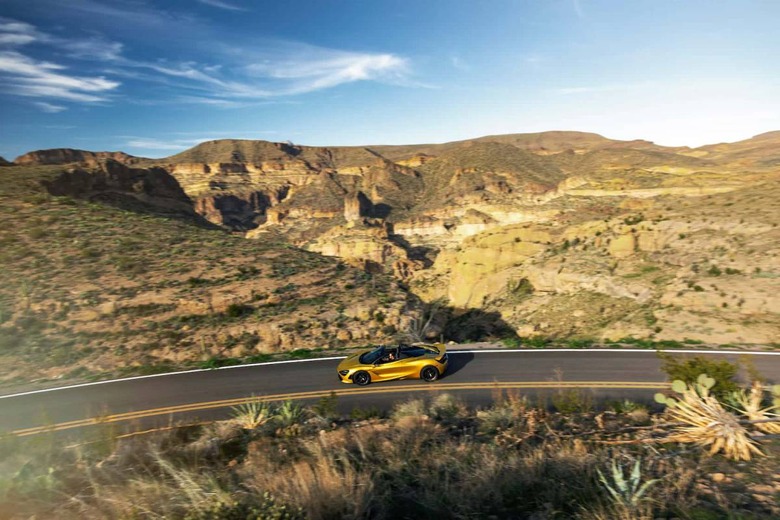 The carbon fiber brakes are equally up to the task, though they demand a firm shove in order to unlock their maximum potential. Before you know it, though, you're in the corners, and the McLaren's other talent makes itself known.
Few cars corner so well – so adeptly and with such clear communication of grip – as the 720S Spider. McLaren's active dynamics system offers three modes for both handling and powertrain but, regardless of which you find yourself in, the supercar just sticks. It's forgiving and accommodating in a way that most fast cars won't deign to be.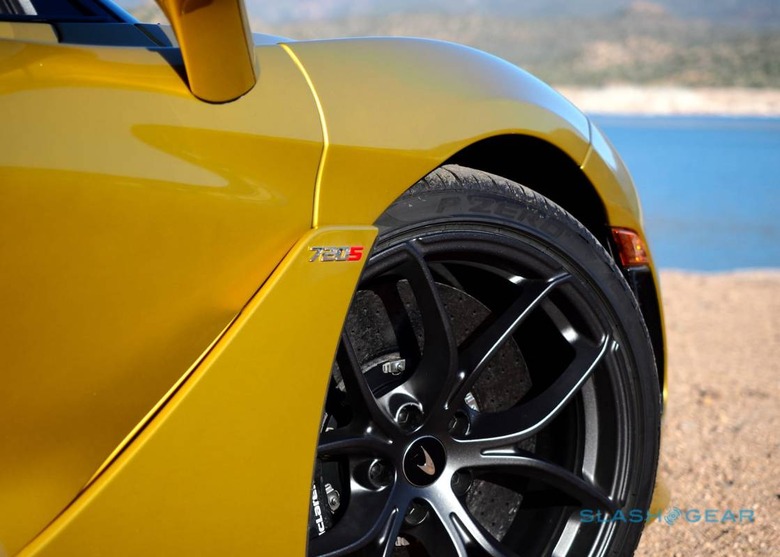 Whether you've carried too much speed into a turn, or overcooked your steering, the 720S just quietly rescues you. There's none of the jarring, scolding intrusion of furious electronics when it does so, either. It's like McLaren sees you, a grinning, stumbling toddler trying to enjoy themselves as best they can, and grabs you by the hand so that together you can run.
The one thing better than exquisite
That usability is arguably the biggest surprise. Set everything to normal mode and you could have the 720S Spider as a daily-driver. Visibility is astonishingly good, the expansive windshield coupled with the pretty – and engineering-intense – glass flying buttresses ensuring the view front and rear is unexpectedly clear. McLaren's Proactive Chassis Control II system, which controls the adaptive dampers among things, is just as much at home smoothing out freeway potholes as it is making sure you go gliding around the track.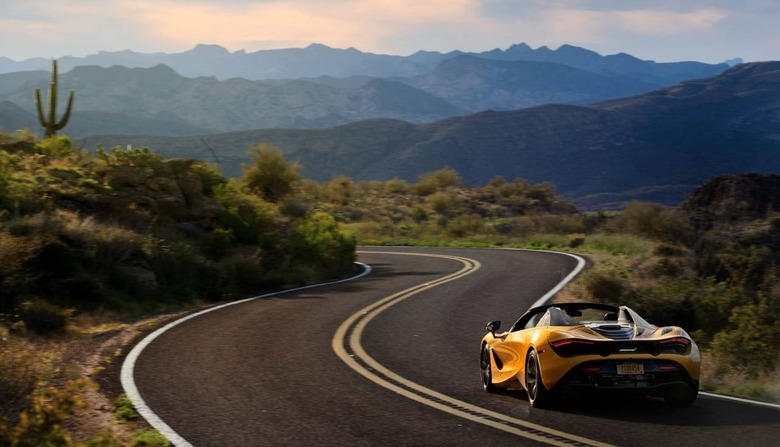 There's a line in the television series Frasier which comes to mind. "What's the one thing better than an exquisite meal?" Frasier asks his fiendishly-fussy brother Niles, rhetorically. "An exquisite meal with one tiny flaw we can pick at all night."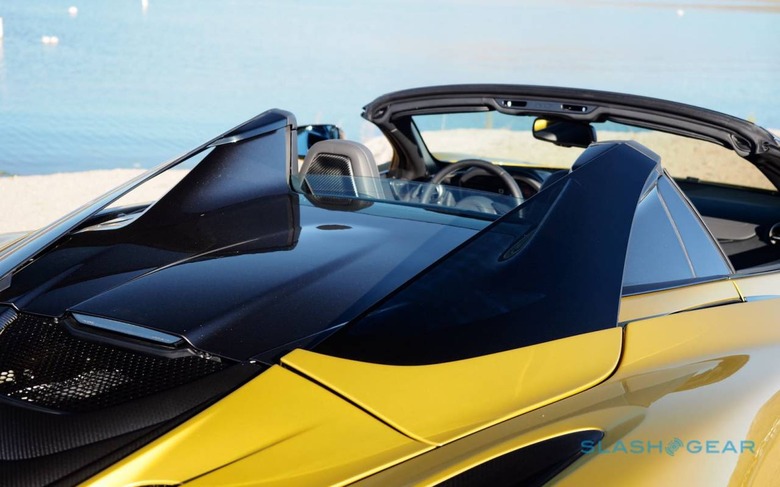 What, then, is the 720S Spider's tiny flaw? Certainly, its shortcomings are small, in some cases quite literally. The front trunk, for instance, is on the compact side. You could fit a few soft bags in there, but one hard-sided carry-on is probably your lot. McLaren's infotainment, though improved over what you find in the Sports Series – not least because you can see its touchscreen while wearing polarized sunglasses, which always helps – is still finicky and a little convoluted compared to rival systems.
Then there's the fact that, with the RHT open, the top speed drops from 212 mph to 202 mph. Incredibly disappointing, I know.
Verdict
Seriously, though, I'm struggling to find places to criticize. Maybe you don't like the design, or the fact that most people won't recognize what a McLaren is. Maybe the thought of frequently hearing "is that a... Lamborghini?" prompts, not a shiver of exclusivity, but of frustration.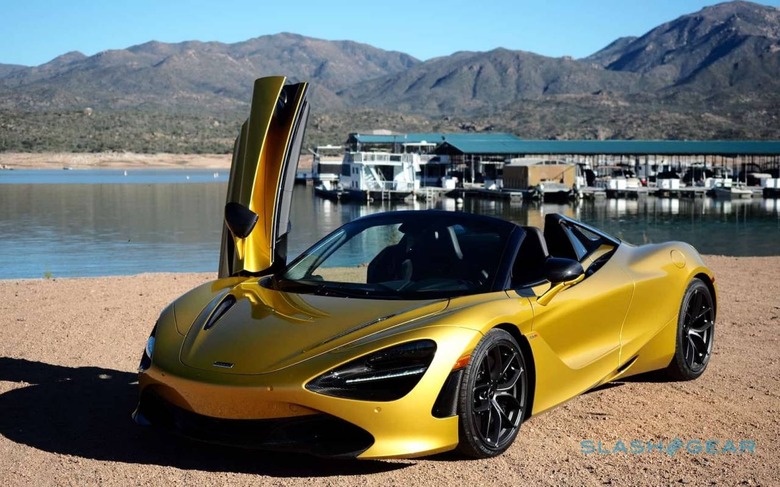 Here's the thing. I could drive the McLaren 720S Spider every day of the year. On dry days I'd put the roof down, and dare the sun to make lobster meat of my pale British flesh. In the wet, I'd open the rear window so that the eager song of the V8 had easier access to my ears. And either way, I doubt I'd ever tire of the heady blend of performance, usability, and personality that McLaren serves up so well.
That sounds a whole lot like perfection to me.