2018 McLaren 720S Review: Beware the British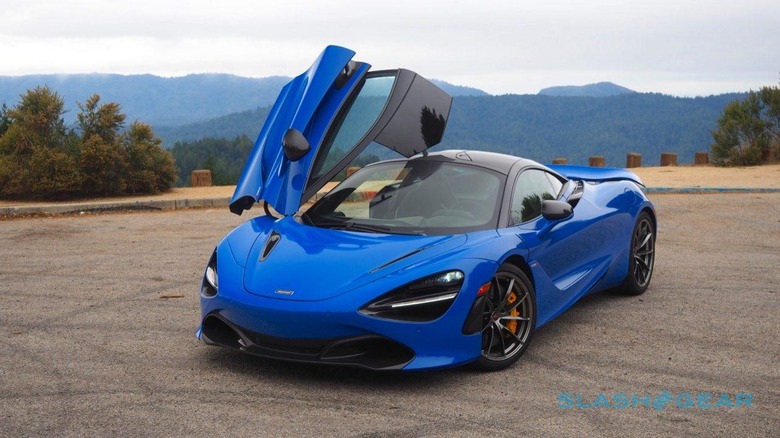 The clouds are dark, ominous; pregnant with rain and perhaps worse. California may be the Golden State, but I've lived through the sudden spite of its leaden winters and know too well how scenic roads can unexpectedly become slippery routes straight into the ditch when nine months of dust meets sheets of water. With the keys to the 2018 McLaren 720S in my pocket for just three days, the prospect of tempering my exuberance or – worse still – breaking one of the few cars that have made it to the West Coast is seriously lacking in appeal. Unlike the Egyptians, we British have no Sun God to pray to.
Then again, McLaren is no stranger to wet weather. Its supercars may have found favor on sun-kissed roads around the world, but they all hail from gloomy Surrey. If anything, these overcast days and wet nights are a homecoming of sorts for the 720S.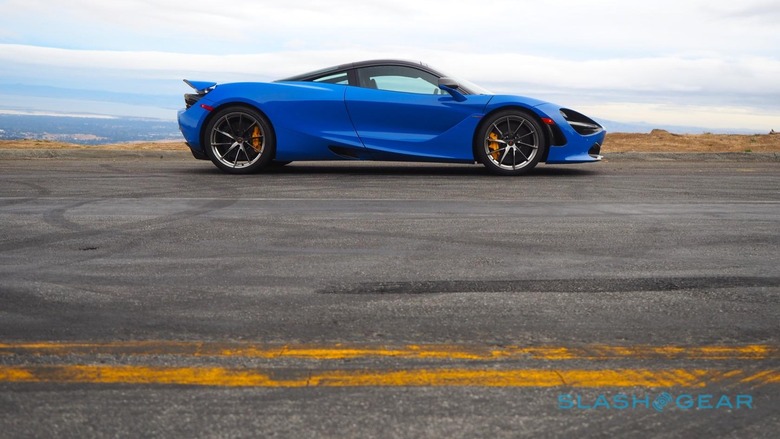 It gets more attention than my bad British teeth, certainly. Even in this fairly subdued Paris Blue, one of the McLaren Special Operations' specials, the 720S struggles to blend in. Not every angle is its most flattering, though there's usually aerodynamic explanation for the more challenging proportions. The air vents integrated into the front lights, for instance, proved a regular topic of fascination when I was stopped in parking lots and road sidings. One man offered me free congress with his girlfriend, with the proviso that it happen within the car. I politely declined.
It replaces the 650S, McLaren's previous Super Series model, and slots in comfortably above the 570 family. The influence of the more affordable car's aesthetic is clear: the 720S is more curvaceous than its predecessor, a car which now looks almost sober in comparison to the flowing aerodynamic flourishes of this newest beast.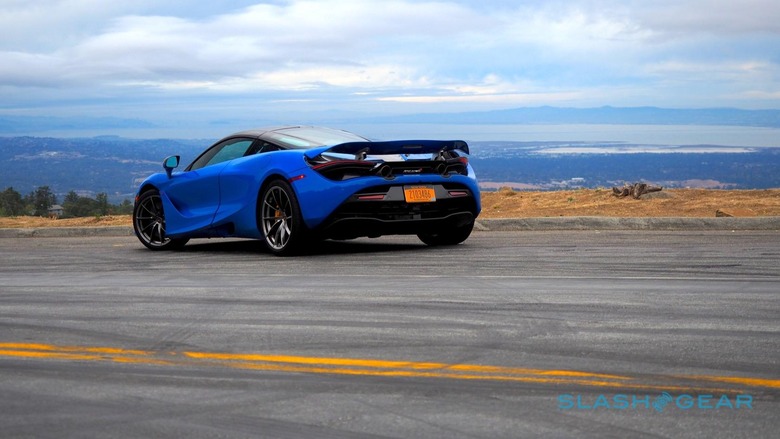 The 4.0-liter twin-turbo V8 M840T engine is right behind the cabin, paired with a seven-speed dual-clutch Seamless Shift Gearbox. There's McLaren's own Adaptive Damping, with double-wishbone independent suspension, electro-hydraulic variable-rate power steering, and an open differential with brake steer. What it lacks in raw capacity versus its supercar counterparts, it makes up for in potency and a sky-high 8,500 rpm redline.
It's unusually easy to live with, though, for a performance coupe. The "dihedral" doors, which hinge up and outward, now cut into the roof: there's less of the duck-and-slide movement required, which can make entering the 570 and 650 cars borderline awkward. Opt for the standard seats and it's an oddly plush cabin, almost GT-like. Better, I feel, to go for the $6,210 carbon fiber racing seats, with their fixed shells and uncompromising support.
They're snug, but the cabin manages to avoid claustrophobia. McLaren has engineered in plenty of glass, from the arching windshield to the clear C-pillars, and the result is a game-changing degree of visibility. I had no desire to scuff the 10-spoke super-lightweight forged wheels, or the skinny Pirelli P ZERO rubber they're shod with, but the 720S feels oddly maneuverable in a way I don't associate with such cars.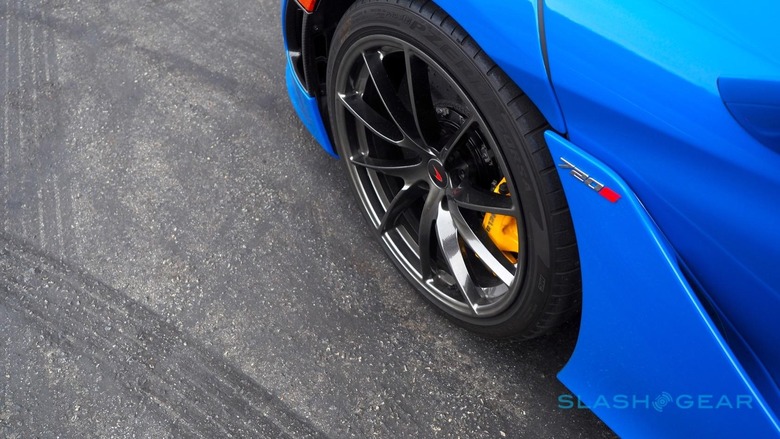 It's not the only improvement. McLaren's homegrown touchscreen infotainment system is now far more responsive than before, and the 720S' display can actually be seen while you're wearing polarized sunglasses, more than I could say about the company's previous models. The optional vehicle lift, which nudges the nose up to avoid speed bumps and uneven surfaces, is now more readily accessed, something you quickly come to appreciate when the alternative is scraping part of the near-$11k carbon fiber exterior package. The potentially confusing driver display can now power-fold down to show the basics of speed, revs, and gear.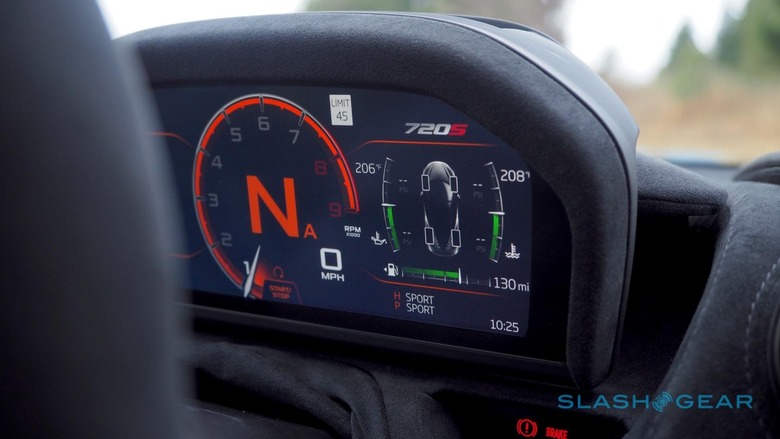 Turns out, though, the most important display is four small green blocks. They show the tire temperature, something I suspect most people don't give much thought to unless they're watching professional racing. With the 720S, however, it's vital, lest you want to end up going sideways.
When they're warm, the 720S' grip is prodigious. Hit the "Active" button that unlocks the drive modes; switch the tactile knobs – all made in-house, of course – for powertrain and transmission, along with damping and roll, to "Track," and you're ready to dance.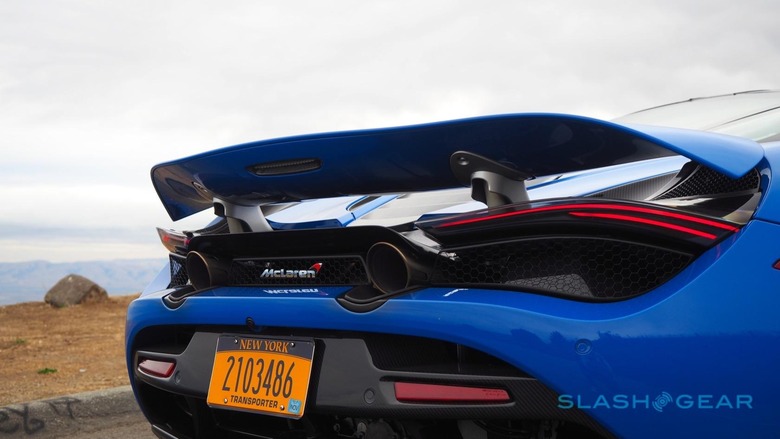 Risk a heavy right foot before those green blocks have settled, however, and you're asking for trouble. The 720S is all too willing to shimmy and twist before the broad Pirellis are up to temperature, demanding temperance or at least an airfield in which to play. Given I had nothing but narrow – often single-lane – roads to offer, full of blind turns and unusual camber, I attempted to channel restraint.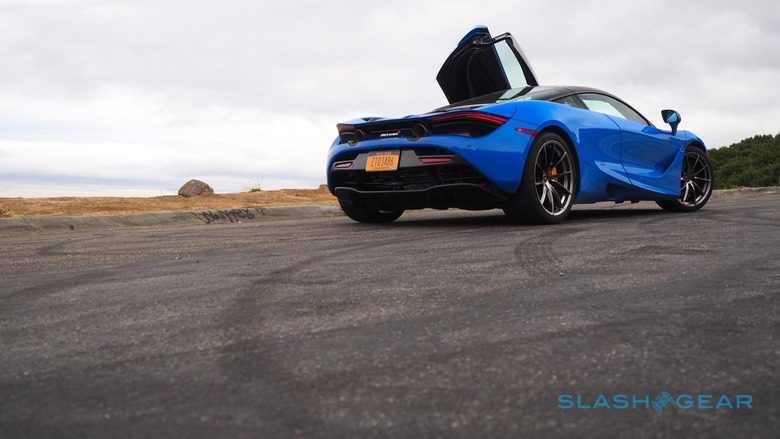 Words like "nimble" and "communicative" come to mind, but then so do mildly-strangled howling noises from deep in your chest as a rocket ship's worth of performance reveals itself to you. The 720S is so precisely, achingly adept, it's easy to forget that there's no all-wheel drive safety net nudging power to each corner. Straight line speed is, of course, brain-melting – McLaren quotes a 0-62 mph time of 2.7 seconds – but the way the car deals with turns is even more impressive.
There are those among us who have the advantage of being Excellent Track Drivers. The rest of us – myself included – are eager novices: some cars spike us through the chest with the fear of an unsavory (and potentially upside-down) end, while others coax us on to be faster, more aggressive behind the wheel by building confidence in the vehicle's own talents.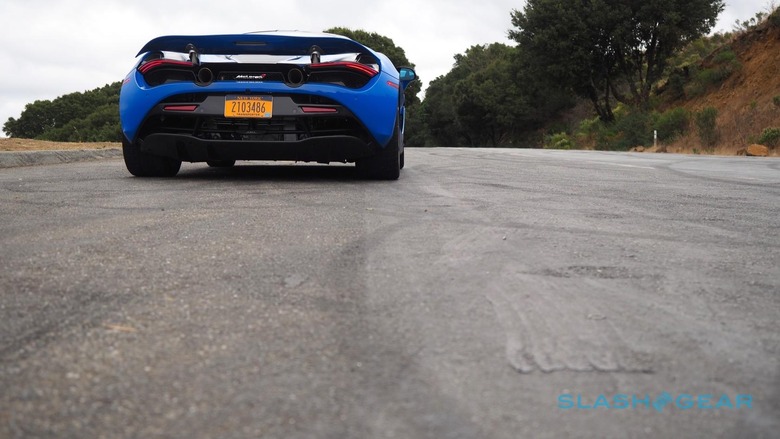 The 720S is an excellent example of the latter school. That first whip around a corner, the McLaren simply taking your instructions and then enacting them precisely, does more for your self-assurance than any instructor might. It's a light-bulb moment: this is not a car that wants to kill you, it just wants to play.
Sure, a track might suit that best, but it's nowhere near required. With the adaptive damping soaking up the more arduous bumps of the slick Californian asphalt, the 720S surged and pirouetted joyfully. Being able to adjust the modes for the powertrain and transmission separately from the damping and roll allows you to set the engine to its most aggressively Track-minded, while dialing in a little more compliance over the bumps from Sport mode. Or, you can switch both into Comfort and take the 720S to Trader Joe's; I did, and it was as easy to handle as a Corolla.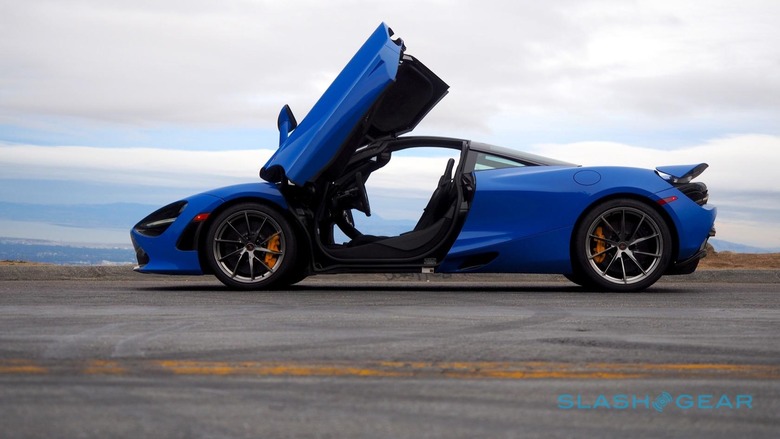 Honestly, the $284,745 base price is an absolute bargain. A steal, no less. With all its carbon fiber, barking sports exhaust, and more, this particular car reached a heady $375k. Trust me, it's still worth it.
McLaren has a reputation in some quarters for being clinical in its prowess. Purposeful and refined to the point of ascetic. If your benchmark is the smoke and rubber-marks of overpowered muscle cars, I suppose, the 720S' unblinking focus on doing what it does very, very well could be mistaken for a shortage of personality.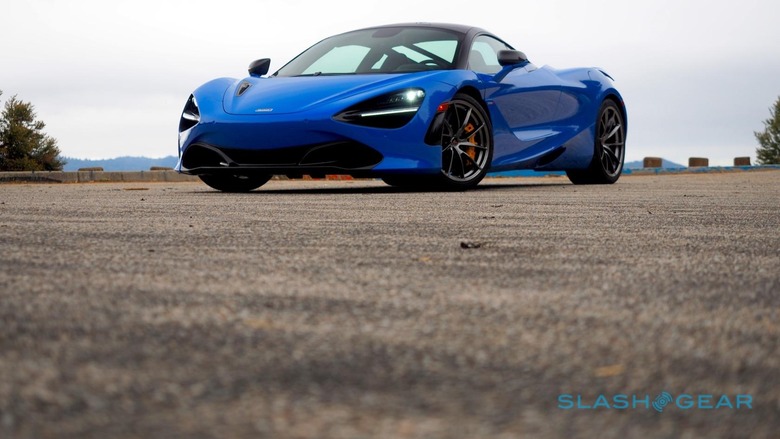 Here's the thing about the British, though. I'm not meant to tell you, but the veneer of restrained propriety is just that: a wafer-thin layer of respectability beneath which, if not debauchery, then at the very least irreverence lies. There's more than plummy vowels and sarcasm, we're just not willing to show it to you unless we're certain you're game for the ride.
No, the 2018 McLaren 720S isn't going to tell you it's a hooligan when you're first introduced. It'll disarm you with its comfortable cabin, together with thoughtful design features and precision engineering that make it eminently suited to being your everyday driver. Get beneath the surface, though, and the 720S can be every bit as violent, raw, and downright disrespectful as you'd hope a supercar could be.