Olympus PEN cameras bring world's fastest touch AF shutter

There's a couple more cameras in the world today that've got the next level on their minds, both of them with Olympus' PEN branding on their back. There's the Olympus PEN E-PL5 and the Olympus PEN E-PM2, both of them bringing superior image technology the likes of which we've not quite seen yet in our collective photography history – not in this combination, anyway. You've got ultra fast processing speeds, classic camera bodies, and super-simple controls for the point-and-shoot generation.
Both devices here work with the same 16.1-megapixel high-speed Live MOS Sensor and brand new TruePic VI image processing engine that the Olympus OM-D E-M5 has – and yes, we've had our own Olympus OM-D E-M5 Review opportunity too! What we've gotten from that camera has been amazing – with the PEN series we've got high hopes! The technology these devices share includes a maximum ISO of 25,600, great performance in low-light situations, and finest-ever gradations between light and dark areas.
Both PEN cameras work with the BCL-15 f8.0 Body Cap Lens, a body cap when you're carrying the camera without its interchangeable lens, and when not, transforms into a pan-focus shapshot lens. Inside these cameras you've got the Olympus Image Share application compatible with both iPhone and Android devices – you'll be able to connect using FlashAir and the built-in wi-fi connectivity between your PEN and your smartphone for ultra-quick and simple sharing abilities! These cameras also work with a lovely collection of Art Filers like Pop Art, Diorama, and Pin Hole – oddities galore!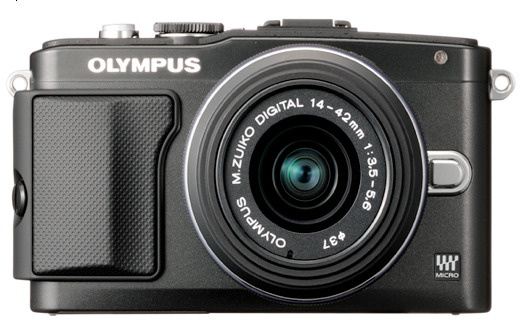 Both models also have a 3-inch 460,000-dot high-definition LCD display with Anti-Finger Print coating over their screens. These displays can be used with your Touch AF Shutter function to take photos with a tap on your display where you want to focus, and with "FAST AF" you'll be rocking even harder. FAST AF stands form Frequency Acceleration Sensor Technology and also exists on the OM-D to make it the world's fastest autofocusing camera. These cameras work with a maximum frame rate of 8 fps in Single AF mode.
PEN E-PL5
This device works with an all-metal body that comes in black, white, or silver, and brings on DSLR quality images with a lovely swivel display. The display sits on a swivel that allows up to 170 degrees of movement up and 65 degrees down – and works with the AF Shutter abilities mentioned above.
PEN E-PM2
This device is ultra-compact and made to be the more entry-level of the new Olympus lineup. The E-PM2 is made to be the first interchangeable lens camera for new users and has a collection of controls that will make the first step an easy one. This camera will be available in black, white, silver, and red.
Pricing and Release
You'll be able to pick up the E-PL5 for a body-only estimated street price of $649.99, while the body-only price for the E-PM2 will ring in at $549.99. The E-PL5 will also be available with a MSC M.ZUIKO DIGITAL ED m14-42mm II R f3.5/5.6 Zoom Lens in a package that'll ring in at $699.99, while the E-PM2 with that lens in a single package will cost you $599.99 – again, all of these prices are estimated at the moment.
Both cameras will be available in October and ship with the camera body itself, Flash FL-LM1, Li-ion battery BLS-5, Li-ion battery charger BCS-5, USB cable, AV cable, Shoulder strap, OLYMPUS Viewer 2 CD, Instruction manual and Warranty card. The PEN E-PL5 will also be shipping with the entirely lovely MCG-4 Changeable Grip. Stick around for more info as these devices roll closer to their final drop date!