Olympus OM-D E-M5 Review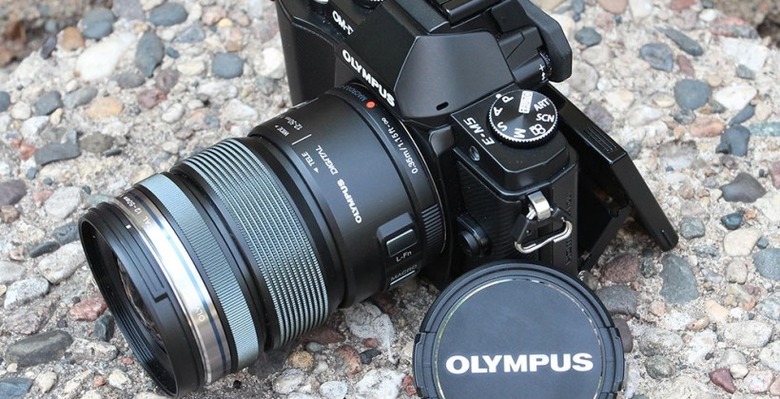 With the Olympus OM-D E-M5 you've got the manufacturer taking what was great about the original OM line of SLR units with a collection of fabulous add-ons that work perfectly well in the digital world. In this 4.8 x 3.5 x 1.69-inch beast that weighs in at just under a pound (supposing you've not added on tons of accessories), you've got a great combo. It's a device that's set out to bring you awesome image and video quality in a tiny package that's as powerful as it is cute.
Hardware
Looking down on the camera you'll see a "main dial" to the right of the main hump, then another sub-dial to the right of that around the shutter release. On the left of the hump you've got an exposure mode dial as well. The right-side dials are made to be accessed by your thumb and your index finger, while the one on the left is made to be accessed by your thumb on your left hand. Each of these dials are extremely easy to work with.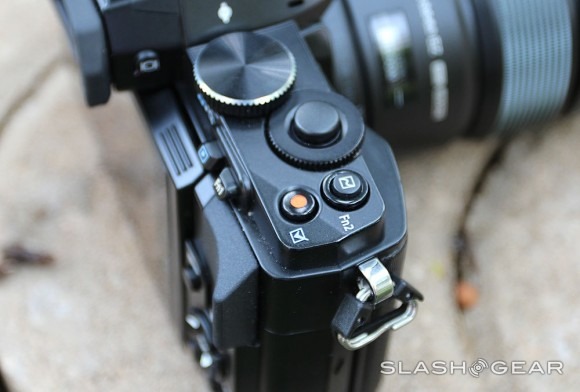 The three buttons up top of the device are also easy to use, one for your shutter, one for video recording, and a third labeled Fn2. This third button is programmable and can be tied to a set of operations such as auto exposure lock, ISO, and white balance.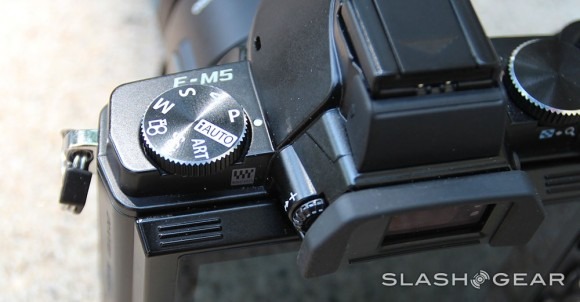 As far as that big hump in the middle; you'll be using it if you're not interested in working with the giant display on the back for a viewfinder, but the main bulk of the bump is made to house your accessories to attach to. So it's an Electronic Viewfinder (EVF), accessory port, and hot shoe all in one. You can plug in a bluetooth module, a microphone adapter, or a lovely gigantic lamp, all of which will fit snug.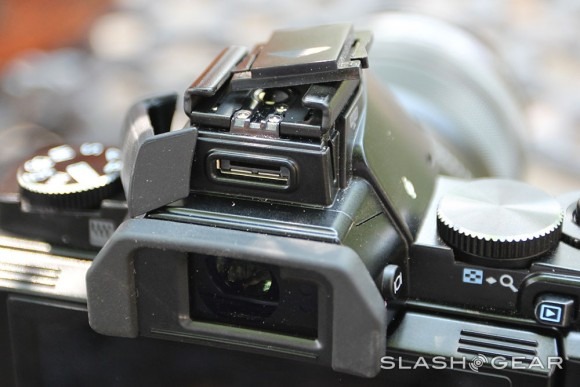 There's a rubbery thumb-grip up on the back right and of the device, otherwise you're working with hard plastic. Olympus does offer a HLD-6 grip and battery extender, this accessory made not only for those of you who plan on being in the filed for an extended time, but for a better grip for the large-handed and sweaty-palmed. Those of you that've got giant hands or trouble gripping small cameras, you'll want to seriously consider this $300 accessory. This could be a bit of a bummer for those of you looking to stay in the $1300 range (that being the price of the kit that includes the lens we've tested as well,) but it'll be worth it in the end.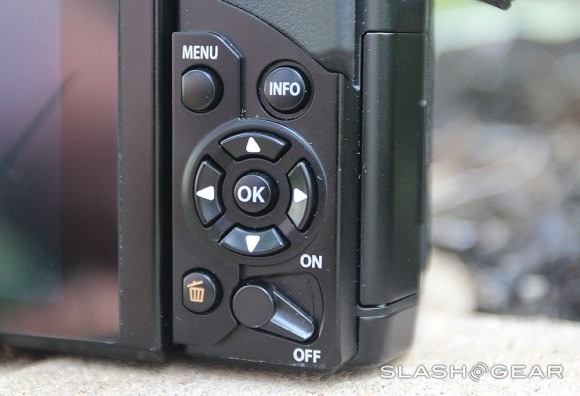 The lens we've got is the M.Zuiko Digital ED 12-50mm 1:3.5-6.3 zoom lens, and it's a fabulous little number other than the quick-release for the mechanical zoom. You can either set it to auto or manual zoom by loosening the ring in the center – it's a bit too easy to do for my taste. That said, it is nice to be able to do this on the fly, just so long as you're not tossing the thing around and getting sand in the gears (never a good idea anyway!)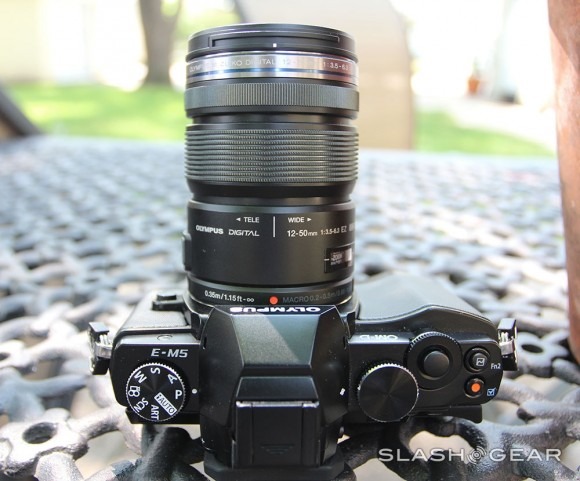 Another item that this reviewer isn't that fond of is the sensor that detects when you raise the camera to your eye. This sensor works fine for those that are willing to take the time to get used to it, but if you're switching from camera to camera when those other cameras don't have the sensor in place, you'll be just a bit annoyed when your screen is flipping on and off. I've had similar feelings about recent Android phones that do similar things as well – I'm certainly more of a manual sort of guy.
You can also decide to use the display or the EVF interchangeably outdoors – with the display being OK in the shade but not so perfect for the brightest of brights in the middle of the day.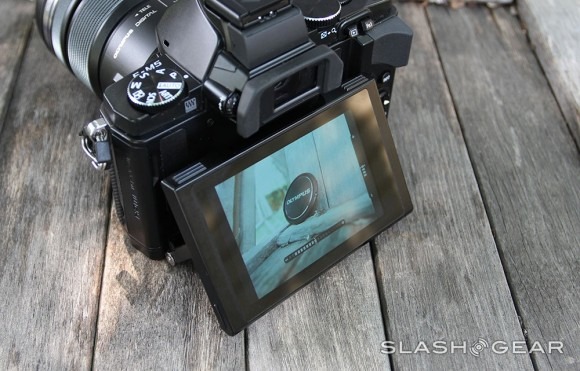 You've got multiple exposure capabilities in this device, Art Filters and effects that you might never use, and the ability to preview these effects before you shoot. When you've gotten past the fun bits, you'll find that the Olympus OM-D E-M5 is one heck of a high quality photo shooter. Compared to other micro four thirds cameras we've seen and tested, this device is right near the top if not the best overall.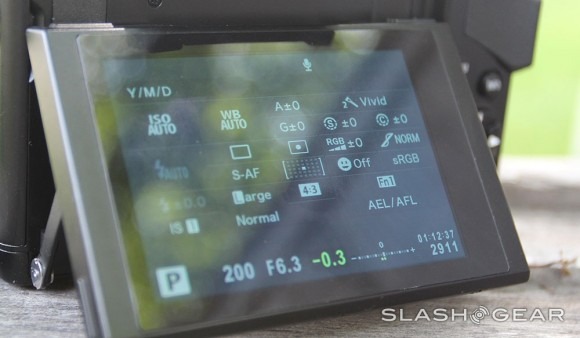 You can shoot photos at 9fps, you've got 5-axis stabilization (that's the sound you're hearing when you're focusing in), and the ability to shoot photos with your shutter release or by tapping the touch-screen right up front and center. As you may have realized already; this camera may look retro, but its abilities are anything but.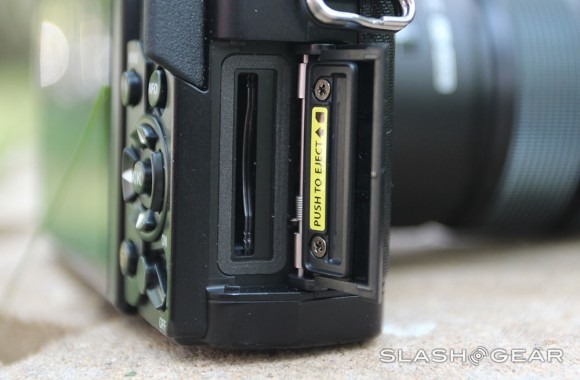 The software you'll be able to use with this camera for processing Raw files is just a bit more limited than some might like. Though Adobe Lightroom and Corel AfterShot Pro, and of course Photoshop will work fine, Apple's products are less lucky. Both iPhoto and Aperture have no ability to support this camera's Raw files. Don't worry though, the JPEG shots this device shoots are more than high quality enough for everyone other than the most hardcore photographer.
Photo and Video Quality
Have a peek at an example of some shots taken with the camera to get an idea of how powerful this shooter is. Below the gallery you'll also see an example of some basic video footage taken with the camera as well.
The video below is taken at full resolution on a bright, sunny day. Pay special attention to the on-the-spot focusing and light changes as well as the subtle sounds of summer.
Wrap-Up
With such knock-out features like 5-axis stabilization in such a tiny body as this, you've got one heck of a mobile-minded shooter on your hands. This device is great for those of you out there looking to amp up your game with your old OM, and with Olympus dedicated to the future of this line, as they always are, you can rest easy knowing you'll be able to pick up accessories galore along the way. This camera certainly isn't made for rough-and-tumble photographers as its display on the back being on hinges, but you're a careful shooter, right – go for it!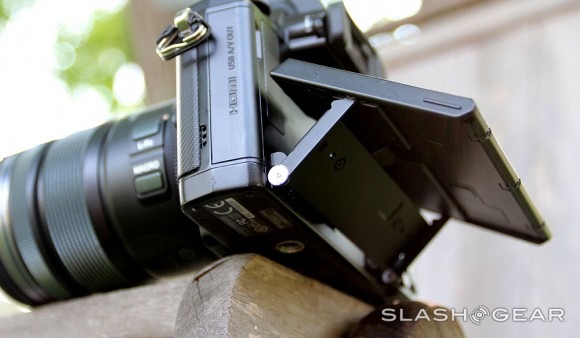 You can pick this device up for $1000 with the body only or for $1300 as a kit with the 12-50mm 1:3.5-6.3 zoom lens, that being the setup you're seeing above (with all photos being taken with that lens as well. Grab if from your favorite retailer today!