Olympus OM-D E-M5: Retro Outside, Groundbreaking Inside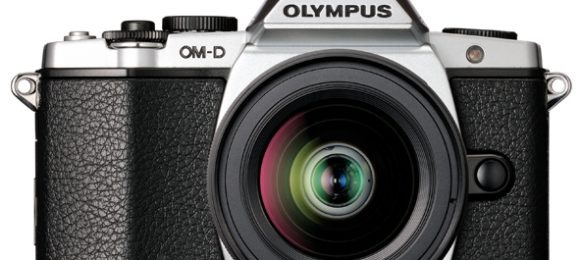 Olympus knows what photographers really want: something so teeth-clenchingly retro on the outside that they weep tiny tears of joy, but jam-packed full of the latest tech inside so that they're not embarrassed on Flickr. The Olympus OM-D E-M5 promises to deliver just that, with classic OM analog styling from the 1970s brought neatly up to date with a digital revamp. Out goes the Kodachrome, replaced with a 16.1-megapixel Live MOS sensor, 120fps high-res electronic viewfinder (EVF) and a 3-inch posable OLED touchscreen.
Olympus' speedy autofocus system from the PEN E-P3 has been brought over, though with a speed boost, and there's 9fps burst shooting in Single AF mode. 3D autofocus tracking can keep a fix on subjects as they move not only up and down in the frame, but further away or closer to the camera.
There's the usual Full HD 1080i video capture (though not 1080p, it seems), together with ISO support up to 25,600 and weatherproofing of the body itself, which is ruggedized against water, sand and low temperatures. However Olympus has also given the E-M5 the world's first 5-axis image stabilization system, which promises to smooth out horizontal shift, vertical shift, rotary motion, yaw and pitch even if the photographer is running. Operational during both still and video recording, it's integrated into the camera body itself so that any lens can take advantage of it.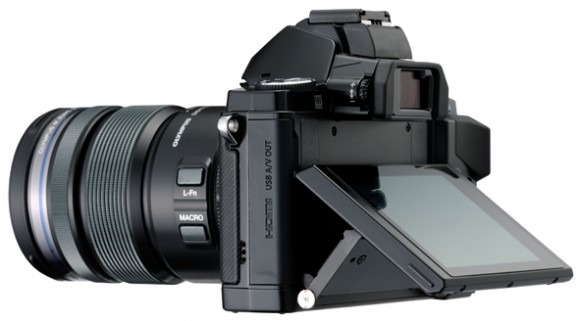 On the subject of lenses, Olympus has stuck with the Micro Four Thirds system and has prepared a duo of new options for the E-M5. The M.ZUIKO DIGITAL ED 12-50 mm f3.5-6.3 EZ lens is dustproof and splashproof as well, and there's a cheaper M.ZUIKO DIGITAL 14-42 mm f3.5-5.6 II R lens option too. Other accessories include separate flashes for use with the powered hot-shoe, and a MMF-3 Four Thirds mount adapter.
On the back, there's a tilting 3-inch OLED touchscreen, with touch shutter-release along with touch-focus and easier control over tone settings. Most users will be more excited by the EVF, however, which has a 120fps refresh rate, a 100-percent field of view, maximum 1.15x magnification and an eye point of 18mm. It can show not only a view of what the camera sees, but all the relevant exposure, Art Filter effects and other settings.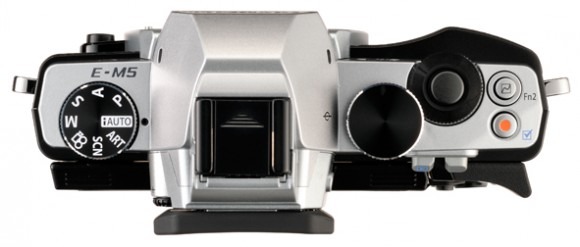 Retro design and high-tech functionality come at a cost, however. The Olympus OM-D E-M5 will be priced at $999.99 body-only when it arrives in April, in either black or silver, while a bundle with the black M.ZUIKO DIGITAL 14-42 mm f3.5-5.6 II R lens will be $1,099.99. Expect to pay $1,299.99 for the E-M5 with the black M.ZUIKO Digital ED 12-50 mm f3.5-6.3 EZ lens.