NVIDIA Web-Based Tegra Zone Launched [Hands-On]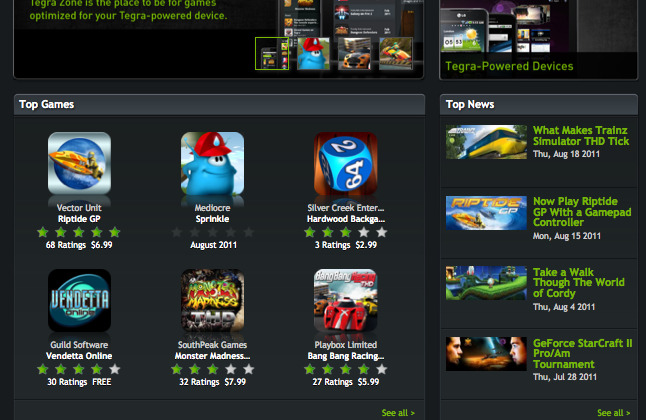 Today the folks at NVIDIA have announced officially their web-based version of NVIDIA Tegra Zone, a Tegra 2 dual-core tablet and super phone processor specific portal for apps, news, and news about apps. The apps you're going to be seeing here, as shown in our full review of mobile app version of the market, are on the whole available for NVIDIA Tegra 2 dual-core processor toting devices exclusively, and with this web-based addition to this ecosystem, the Tegra Zone becomes just as versatile as the Android Marketplace itself – or certainly close to it. It's like a guide for ultimate dual-core wins.
This version of the app store offers up everything you're used to with the mobile app version, that being links to the Android Market for downloads, news stories written by authors who are pros on the subject of NVIDIA dual-core processors and processors in general as well as mobile gaming. You've got all the details you need on each of the games optimized for the platform by NVIDIA and friends.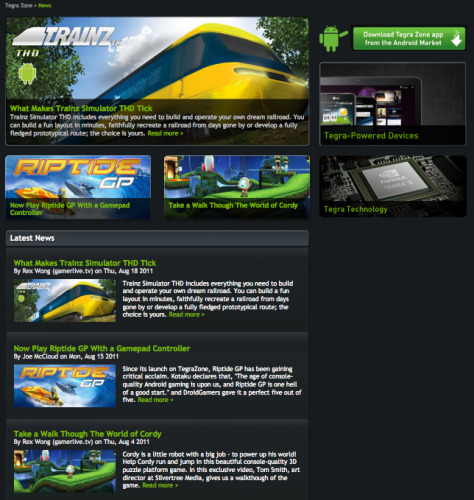 This web-based version of the Tegra Zone adds a couple of web exclusive pieces of the ecosystem including first and foremost links to the rest of the NVIDIA site. The first thing you'll notice here is the Tegra-Powered Devices link near the upper-right of the page. This link leads to all the information you'll ever need on the Tegra 2 collection of Android devices should you feel like you want to upgrade to a different model than you've already got. Above this is of course a link to a download of the app version of the Tegra Zone – a must as NVIDIA certainly wants you you hang out in the Zone all day and night, no matter your platform.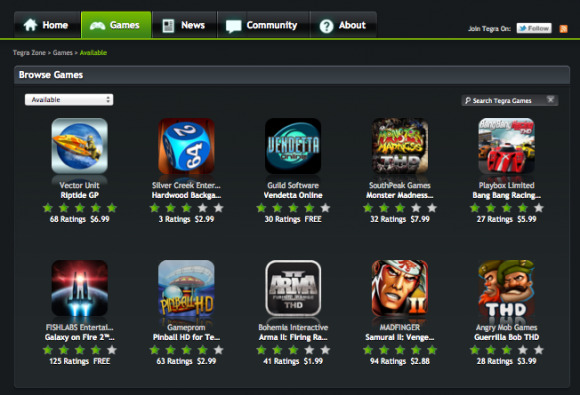 The second web-only feature here is the Community tab. This tab is a place for you to discuss everything and anything regarding NVIDIA Tegra-centric subjects. There are currently three main forums: Tegra Zone (for the mobile app version of the Zone), Tegra Gaming News (to discuss upcoming games), and Games for Tegra (to discuss games already released). A link at the bottom of this set of three forums brings you to a much wider format forum that you may already be a part of if you're a big fan of NVIDIA. Clean!

ALSO NOTE that this Community section, at the time of the publishing of this column, will have / has a contest going on where you can win one of five Acer Iconia Tab A500 dual-core Android tablets. Sweet! Check out our full review of that tablet for more information on how much awesome it can kick around the block. Also check out our review of it's little bother the Acer Iconia Tab A100 as well.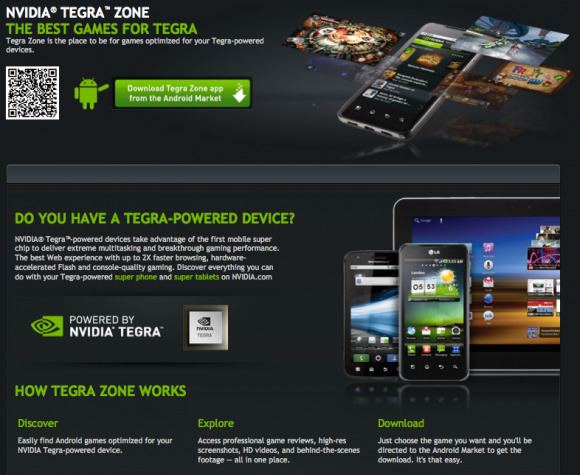 Then there's a search bar, a support button, regional pulldown bar, News, Games, and Home tabs, connections to social networking sites so you can share your favorite new Tegra games, and all of this done with the style and class that the graphic designers at NVIDIA should certainly be praised for. Look at those devices – they look fantastic! Look at those games – they look like so much fun! I'm surprised more manufacturers aren't looking to NVIDIA's crew to hook them up with some pro looks for their next bit of hardware to be perfectly honest – black and green for the win.
So go now, instantly, and check out the http://tegrazone.com/ website for all your NVIDIA Tegra Zone needs. Of course you've also still got the mobile app in the Android Market. Grab it! Use em! Do it!