NVIDIA SHIELD TV Review (Gen2, 2017)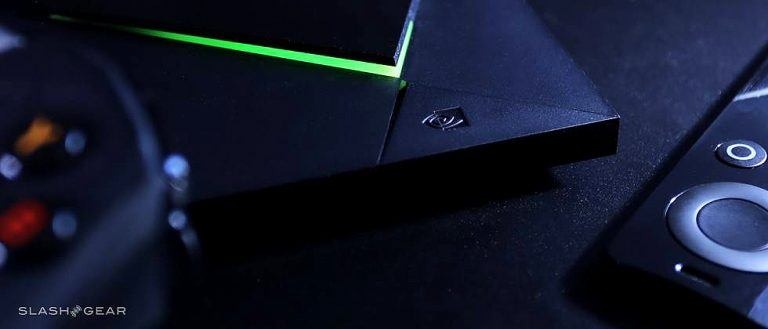 Over the past two years just one device has been in near-constant use at my home – that's the original NVIDIA SHIELD Android TV. This piece of hardware sits quietly to the side of my television and serves content to my family almost every day of the year. Unlike any other device I've used over the past half-decade, the NVIDIA SHIELD Android TV has never failed to feel like a natural part of my everyday routine – without the need for an over-abundant amount of software updates, and completely functional in every way I'd needed it to be. That's why I was skeptical when NVIDIA announced they'd be releasing another newer NVIDIA SHIELD device this year.
NVIDIA SHIELD Android TV (Gen1)
Since the first release of Android TV, no company has better utilized the platform. Not even Google has made a device that better suits the software Google itself created. I'd had no real significant complaints about the functionality of the original NVIDIA SHIELD Android TV device from the first day I'd gotten it in for review.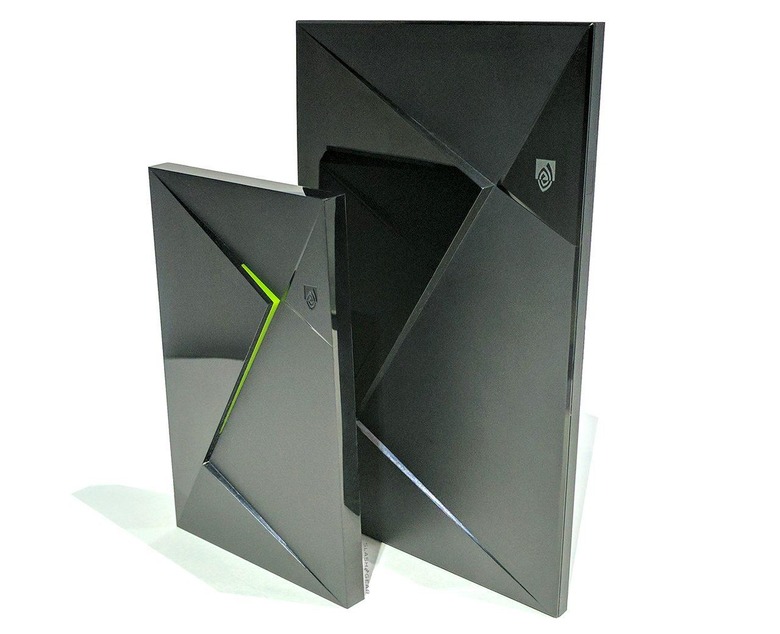 The SlashGear review of the NVIDIA SHIELD Android TV device – back in May of 2015 – remains largely current today, user interface and all. Normally a 2-year period changes one's perception of a device in a big way. For a device as personal and highly utilized as this, I'd expect that the software would need far more finessing and updating than it's had. But it didn't.
The SHIELD was decent when I first turned it on, and it remains decent today. Even with hardware that was current 2-years ago, the original NVIDIA SHIELD Android TV remains able to keep up with my needs. This includes watching TV and movies, playing local files, files from the cloud, and running streaming services.
SEE HERE: NVIDIA SHIELD Android TV Review (Gen1)
The original unit has remained able to run an abundance of games without slowing down. This includes local Android games from the Google Play app store – it also includes streaming AAA games from the cloud using GeForce NOW. Local streaming from a high-powered PC continues to work slick with NVIDIA GameStream, too.
This technology has been in effect since back in October of 2013 when NVIDIA's Jen-Hsun Huang announced that local game streaming would be enabled with the NVIDIA SHIELD Portable (then just called NVIDIA SHIELD). Here in 2017, GameStream and GeForce NOW are both well worth the (admittedly very little) effort on the SHIELD.
NVIDIA SHIELD TV (Gen2)
What's the difference between the NVIDIA SHIELD Android TV and the NVIDIA SHIELD TV? The names are a bit confusing. NVIDIA called their original handheld SHIELD device "NVIDIA SHIELD", then released this first Android TV device as "NVIDIA SHIELD" as well, then changing the name of the first SHIELD to "NVIDIA SHIELD Handheld."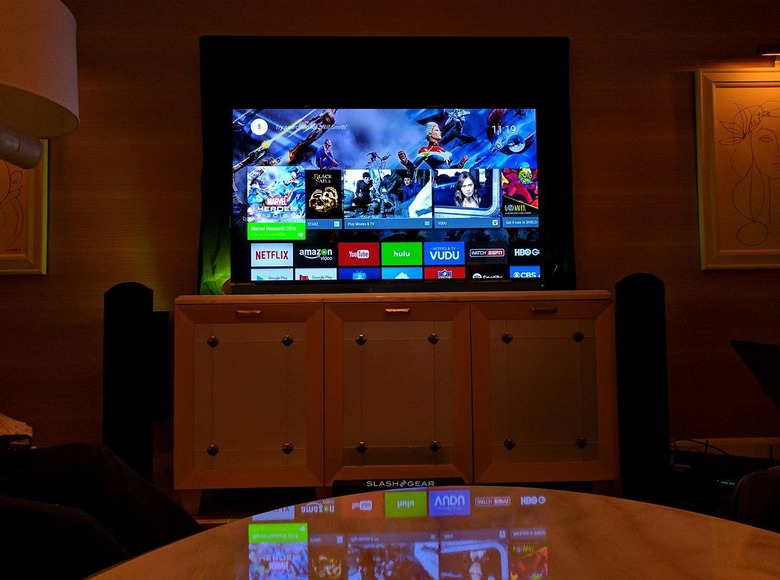 From this point out, we'll be calling the 2015 SHIELD the SHIELD Gen1, while this newer unit will be called Gen2. This is one of two releases in this generation, one "Basic" (that's the one we have with 16GB internal storage) and one "Pro" (with 500GB internal storage, coming later this year). The software on the NVIDIA SHIELD Gen1 and the NVIDA SHIELD TV (Gen2) is the same – almost.
The software on both console generations will be the same as soon as Gen1 is given an update. NVIDIA has promised that the elder SHIELD will be getting an update to match the software being released on the newer SHIELD very soon. They'll literally have the same set of major functionalities.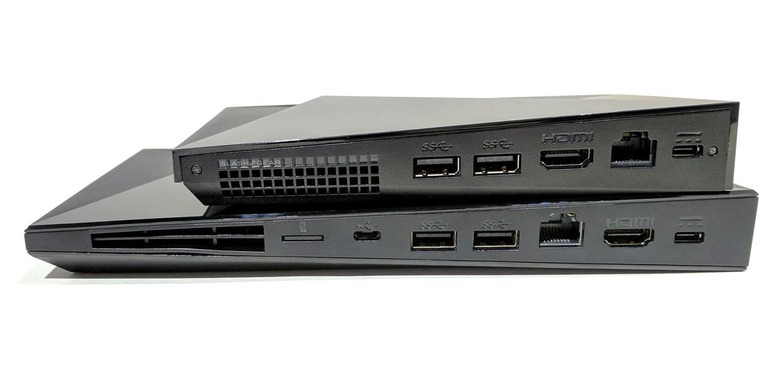 However – much like NVIDIA's release of the SHIELD Tablet K1, the previous model has a few features more than the newest edition. With the NVIDIA SHIELD TV, that means the removal of a couple of several of hardware: 1x microSD card slot, 1x micro-USB port, and 1x IR Receiver.
As such, expansion of data storage for this newest SHIELD TV unit needs to be done with a thumb drive. The removal of the micro-USB means sending files to the SHIELD using your PC using a USB cord isn't quite so straightforward – no micro-USB also makes ADB and some development a bit less simple.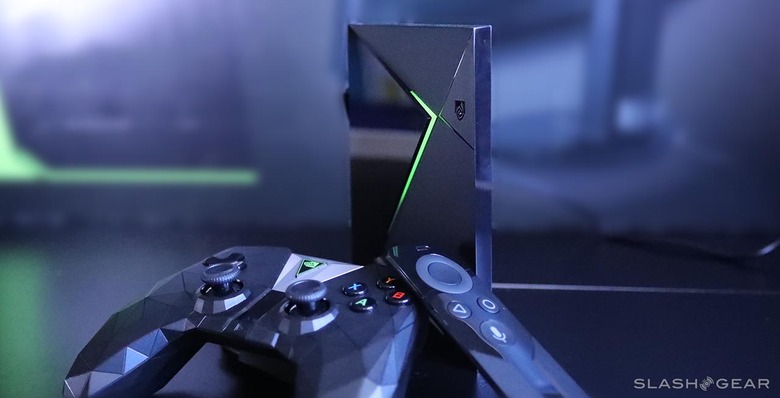 This device (and the SHIELD TV Gen2 PRO unit coming later this year) both have both a new remote control and game controller in the box. With Gen1, only the game controller was included in the box.
This new Basic unit is quite a bit smaller than its predecessor. Gen1 units (Basic and Pro) were 5.1-inches tall, 8.3-inches wide, and 1-inch deep. The Gen2 Pro unit is that same size – 5.1 x 8.3 x 1-inch, and the same weight: 23oz. The Gen2 Basic is 8.8oz light and 3.86 x 6.26 x 1.02-inch. It's very small, and very nearly pocketable.
Remote Control
The old remote control had built-in batteries that were rechargeable VIA a micro-USB port. This device was made of plastic with a metal backside and had a green light that lit up under its microphone button. A touchpad under the mic button worked as a volume controller when the user ran their finger up or down the trench.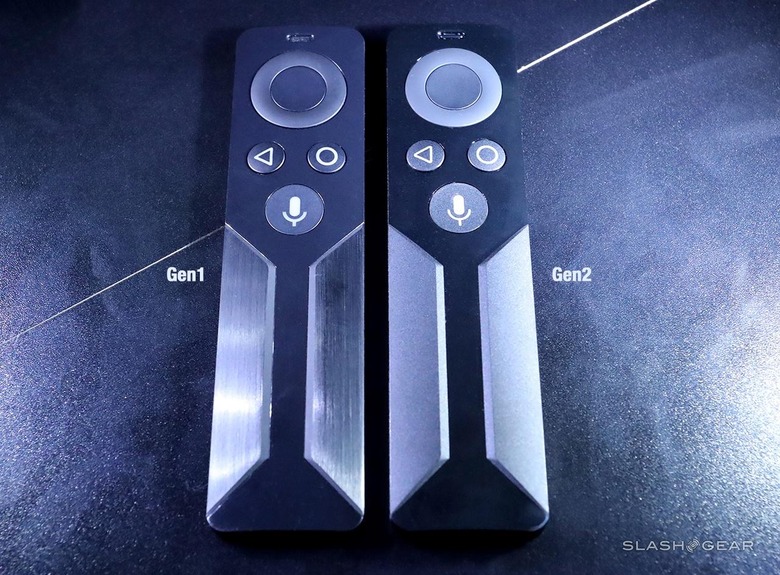 The new remote control has two removable, replaceable batteries inside and no USB port. Batteries that come installed are 2x Panasonic CR 2032 3V, and the remote is ready to be used right out the box. This remote does have an IR-blaster up front, but does not have a headphone jack. This new remote is made of hard plastic meant to resemble the look and feel of the original metal.
The original remote had a headphone jack, but this new remote does not. The batteries in this controller are said to last a year – we'll have to check back in and update this review when they die.
OF NOTE: NVIDIA suggests that they'll continue to sell the original SHIELD Remote (with rechargeable battery and headset jack) for $50 USD. That'll also be sold separately.
Game Controller
This Game Controller is one of the bigger changes between Gen1 and Gen2 for NVIDIA SHIELD TV. The first version remains decent, but the Gen2 controller becomes a bit more unique. See our full NVIDIA SHIELD Controller Review (Gen 2, 2017) to get a larger picture of what this device accessory is all about.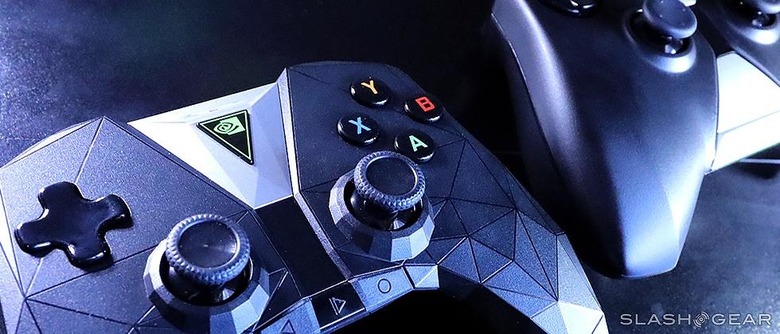 Streaming Media / Games
The grid of apps shown below is just a spattering of options available to the NVIDIA SHIELD this year. Amazon Prime users can access 4K video, as can Netflix Premium users and YouTube users, too. Every app I've tested and have used over the past couple of years have been top-notch experiences, supported, updated, and maintained.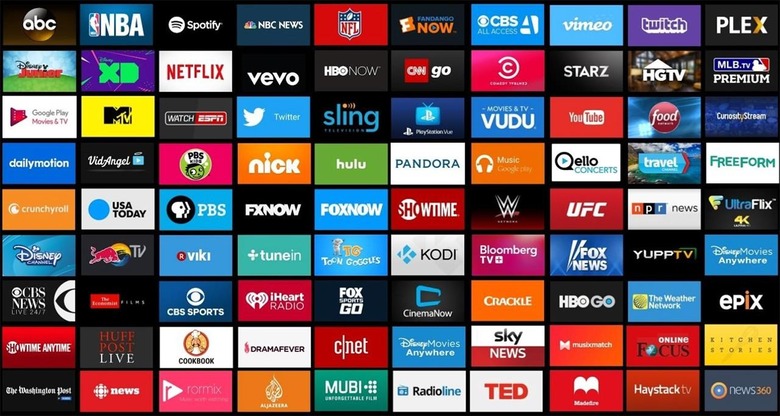 With the new device (and update to Gen1), users have the ability to be searched with Universal Search and Cross-App search. Content within these apps can be accessed from a Google search from the device's controller. This feature makes the entire device feel like a more complete experience.
The full collection of Searchable Apps can be found in Settings. Users can head to Settings – Search – Searchable Apps. In this list, all apps able to be searched have their own on/off switch. Similarly, the recommendations set of apps (in the same place as in the old software) can be edited by heading to Settings – Home Screen – Recommendations.
We'll be able to watch local "Over the Air" programming with Google Live Channels soon. Just as soon as we get a USB or network TV tuner card. Once we get this working we'll also – apparently – be able to record TV like we would a DVR, but we have yet to test it fully.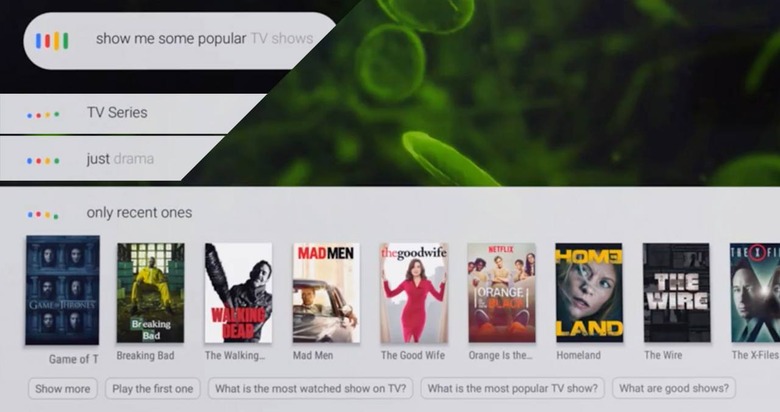 Streaming games with GeForce NOW with the cloud and locally using NVIDIA GameStream works identical to the SHIELD Gen1. Identical makes sense since we're connecting to the same servers with the same hardware on the same network.
The big difference now in Gen2 (and with the update coming to Gen1) is in how games are listed in the software. Instead of separating out GeForce NOW and GameStream into an OEM row with Netflix (strangely enough), this new device incorporates the set in with the rest of the apps.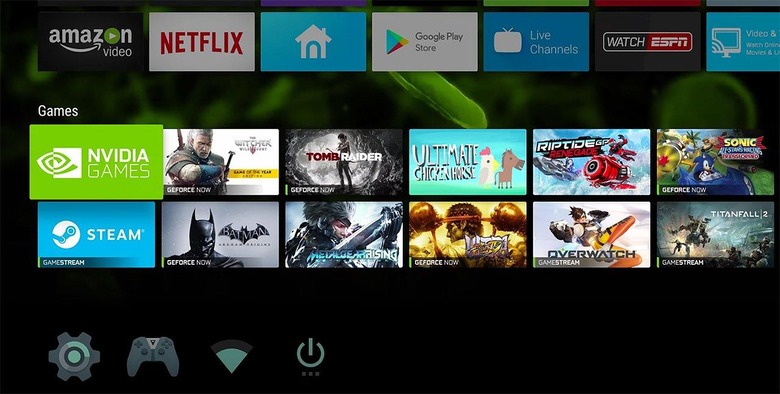 Games are all listed in the same place now, which is a great idea on NVIDIA's part. I feel like GeForce NOW games are a lot more easily accessible, which makes me wanting to subscribe to GeForce NOW a lot more likely. For those that want only to play their own games, telling the difference between categories is still quite simple.
GeForce NOW costs a cool $8 a month with no long-term contract, and first-time users can get a month to try the service out for free. This service is absolutely worth the cash if the user has a good enough web connection (the app will tell you if you don't) and has the time to play a large abundance of games every month. Users that have no interest in playing AAA PC games streaming from the cloud are not obligated to use GeForce NOW with the SHIELD TV.
AI Home, Voice Command, Google Search
Google voice search has become a lot smarter with this update. This, again, will be coming to the original SHIELD Android TV device too, but it's here immediately. This newest update can be asked to "play some metal on Spotify" or "please show me pictures from Springfield" (that'll seek out photos in Google Photos.
Searching for content without specifying a certain app will allow cross-app search. This doesn't work with EVERY app yet, but quite a few do. As mentioned above, cross-searchable apps can be found in Settings – Search – Searchable Apps.
Google Assistant integration with Google Home capabilities are not yet enabled at the point when we're publishing this review. Everything mentioned on NVIDIA's listing for NVIDIA SHIELD TV is here – some features mentioned at CES 2017 will be coming in a future update.
Once NVIDIA updates the SHIELD TV with all the features mentioned at CES, we'll be sure to let you know. We'll have a news story on the front page of SlashGear, and we'll update this review with additional impressions of the full experience.
Wrap-up
This NVIDIA SHIELD TV (Gen2) is largely similar to the original NVIDIA SHIELD (Gen1). In addition to having the same processor, RAM, and internal storage size options as the original, NVIDIA's promised a software update for the original. The Gen1 console will get an update to bring the same software as we have here on Gen2, imminently. NVIDIA deserves props for their approach here.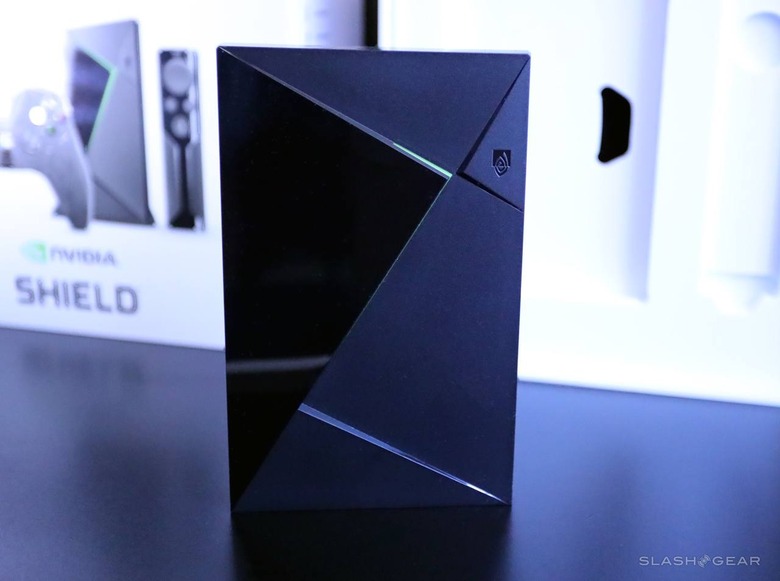 Most hardware manufacturers release a new hero device every year, changing a few hardware elements to encourage another purchase. Not just for new users, but for those users that'd purchased a device in the past. NVIDIA's approach here is to stick with what works, sell that package to new users, and make the new hardware (the controllers) available separately.
The Gen2 NVIDIA SHIELD TV console – this Basic version – is smaller than the original. It's been simplified in several ways, but both a controller and a remote control are included in the box, instead of just one (as just one was included with Gen1). For people that'd never had an NVIDIA SHIELD device before, this Gen2 Basic edition (16GB) is well worth the cash.
For those users that already own an NVIDIA SHIELD Android TV – Gen1 – scroll back up to the Game Controller section above. Click the NVIDIA SHIELD Controller Review link and find out why I suggest that people that already own a SHIELD should just pick up a Controller or two – not a whole new console. Not yet, anyway. There's still the NVIDIA SHIELD Android TV PRO to look forward to – stick around and see.
Below is a set of photos of a teardown of the NVIDIA SHIELD Gen1 and Gen2, as well as both controllers. We'll have a more thorough analysis of our teardown in the near future – drop in on our NVIDIA SHIELD tag portal for more.