NVIDIA SHIELD Tablet Hands-on: Cross-platform Gaming Fully Pumped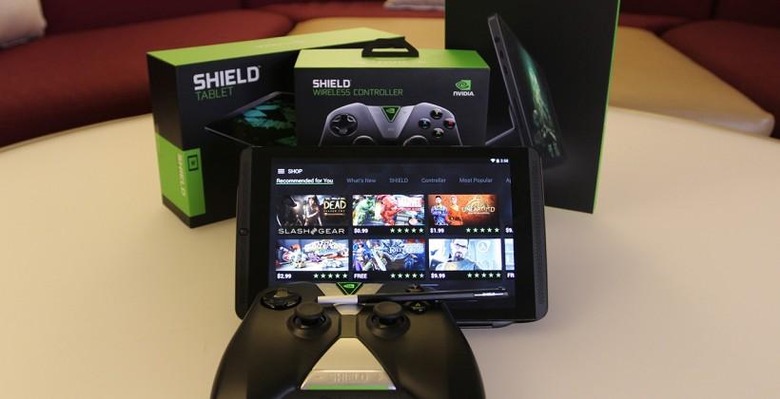 While there's no shortage of slates on the market today, NVIDIA believes that there's plenty of room for a specialty tablet. Their gaming tablet goes by a name similar to NVIDIA SHIELD, their handheld Android-based gaming device. This is NVIDIA SHIELD Tablet, and it's ready to roll with their NVIDIA SHIELD Controller.
SHIELD Tablet Hardware
NVIDIA SHIELD Tablet will be sold separate from the SHIELD Controller, but they go together so well that they've been presented to us both at once. NVIDIA has made a point to state that this tablet is not going to REPLACE the original NVIDIA SHIELD, but that they'll all continue to live in the same gaming universe at once.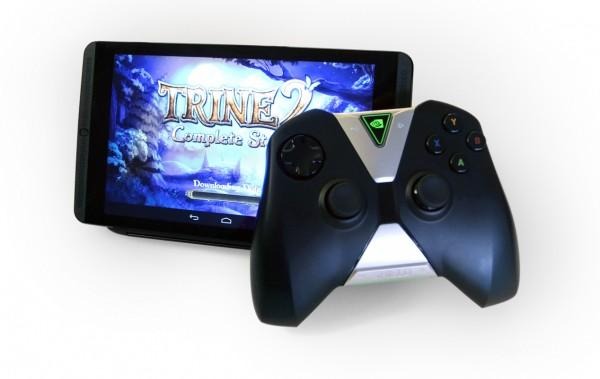 The display on this tablet is of the highest quality we've seen on a tablet, right up there with the iPad Retina Mini. Granted this is based on our relatively short time with the tablet so far, so stick around for our full review for an expanded look up close, of course.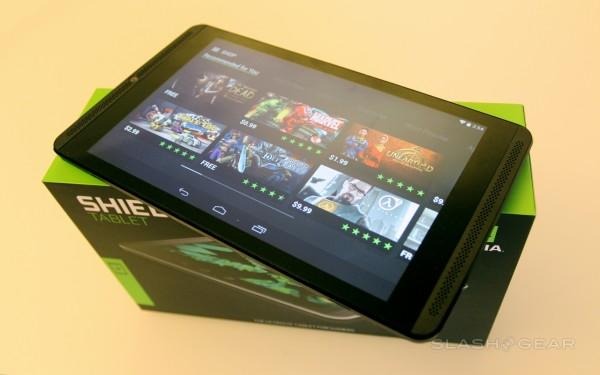 The display is an 8-inch Full HD (1920 x 1200) IPS LCD panel with a bezel smaller than that of the Tegra Note 7. Because of a smaller bezel, this device does not get much larger than its predecessor in the Note as far as height and length go.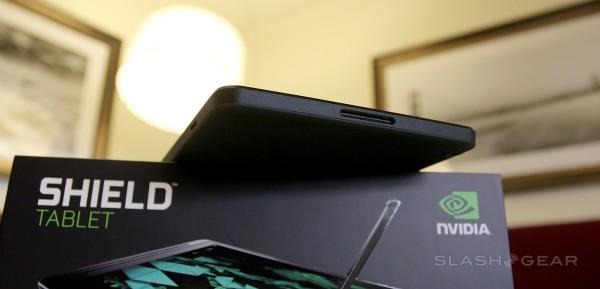 The body of the tablet has sides that are similar to the original HTC One (M7) – almost flat, smooth around the edges, and fine to the touch. To the right and left (or top and bottom, however you prefer) of the display you'll find two speakers, and on the sides you'll find two bass reflex ports. This means heavy-duty audio that trumps the previous NVIDIA tablet.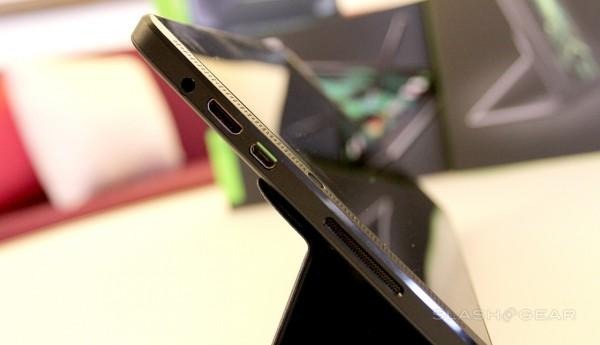 You'll also find a headphone/mic port that works with headsets for speaking and listening during Twitch streaming. Both the front and the back of this tablet work with 5-megapixel cameras – the front-facing camera works with Twitch as well.
*See below for additional notes on Twitch streaming.
Inside you'll also find Bluetooth 4.0 with Bluetooth LE (Low Energy) capabilities, GPS / GLONASS, and 9-axis motion detection (g-sensor, compass, and gyroscope).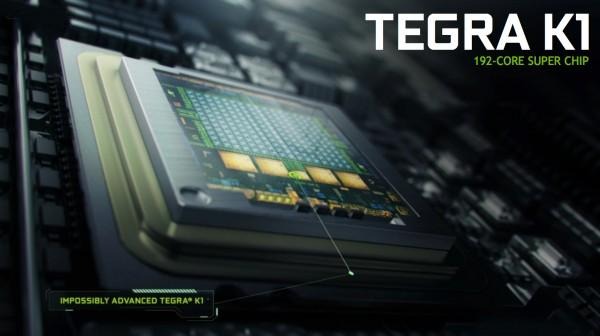 This tablet works with the NVIDIA Tegra K1 processor. As you'll see in our Tegra K1 tag portal, this SoC is part of several big initiatives for Google, is ready for in-car infotainment systems, and is generally at the head of processing power of the next generation of smart devices across the board.
ABOVE: An extended chat with NVIDIA's Nick Stam at CES 2014 on the power of the Tegra K1 SoC (system-on-chip). Remember that when this chat was had, the Tegra Note 7 had just been launched with Tegra 4 several months before.
This processor's graphics extend up to 4K video – that's also known as "Ultra HD", and is able to roll through a standard HDMI cord. The NVIDIA SHIELD Tablet has a Mini-HDMI port with HDMI 1.4a certified output.
DirectStylus 2
The second release of DirectStylus brings a slightly more refined feel to the pen experience. Instead of a cylinder, you've got a slightly more square shape. It feels slightly more natural.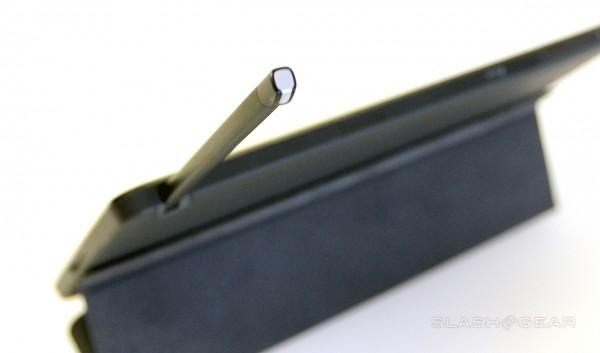 One day we'll see a six-sided stylus. One day.

You'll also see some some surprising software enhancements as a direct result of NVIDIA's creation of an app called NVIDIA Dabbler. This app appears at first to be a basic paint app, but it's thick.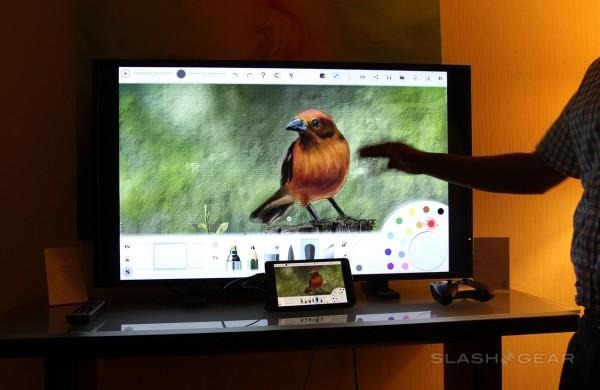 With this tablet you'll be able to create paintings which have depth. This means that once you've laid down some brushstrokes, you'll be able to view the painting you've made from all angles, the shadows around the larger blots of paint changing as you go.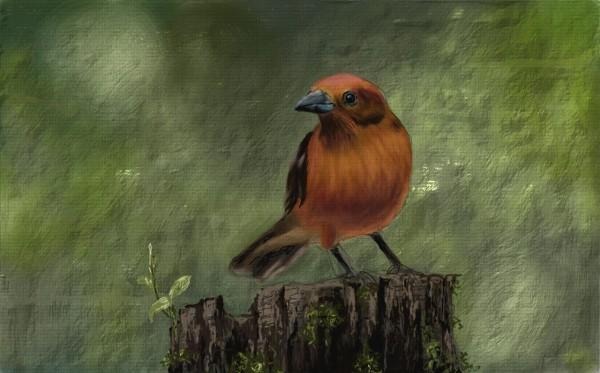 Above you'll see an example of a piece of artwork made on NVIDIA SHIELD Tablet – we'll provide you with a whole lot more on this angle in our final review, coming to SlashGear's Tegra Hub sooner than later.
SHIELD Controller
The SHIELD Controller is very similar to what was delivered with the NVIDIA SHIELD originally. It's not a straight conversion from the handset, but one might be mistaken for the other with a close-up photo.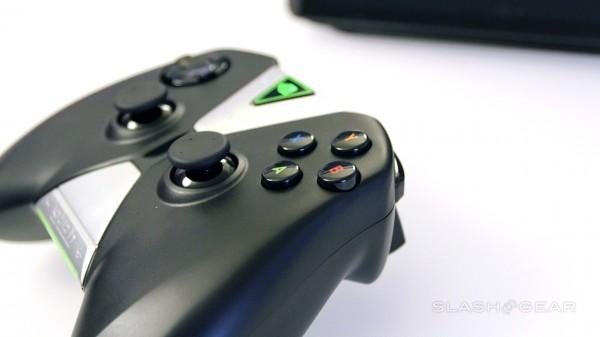 Included on this controller are dual analog joysticks, a D-pad, left and right analog triggers, left and right bumper buttons, and a volume up/down button (to the left and right of the SHIELD logo near the bottom of the controller.)
You'll also find A/B/X/Y buttons, Android home button, Android Back button, Start button, and an NVIDIA power/multi-function button. There's also a "capacitive multi-touch touch pad with button" that we'll be testing more in-depth once the review rolls around.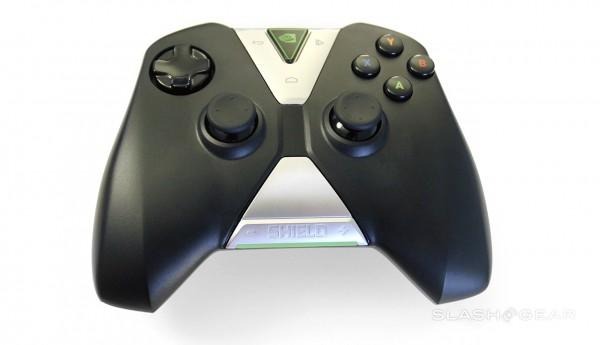 It's a bit thinner than the SHIELD controller as it doesn't need to fit in nearly as much hardware, and it feels a bit more refined. We'll have to wait until the full review to give it a full go – again, we didn't have a super long amount of time with the hardware in our first visit.
Inside this controller we're working with Wi-Fi Direct for connectivity. This controller does not work with Bluetooth. Because of this, NVIDIA suggests that we'll have "ultra-responsive" control with 2x lower latency than Bluetooth can provide.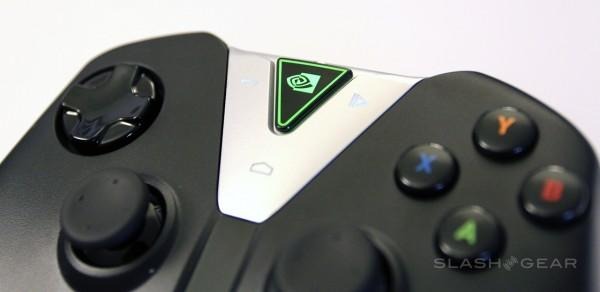 While you will be able to connect to the SHIELD Tablet with whatever Bluetooth controller you have lying around, the SHIELD Controller will provide the only Wi-Fi Direct experience as certified by NVIDIA. At this time it's unclear whether or not NVIDIA will share the API specific between these two devices for Wi-Fi Direct control.
This controller also provides hi-fi headset audio and mic control for wireless chat and game streaming. There's also built-in mic support on the controller so you can make use of Android voice commands.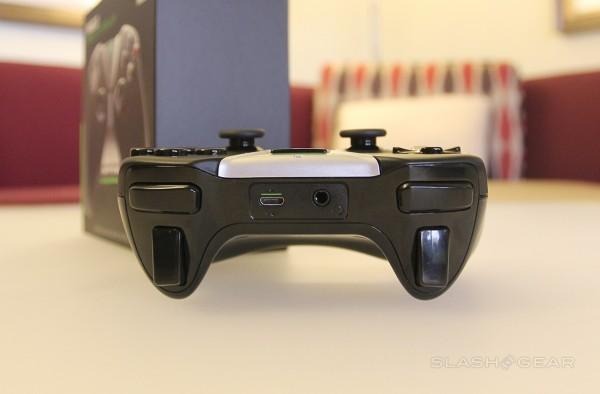 Battery in the SHIELD Controller is a rechargeable Li-ion that you'll charge via a micro-USB port at the back of the device – the same as you will with the SHIELD Tablet. This controller is also compatible with the original NVIDIA SHIELD – just as soon as the August NVIDIA SHIELD software update arrives.
Up to four SHIELD Controllers can be utilized on the SHIELD Tablet at once – but we'll have to see about the original NVIDIA SHIELD. We'll also be interested to see which games (if any) come with 4-player 4-controller support at launch
Software
Inside the NVIDIA SHIELD Tablet you'll be working with Android 4.4 KitKat – and it'll be upgraded to Android L in the future. Like the original NVIDIA SHIELD, this device will be delivered with an extremely "pure" version of Android, save NVIDIA's additions to the app collection and optimizations for this device's processor – NVIDIA Tegra K1.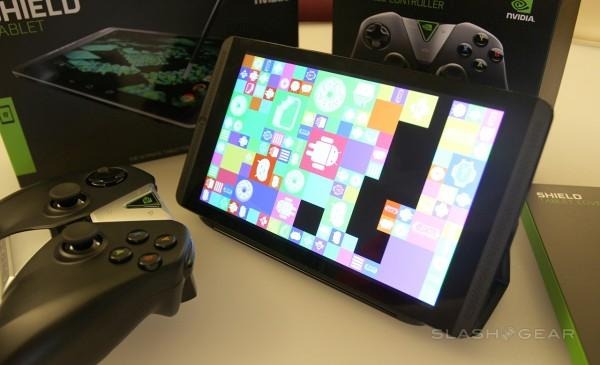 The NVIDIA Tegra K1 processor (mentioned in the hardware section above) enables Kepler graphics. This means OpenGL ES 3.1, AEP, OpenGL 4.4, DX12, Tessellation, CUDA 6.0, and power consumption under 2W. We've yet to see battery times, but if they're close to what we've seen with Tegra 4 and the Note, we'll be happy.
NVIDIA has worked direct with Epic Games to ensure the highest-quality delivery of Unreal Engine 4 graphics to the NVIDIA SHIELD Tablet.
When NVIDIA SHIELD Tablet launches, there will be 11 games out on Google Play developed specifically for the NVIDIA Tegra K1, with a whole lot more to come in the near future. Both Half-Life 2 and Portal will be playable by the NVIDIA SHIELD Tablet at launch.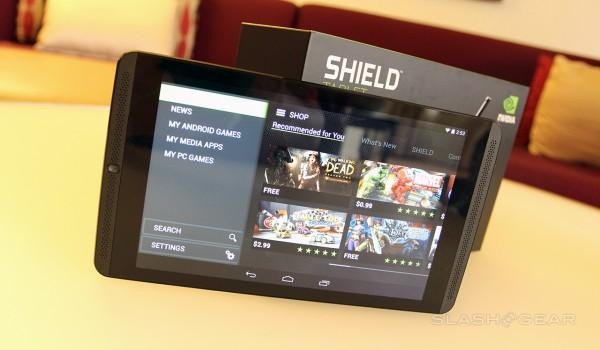 NVIDIA GameStream will work just as it has with the original NVIDIA SHIELD. Have a peek at our Remote GameStream Review with NVIDIA SHIELD to see what it's capable of – and see a demo of GRID 2 streaming here.
The cloud gaming system known as NVIDIA GRID BETA will be ready to roll for NVIDIA SHIELD Tablet at launch as well. This includes 16 titles right off the bat, including such excellent bits as The Witcher 2, Darksiders II, Dead Island, Saints Row The Third, and Borderlands 2. NVIDIA has suggested that NVIDIA GRID will be out of Beta soon.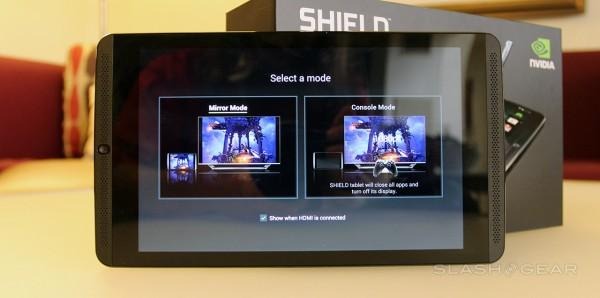 *Twitch streaming works on the NVIDIA SHIELD Tablet in a way that no other Android device does thus far. NVIDIA has worked with Twitch to enable native streaming that works with whatever content you've got on your display.
All of this can be launched from the UI NVIDIA calls SHIELD Hub. This system used to be called TegraZone – and will continue to be called TegraZone on other devices – but is now SHIELD Hub, made for all your NVIDIA SHIELD Tablet app and game launching needs.
Launch
Two versions of the NVIDIA SHIELD Tablet will be released, one with 4G LTE, one without. The 4G LTE version will launch unlocked, compatible with AT&T and T-Mobile 4G LTE, HSPA+, 3G, 2G, GSM, and EDGE connectivity.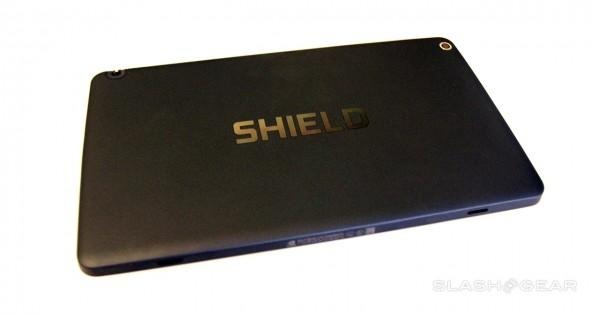 The Wi-Fi-only version of SHIELD Tablet will have 16GB of internal storage and will be available for $299 USD. The Wi-Fi-and-LTE version will have 32GB of internal storage and will be on the market for $399 USD.
Both versions will have a microSD card slot so that you can add an additional 128GB of storage if you wish. There's also a SHIELD Cover, flipping out to hold your device up and put your device's display to sleep for $39.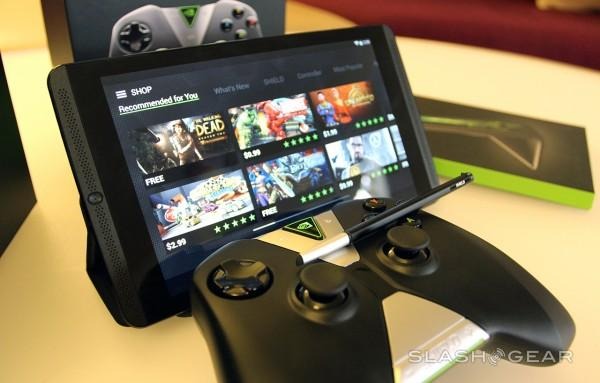 The NVIDIA SHIELD Controller will cost $59 USD and is – again – sold separate from the NVIDIA SHIELD Tablet. We won't rule out the possibility that retailers will choose to bundle the controller and the tablet in the future, but they'll always be in separate boxes – all manufactured and packaged by NVIDIA.
The Wi-Fi-only tablet and the controller are available for pre-order TODAY and will be shipping on the 29th of July, 2014, and on August 14th in Europe. More regions will be opened later this fall around the world.