NVIDIA GTX 480 Fermi-based video card leaks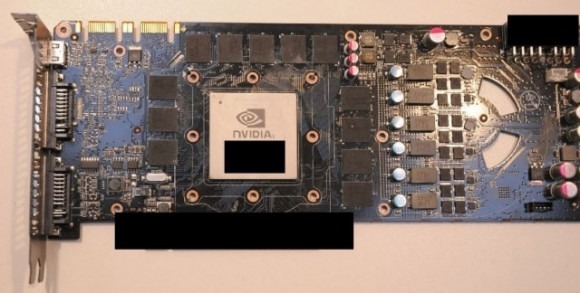 It's obviously a week for leaky video cards, as after the first sighting of Sapphire's stonking Radeon HD 5970 yesterday comes in-the-wild images of NVIDIA's rival card, the GTX 480.  Based on the company's Fermi architecture, the GTX 480 is tipped to begin arriving on cards from select manufacturers this month.
One of the most obvious elements in the card's design is the huge power supply, complete with six regulation lines; that ties in to some details NVIDIA revealed at CeBIT 2010 this week.  Apparently the GTX 480 will be particularly power hungry, and you'll likely need a 600W minimum PSU.
It'll also require special fans to keep it cool, not that we're too surprised at that given the performance angle NVIDIA are going for.  They've apparently said that the GTX 480 will be more potent than ATI's Radeon HD 5870, particularly when it comes to Open CL performance under OS X Snow Leopard.  We'll have to wait and see when the first shipping cards hit review benches, hopefully later this month.