NVIDIA GRID streams PC games to SHIELD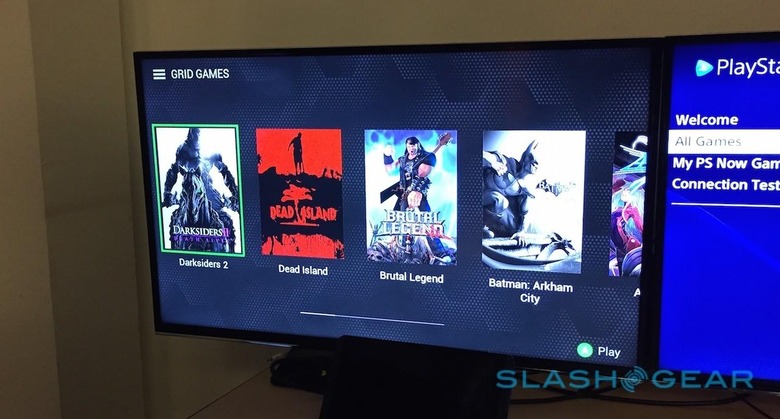 It's not just Lollipop that NVIDIA's SHIELD Tablet is getting, with NVIDIA GRID set to offer "Netflix for games" for the Android-based gaming tablet, and at a price that – for the moment, at least – can't be beat. Graduating from the beta that began almost a year ago, GRID effectively puts a whole server farm of GeForce GTX-equipped gaming PCs at SHIELD Tablet and SHIELD Portable owners' service, streaming titles like Batman Arkham City and Borderlands 2 at 60fps to the pair of gaming handhelds.
The goal, NVIDIA explained to me, is to replicate the successes of Netflix and Spotify in streaming video and music, respectively, but for games. NVIDIA GRID will have twenty titles at launch, with the promise of new games being added each week with a goal of around 100.
Rather than running on the Tegra K1 of the SHIELD Tablet, for instance, NVIDIA GRID games will play on the remote compute in the cloud. The graphics will be piped down to the device, while the player's control input will be shuttled back in the opposite direction.

It's not a new approach – PlayStation Now offers something similar, after all – but where NVIDIA distinguishes itself is in the quality. Sony streams 30fps content to the PlayStation TV: side-by-side with SHIELD Tablet, the difference in graphical resolution between the two was obvious to the naked eye, not to mention the speed at which games loaded.
In fact, NVIDIA tells me, GRID has around twelve times the performance of PlayStation Now, as well as double the frame rate and loading at half the speed.
NVIDIA will launch in North America this month, alongside the Lollipop upgrade on November 18th. There'll be two data centers, one on the west coast and the other on the east coast; the company is recommending a 10 Mbit connection, though says half that will probably suffice.
What's not recommended is GRID gaming over LTE. With data consumption in line with continuous video streaming, that could certainly chew through a 4G allowance in short order.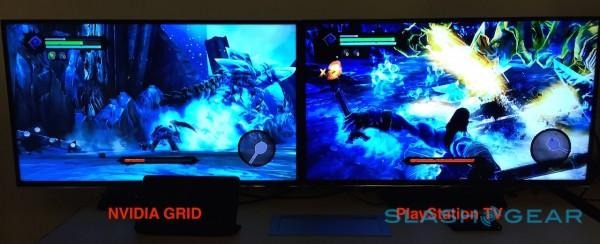 GRID will spread to western Europe in December, and then roll out in Asia by Q2 2015. Best of all, it will be free to access for SHIELD Tablet and SHIELD Portable owners until June 30th, 2015. Eventually, there'll be some sort of fee involved; NVIDIA tells me it's yet to decide what's fair, though tiered pricing is likely, with a bundle of older titles costing less than access to brand new games.
As for whether we could ever expect to see GRID offered up to other devices and platforms, NVIDIA tells me its focus is on SHIELD initially. That's not just a case of keeping the best tech for itself: addressing latency and controller lag is a matter of tweaking both what's going on in the cloud and what's happening locally, and of course the company has most control over both elements with its own devices.
However, it's not counting out the possibility of one day extending the GRID invitation to other Tegra-powered devices.
For the moment, though, it'll be SHIELD owners getting the fun stuff, as NVIDIA continues to carve itself a reputation as the go-to platform for serious play. GRID will show up as a new option in the NVIDIA Hub, once updated to Android 5.0.