NVIDIA GeForce GTX 780 delivers TITAN die with a "pure gaming focus"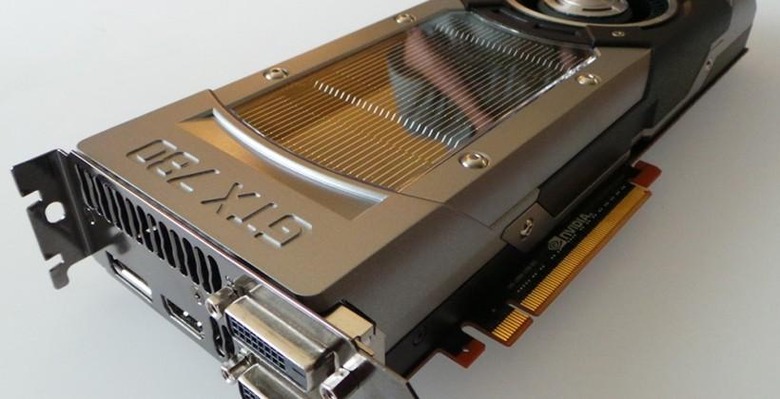 As NVIDIA continues its journey down the gaming road with software specifics such as the GeForce Experience, so too do they continue to tweak and empower their graphics cards – like the GeForce GTX 780, for instance. This week the GTX 780 has been revealed with much of the same hardware delivered in the GeForce GTX TITAN, but with slight differences that make it just a little bit less expensive and, as NVIDIA has informed us, "more of a pure gaming focus card than TITAN."
The GeForce GTX 780 works with the same GK110 GPU used in the GeForce GTX TITAN. Inside are 12 SMX units bringing 2,304 CUDA cores, along with six 64-bit memory controllers (that's 384-bit) with 3GB of GDDR5 memory – that's 50% more of each than the GTX 680 delivered.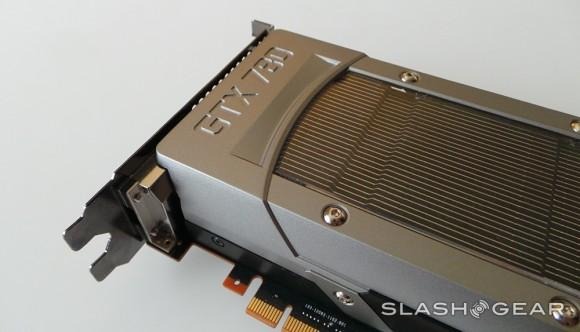 This memory interface also delivers up to 288.4GB/second peak memory bandwidth to the GPU. Like TITAN, this card is meant to run next-generation technology such as WaveWorks and FaceWorks, each of these demoed at NVIDIA's GPU Technology Conference earlier this year.
GeForce GTX 780 works with a base clock speed of 863MHz while a typical Boost Clock speed works at 900MHz. This number comes from an average found by NVIDIA running "a wide variety of games and applications", while the actual Boost Clock speed will depend completely on your actual system conditions. Memory speed on the 780 is noted at a 6008MHz.
The GeForce GTX 780 works with a new Adaptive Temperature Controller – working here with NVIDIA's GPU Boost 2.0, fan speed will be adjusted up or down "as needed" to maintain a temperature of 80C. With the Adaptive Temperature Controller working on the GTX 780, an adaptive temperature filter eliminates "unnecessary" fan fluctuations with an advanced RPM and temperature targeted control algorithm.
The software solution that allows this control will be available on the NVIDIA reference design for the GTX 780 as well as to partners who wish to implement it on their fans. Expect a bit more of a smooth ride with this feature implemented on your card – TITAN quiet.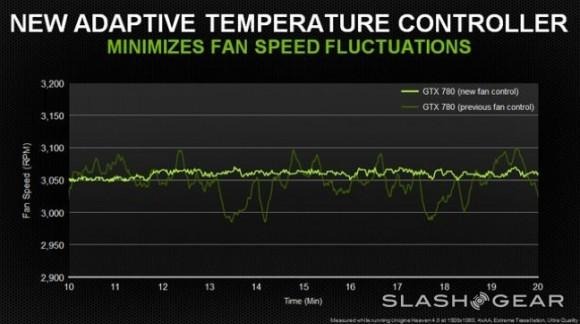 The NVIDIA GeForce GTX 780 is build to work with, again, the same die as the GTX TITAN, but here has no extra double-precision floating-bit. Users will be working with around a 70% performance upgrade over the GTX 580, and an overall experience that's consistent with gamers wanting to blast out maximum graphics settings and screen resolutions with high levels of AA to boot.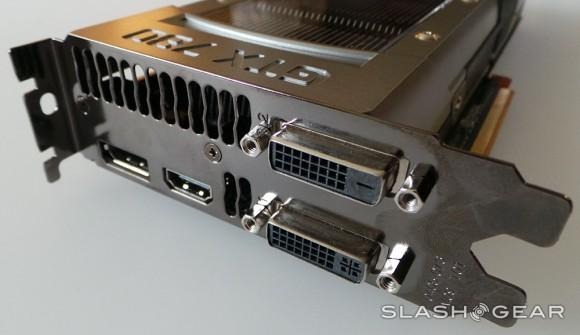 The NVIDIA-made GeForce GTX 780 reference board is 10.5-inches in length and works with two dual-link DVIs, one DisplayPort connector, and a full-sized HDMI out. Users will need to power this amalgamation with one 6-pin PCIe power connector and one 8-pin PCIe power connector.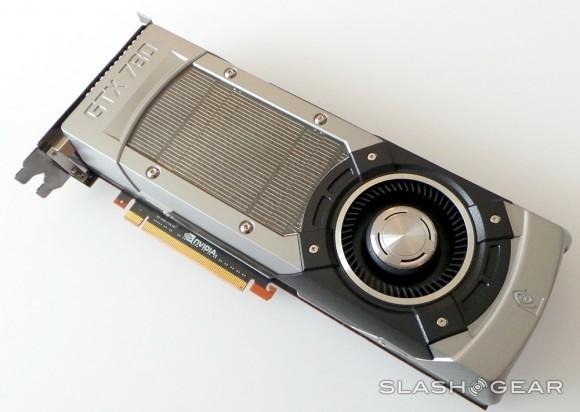 THe NVIDIA GeForce GTX 780's pricing sits at $649 USD and this will be the first card delivered with NVIDIA giving manufacturers the GeForce Experience to include on their install disks. While the GeForce Experience is an entirely optional system to install, and it's completely free to download from the web either way, this release does mark the first point at which NVIDIA is formally pushing the GeForce Experience as an interface they recommend to anyone and everyone working with GeForce hardware and a love for one-button graphics and performance optimization for games.