NVIDIA: 30 Tegra 3 smartphones coming in 2012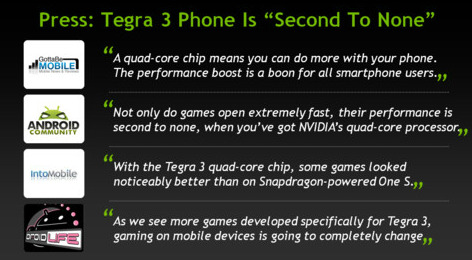 This week NVIDIA has brought forth the fury with an almost offhand mention of the fact that they've got plans for 28 more Tegra 3 quad-core smartphones for the year 2012. This adds to the two already announced Tegra 3 smartphones including the HTC One X which we've got a full review of as well as a hands-on with the other, that being the LG Optimus 4X. New devices will likely start popping up near the end of the year with 4G LTE capabilities as well via the Icera 410 for AT&T also announced this morning.
This announcement is similar to the one made on Tegra 2 before dual-core was commonplace, this setting NVIDIA up to once again be the dominant force in the mobile processor world for smartphones. Where the Tegra 2 took over the tablet world – and still dominates it, for the most part, you're now going to see Tegra 3 take over both the tablet and the smartphone world. We've found the Tegra 3 to not only support fabulously powerful games, but to work to keep battery power used in a way that allows you to keep devices on for days at a time.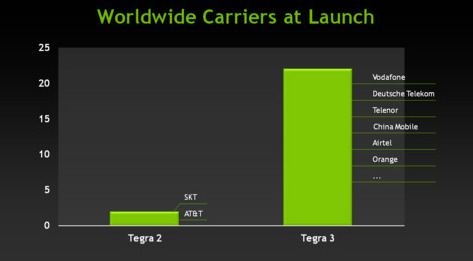 This is but one of several NVIDIA announcements made this week with more coming up via NVIDIA in our main news feed. Announcements include both mobile and gaming worlds, with gaming being always in the center of everything. Stay tuned!