NOOK HD gets another price slash as B&N tries to shed stock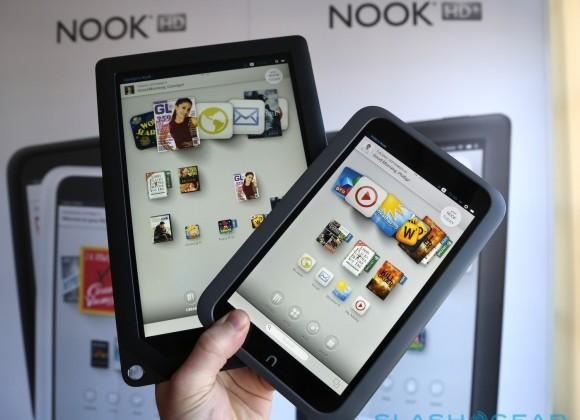 Barnes & Noble has again slashed NOOK prices in the UK, following its admission last month that it is clearing stock of the ereading tablets after deciding to instead license out the brand in future rather than build its own models. The NOOK HD will be offered from £99 for the 8GB model (or £129 for the 16GB version), £30 cheaper than B&N's last promotion.
As for the NOOK HD+, the bigger version of the Android slate with a 9-inch display, that also gets a price cut. The 16GB model is £149, again £30 cheaper than the last promotion (and £80 less than the original RRP), while the 32GB version is £179.
Barnes & Noble is calling this round of discounting a "temporary" one, though given the troubles the NOOK range is facing we'd be very surprised if more price cuts didn't follow on afterwards. The NOOK Simple Touch with GlowLight is on sale a £69 in the UK, with the non-illuminated version even cheaper (and out of stock at B&N's official UK store).
NOOK is feeling the pressure from Amazon's Kindle Fire and Apple's iPad/iPad mini, forcing drastic measures. The company saw sales of the division – covering hardware, content, and accessories – plummet 34-percent in the most recent financial quarter, and as a result opted to split the range.
In future, B&N will continue to produce the e-paper based NOOK models itself, but will leave NOOK Android tablets to third-party manufactures. The NOOK brand itself will be licensed out, as the company tries to slim its development costs.