Nokia N97 mini and E72 video unboxings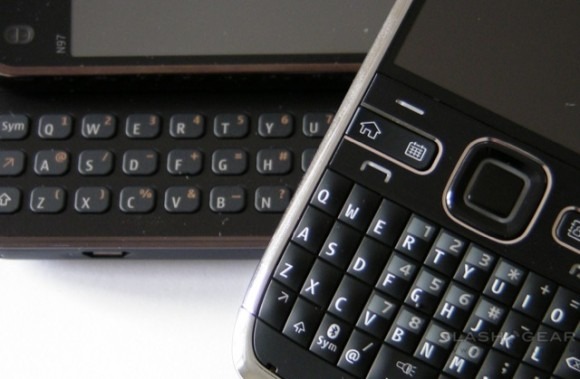 Nokia's Booklet 3G isn't the only new device from the company on our test bench today; two of the Finn's newest smartphones have also arrived, in the shape of the N97 mini and the E72.  Announced back in September and June, respectively, each offers a full QWERTY keyboard and S60 OS, but in strikingly different ways.  Check out our unboxing videos, live galleries and some first impressions after the cut.
The N97 mini is, obviously, a smaller version of the original N97, a device which while laced with promise actually failed to quite deliver when we reviewed it.  In this incarnation – which will go on sale alongside, rather than replacing, its sibling device – Nokia have slimmed down the whole handset, dropped the large D-pad and ousted the FM transmitter.  They've also improved build quality and preloaded the new S60 5th Edition 2.0 firmware, which N97 owners are already finding makes a significant difference to usability.  We're still not 100-percent convinced by the keyboard, but the OS does feel more responsive.
As for the E72, that's a more traditional form-factor with a non-touchscreen display and compact but highly usable QWERTY keyboard.  Successor to the well-considered E71, it might only measure 10.1mm thick but it still packs a 5-megapixel camera and dual-band HSDPA.  It's the keyboard that really makes the E72 special; we've only had it for a few hours but already we're faster at typing than we are on the N900.
We'll be putting both handsets through their paces for a full review, so until then enjoy the unboxing videos and gallery below.
Nokia N97 mini unboxing video:
[vms 1a42470269d56260243a]
Nokia E72 unboxing video:
[vms 5beae847a7ff6e220b5c]