Nokia N900 Up For Preorder: Drop $700, Get Free Bluetooth Headset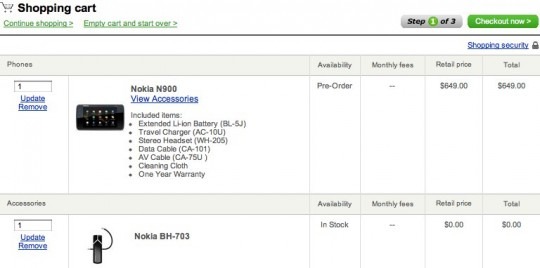 If you hadn't heard, Nokia World happened this week, and a few things were announced along the way. While we had a plethora of information regarding the Nokia N900 (or Rover or even RX-1 if you prefer), which even included a little pre-launch review, we were all waiting to hear from Nokia directly about the full details of the gadget. "We got what we were waiting for", and that even included the price.
Whether that's a good thing or a bad thing, well, that's up to you. Packed at $649, you get the standard fair in the box: battery, travel charger, stereo headset, data cable, an A/V cable, and a cleaning cloth. The device also comes with a 1-year warranty. If all of that isn't enough to whet your whistle enough to rush on over to Nokia's website and preorder one right now, there's more. Nokia is feeling generous, and they are going to throw in one of their very own Bluetooth headsets, the Nokia BH-703.
There's a small piece of information that you should know, though. While the Nokia N900 does have United States 3G support, it is only compatible with T-Mobile's 3G network. Sure, that means no 3G love for all the AT&T customers out there, but at least it's compatible. We count that as a good thing.