Nokia RX-51 N900 Rover Gets an Unofficial Prerelease Review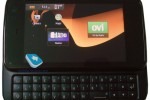 As we just mentioned earlier today, Nokia is set to announce their RX-51, N900 Rover in just a couple weeks at Nokia World, but the guys over at Mobile Review got a prerelease model and took some time to play with it.  They aren't giving a lot of information out yet, considering they have a lot of respect for Nokia, and even mentioned that if there hadn't been so many leaks regarding the device, we wouldn't be seeing any kind of review from them. Luckily for all of us though, they did it, and they have the pictures to prove it.
It should be worth mentioning  that so far, the only real piece of different information that we have is that the screen is definitively a resistive touchscreen. That's not the greatest news in the world, but there are some people out there that prefer it, so at least they've got something to look forward to beyond the other physical aspects. Also, the Rover is equipped with an ARM Cortex-8, a processor very much worthy of mention. This processor is also in the Palm Pre.
The Maemo-powered device is run by Freemantle, which Mobile Review didn't go into great detail about, but said that it is the next step for Maemo, and that it differs a great deal from what was on the N810. At about this point, MR basically fed us a slew of screenshots, which is probably what the majority of people are eagerly waiting to see. So, go ahead and follow the link below and take a gander at what's to come from Nokia. This might actually be worth it.
[via Mobile Review]