Nokia's RX-51 Shows Up Again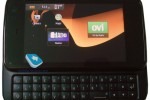 When we brought you news about Nokia's upcoming tablet, the rumors were still swirling about its existence. Of course, the fact that the device had cleared the FCC was a pretty good sign that it was coming out, and now we've got another image to show off. On the information front, nothing has changed. The RX-51 is still the N900 Rover when it comes to code names, and it's still running Maemo, Nokia's open-source platform. So if you want to see some color on this upcoming piece of tech, head on over the break.
The N900 Rover is still covered by a 3.5" 800 x 480 touchscreen, and has a slide-out full QWERTY keyboard. It comes capable of HSPA, WiFi, a 5-megapixel camera, and 32 GB of internal storage. There hasn't been any official word as of yet, but the tablet is still rumored to be released some time later this year. As for candidates to get the Rover, T-Mobile USA is number one on the list. The FCC cleared the device with AWS 3G with integrated 3G WWAN.
We're expecting to hear more from Nokia officially about the RX-51 in September, at Nokia World. Until then, keep those rumor-mills spinning. SlashGear will be at the Nokia event to bring you full coverage of the event, so as soon as this tablet makes an official appearance, we'll pass the news along. If you're a fan of Nokia, want a tablet, and a T-Mobile customer, it looks like your dreams are pretty close to being fulfilled. Excited yet?