Nokia Internet Tablet Caught In Wild, Passes FCC: 3G, QWERTY And 5MP Camera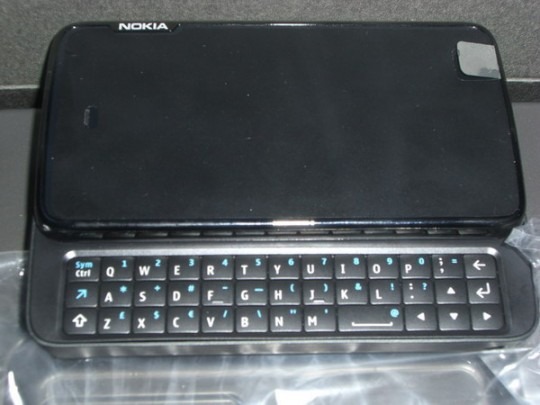 Could this be Nokia's upcoming Internet Tablet?  Having heard little about the likely Maemo powered refresh from the company for a couple of months now, both the image you see here (more after the cut) and an FCC filing have appeared in short succession.  Both the device, and the FCC diagram, seem to match the leaked image of what was called the N900 "Rover" Internet Tablet from May.
More live images after the cut
The filing lists the device as the RX51, which is obviously an internal codename but, most interestingly, one that has been spotted before mentioned in Maemo builds.  Maemo is Nokia's open-source mobile platform, which the new Internet Tablet will run.  The FCC document lacks any other details aside from the fact that the device has an integrated 3G WWAN connection, in fact T-Mobile USA-compliant AWS 3G.
As for the live images, there are no details as to its origin but they do show a SIM slot and – on the box at least – RX-51 branding.  However the camera assembly on the back does not seem to match up with the plain back panel shown in the FCC imagery.  According to previous rumors, the N900 Rover will have a 3.5-inch 800 x 480 touchscreen, HSPA, WiFi, a 5-megapixel camera and 32GB of internal storage.  It's also tipped to reach the market this year.