Nokia N900 Rover Internet Tablet details leak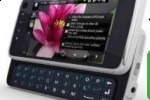 Details of Nokia's next-gen Internet Tablet have leaked, suggesting that the Finnish company have moved away from positioning the platform as a companion device and now perceive it more as a smartphone.  According to leaked specifications, the Nokia N900 or "Nokia Rover" now has quadband GSM and 3G HSPA, in addition to the WiFi and Bluetooth of the previous-gen models.  It also sheds some screen-size, scaling down to a 3.5-inch 800 x 480 touchscreen (from 4-inches) though as this leaked image suggests the overall design is very similar to that of the N810.
Storage is believed to be 32GB, with a memory card slot for boosting that up to 48GB, and there's 1GB of total virtual runtime memory made up to 256MB physical RAM and 768MB of virtual memory.  There appears to be a front-facing camera, likely for video calls, together with a 5-megapixel autofocus camera with flash and Carl Zeiss optics on the back.  The new CPU is an OMAP3430 500/600MHz chip, runs the new Maemo 5 OS, and the whole thing measures 59.7 x 111 x 18.2 mm.
Nokia's "target launch dates" (as of the beginning of 2009) are a July 2009 release on T-Mobile International, together with the Middle East, Asia and Sout-East Asia-Pacific, followed by a T-Mobile USA release in August/September 2009, and Europe in October 2009.  As the Internet Tablet now has integrated cellular, it's likely to be carrier-subsidized; that could go some way to offsetting the high sticker price which many criticized on the previous models.
[via PhoneMag]