Nokia N9 Official Countdown Begins With 49 Days Until Launch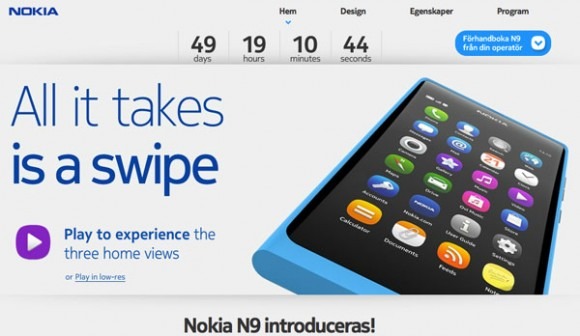 The official countdown page for the much anticipated Nokia N9 MeeGo handset is now live. Showing 49 days left, the clock confirms a mid-September launch, although that date may only be for its release in some European markets. A US release has still not been confirmed.
The European carrier, Orange, has confirmed previously that the N9 would launch in Switzerland on September 19, and that lines right up with the countdown. It may then be followed by Sweden, which is reported to receive the handset on September 23. But oddly, other major European markets such as the UK, Germany, and France have yet to get confirmed dates. Pricing has also not been revealed, although it's said to be quite affordable with an attached service plan.
The N9 features a slick 3.9-inch touchscreen display covered by Gorilla Glass on a pillow-shaped body with an 8-megapixel camera equipped with Carl Zeiss optics. Nokia's first Windows Phone, codenamed the Sea Ray, is almost identical in form and may make its debut during an August 17 event.
However, both phones are slated to launch in Europe first, with the N9 coming out first in September followed by the Sea Ray, rumored for sometime in November.
[via Engadget]