Nokia Lumia 800 and 710 Compare and Contrast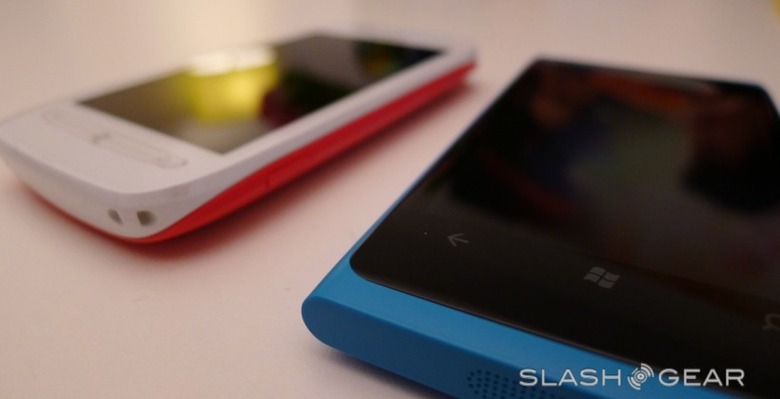 It's time to take a look at both of the new Windows Phone enabled devices Nokia has announced today at Nokia World 2011, the Nokia Lumia 800 and the Lumia 710. While both devices do run the newest version of Windows Phone, that being version 7.5 Mango, thats where the perfect consistency ends. Nokia has made two different devices here for two different crowds – see if you can tell which is aimed at who!
Nokia Lumia 800
The Nokia Lumia 800 is a device that should very much remind you of the recently reviewed by Chris Davies Nokia device by the name of Nokia N9. While that device ran MeeGo, this new one rolls out with Windows Phone and is therefor modified physically to meet the needs of the alternate mobile OS. You've got the three Microsoft designed buttons at the bottom of a 3.7-inch 480 x 800 pixel AMOLED display, inside you've got a 1450mAh battery for nearly 10 hours of talk time, and inside you've got the lovely 1.4GHz single-core Qualcomm Snapdragon processor to back you up.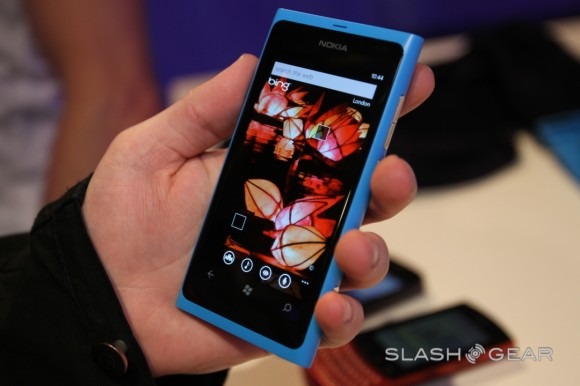 Inside you'll find 16GB of built-in storage, 512 MB of RAM, and the ability to use the cool 8-megapixel camera on the back of the device, this camera capable of 720p HD 30fps video as well as HD photos. The single piece of bright colorful polycarbonate should have you agreeing with Nokia that the whole experience is "pillowy" and without a doubt this is a high contender for the top class of smartphone devices out there, being described by many as the "first true Windows Phone device" right out of the gate due to its unique design and top-tier specifications.
Nokia Lumia 710
The device that for one reason or another appears to be taking a second seat to news about the 800 is the Lumia 710, another Windows Phone 7.5 Mango device with a 3.7-inch display at 480 x 800 pixel resolution. This time the display is a TFT LCD and the 1300 mAh batter should be giving you nearly 8 hours of talk time. Inside you'll find the same single-core 1.4GHz Qualcomm Snapdragon chip, while the back of this device has a slightly smaller 5-megapixel camera still capable of 720p HD video at 30 fps.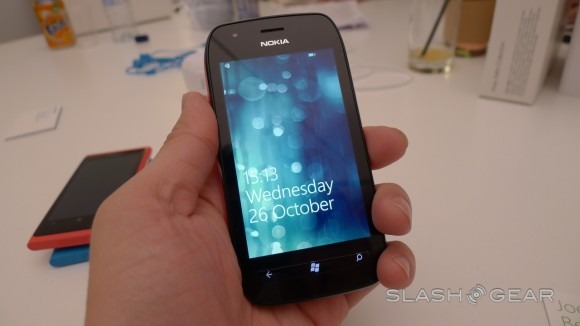 Built-in storage is set at 8GB, while system memory is 512 MB and, just like the 800, this device has a candybar design. You'll see right away though that these certainly don't taste the same, and if they were made of candy, they wouldn't both be chocolate, that's for sure. While the 800 is 4.59 x 2.41 x 0.48 inches in size and weighs in at 142 g, the 710 rings in at 4.69 x 2.46 x 0.49 inches and weighs 126 g.
I suppose at this point you're confused whether these two devices are nearly the same or completely different. Truth be told, they're going to be held up by you in the store next to one another and it's likely the price that'll do the deciding for you. That or your ability to choose certain fantastic color cases for one and different sets of colors for the other. Whatever happens, happens!
Also feel free to check out another competition from this morning by the name of Lumia 800 vs iPhone 4S, then see how you'll be getting some sweet app options with Nokia App Highlights curated store as outlined this morning as well.
See our full Nokia Lumia 710 hands-on post or just check out the video here:
And see our full Nokia Lumia 800 hands-on post or just check out the video here:
Then let us know which one you'd choose if you had the choice right this second!