Nokia Lumia 1520 specs and price leaked by Nokia's Chinese Tmall store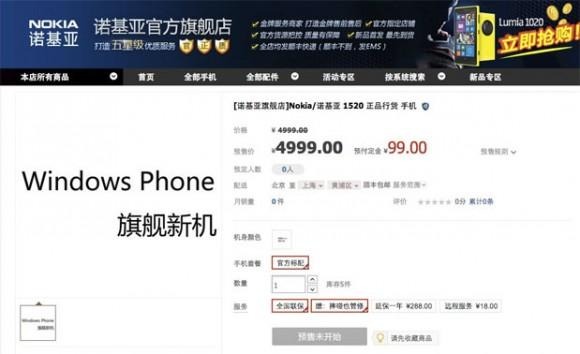 Here's one more bit to add to the growing Nokia Lumia 1520 checklist, this time indirectly coming from Nokia itself. One of the company's Chinese partners has inadvertently leaked some of the hardware and pricing details for Nokia's rumored phablet.
Our picture of this new Nokia smartphone, codenamed "Bandit", is far from complete, but some of the pieces are slowly falling into place. Rumors of the device started to appear around August, though at the time the hardware sounded more a bit like wishful thinking. At the top of the list were a 6-inch display, 1080p resolution, and the latest Qualcomm processor. Though those specs sound quite common for current smartphones, it would definitely have been a first for Windows Phone devices, as the mobile OS itself didn't yet support such hardware.
Curiously, that issue resolved itself just a few days ago, when Microsoft announced the latest update to its smartphone operating system. Windows Phone 8 update 3 brings in quite a lot, but the relevant new features include support for Qualcomm Snapdragon 800, and, perhaps more importantly, larger screens of up to 6 inches and higher resolutions of up to 1080p. And based on this leaked information from Chinese online store Tmall, the Nokia Lumia 1520 will have all of the above.
This will be Nokia's first giant smartphone, in a time when big is the new black in smartphones. The store entry is quite scant on details but it does confirm what we've gathered so far, such as a Qualcomm Snapdragon 800 processor, a 6-inch 1080p screen and a 20 megapixel PureView camera. However, it also adds a new piece of information with the pricing details. The Nokia Lumia 1520 is expected to come with a 4,999 yuan price tag, or roughly $820.
Sounds like Nokia, and Microsoft as well, is intending to put out a decent and up-to-date device as it struggles to maintain its relevance in the smartphone market. We'll find out if it will succeed soon enough if Nokia's October 22nd teaser pushes through.
VIA: Engadget