Nokia Bandit 6-Inch "Phablet" Tipped To Debut Windows Phone 1080p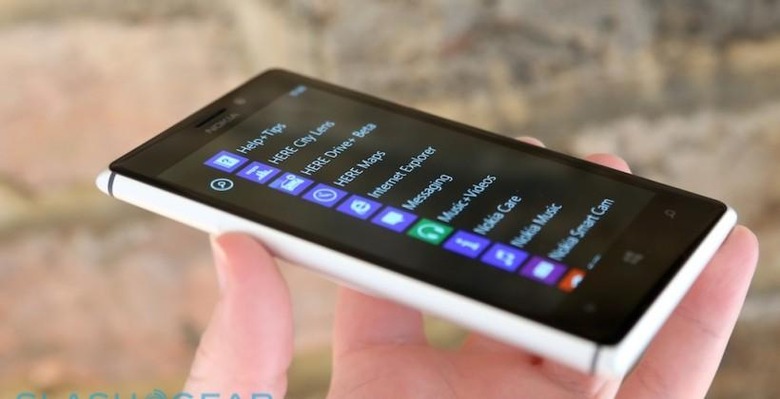 Nokia is working on a 6-inch Windows Phone "phablet" internally codenamed Bandit, and with a launch expected on AT&T before the end of 2013, sources claim. The 1080p smartphone may well be the first Windows Phone to pack a Full HD display, The Verge's insiders say, while inside there's a step up in processing grunt teased, with Bandit also expected to pack a quadcore processor from Qualcomm's Snapdragon line-up. Meanwhile, while it falls short of Lumia 1020-style PureView optics, there's apparently no shortage of megapixels.
In fact, according to the leakers, Nokia is supposedly equipping Bandit with a camera of "at least 20-megapixels"; that will demand "a slight hump" on the back panel, similar to the bump on the back of the Lumia 925. The chassis itself is tipped to be made from polycarbonate and described as "thin and lightweight", and it's unclear if that means the exposed metal structure of the Lumia 925 has been bypassed in favor of a full-plastic casing as on the Lumia 920.
Windows Phone has lagged behind rivals in terms of 1080p display support, currently topping out at 720p thanks to limitations of the OS itself. However, Microsoft is believed to be working on not only baking in 1080p support, but tweaking the Windows Phone UI so that it makes best use of the extra pixels.
For instance, there's expected to be a new column for homescreen Live Tiles, meaning more can be seen on-screen at any one time rather than simply enlarging the interface.
So far, Nokia's biggest screen handset running Microsoft's platform has, ironically, been one of its lower-specified models. The Nokia Lumia 625 has a 4.7-inch screen but only runs at 720p, though it's targeted at the more affordable end of the market.
Back in July, what was tipped to be a 6-inch display panel intended for a Nokia device and snapped at a production facility leaked out, though Nokia has been tight-lipped about its 1080p strategy. Nonetheless, the step up in resolution – and oversized phones to show it off at its best – seems an inevitability, after the success of devices like Samsung's Galaxy Note series and the general increase in flagship handset size.
Meanwhile, Nokia's tablet plans are also simmering through the rumor-mill, with suggestions that the company is finally readying a Snapdragon 800-based slate for launch. The tablet, currently unnamed, is believed to run Microsoft's struggling Windows RT platform, the version of Windows 8 for ARM-based processors.
According to the sources, the Bandit is currently in testing at AT&T, and the carrier and Nokia hope to have it on shelves by the end of the year. Whether that precludes a release on other carriers – or merely delayed availability – remains to be seen; the same insiders suggest the Lumia 925 will soon be released on carriers other than T-Mobile USA.