Nokia HERE Maps arrives on Galaxy smartphones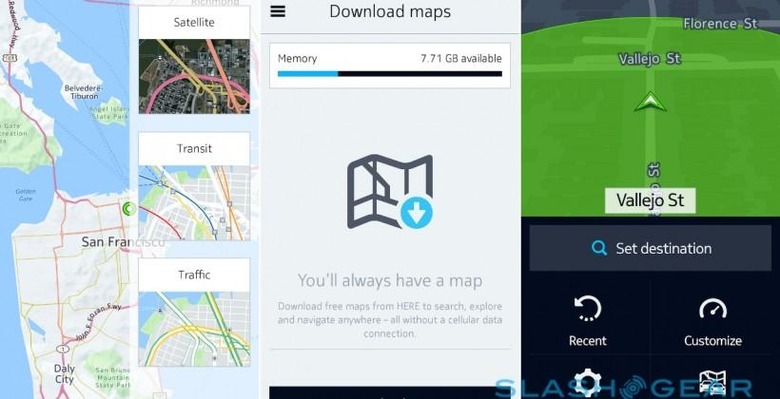 Nokia HERE's Maps app for Android has gone live for Samsung smartphone users, bringing a Google Maps alternative with full offline navigation support and more. The app, based on HERE's Windows Phone software, supports regular and satellite mapping, live traffic reports using data pulled from the 24/7 monitoring team at HERE Traffic, public transportation information for a number of cities, and of course navigation, with an in-car view for easier use while your Galaxy S5 is suction-cupped to your windshield.
The new software, which we put through its paces last week, has a number of advantages over Google Maps on Android.
One of the biggest is offline mapping. Rather than demanding a data connection any time you want to look at a new area, HERE Maps allows you to download a full package of that data in advance.
Maps are organized into territories, countries, and states, meaning you can opt to have just coverage of California or Idaho, for instance, or instead grab the entirety of Western Europe in case you're trying to avoid data roaming fees while you're over there.
Map package sizes vary considerably, and can be significant – measuring in the gigabytes – if you're looking to have a number of locations.
Optional is setting up a HERE account, which allows you to put together "Collections" of locations and then access them across other devices you're also signed in on, or eventually through the browser-based interface as well.
Initially, only Samsung Galaxy smartphones running Android 4.1 or higher and with 1GB or more of RAM will be able to install the app. However, in time there'll be a general Android version, HERE has confirmed, along with an iOS app for iPhone users.
SOURCE HERE
MORE Samsung Apps Store