Nokia City Lens Augmented Reality gets official for Windows Phone 8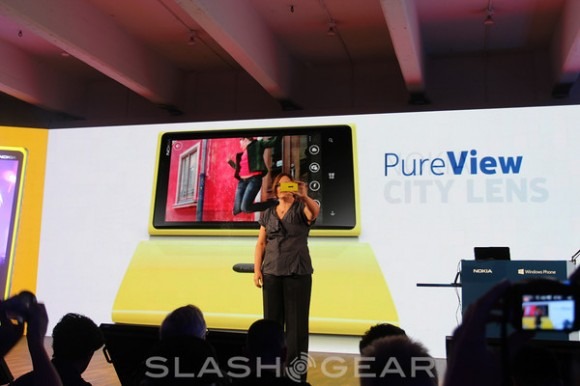 Nokia has just started unleashing the details on their upcoming Windows Phone 8 attack all starting with their new flagship Lumia 920. Along with plenty of other details we've seen throughout the week they also just officially announced Nokia City Lens Augmented Reality for Windows Phone 8 and the Lumia series.
Yup, Nokia has brought their ever expanding City Lens app and maps technology to Windows Phone 8 just like we reported on yesterday. To start they are showing it off on stage with their new Lumia, showing just how great the technology will work with their new flagship Windows Phone 8 Phone.
"Nokia City Lens provides the most intuitive way to explore the world around you."
With Nokia City lens you'll be doing more than just seeing directions or restaurants around you, instead you'll be seeing them live all through the city lens which can be launched right from Nokia Maps simply by tipping your device up and looking upon the world. It was launched earlier this week in beta, and it looks like it will be arriving for more soon. With City Lens by Nokia you'll be seeing more than the usual Augmented Reality app too. You'll see names of restaurants, coffee ships and more, right on your Windows smartphones display.
That isn't all either. Nokia also just announced that their popular and still growing Nokia Maps (in favor over Google Maps obviously) will indeed be combining augmented reality and City Lens. Nokia hopes that combining these technologies all to their new Windows Phone 8 options users can enjoy and explore their surroundings in a much more intuitive and human way.
We've seen City Lens before back when it was released in May so you'll want to check out more details on it by clicking here. While we still aren't sure if AR will ever hit the mainstream but for Nokia it is here to stay. Being officially announced and headed to Windows Phone 8 and more.