Nokia releases City Lens augmented reality app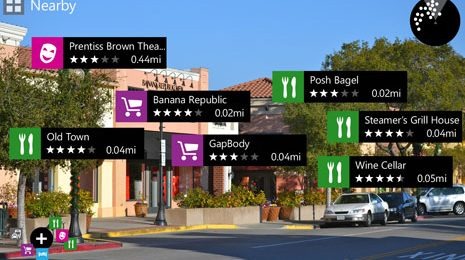 Remember augmented reality? Smartphone users may have had brief flings with the technology using apps like Layar. The charm doesn't seem to have stayed with us over the years, although Google is planning to bring it back. That hasn't stopped Nokia from creating its own augmented reality app for Windows Phone, what they call Nokia City Lens. Designed to work with the Lumia 710, 800 and 900, the app will overlay nearby establishments with the UI you'd expect from Windows Phone.
Once you fire up the app, you'll see local restaurants, landmarks, hotels, and shops overlayed on top the live camera image, with the markers and information shifting in and out of view along with your movements. When you tap on an item, you'll be taken to the relevant information which includes a description and reviews.
Nokia has also included a built in sharing function, so if you see something that takes your fancy you'll be able to beam it over to friends using email or SMS. Want to play around with City Lens? Head over to the Nokia Beta Labs for the download link. Nokia will keep a track of feedback and update the app accordingly based on user suggestions and reviews.
[via Nokia Conversations]