Nokia CEO teases prototype handset: Windows Phone or MeeGo? [Updated]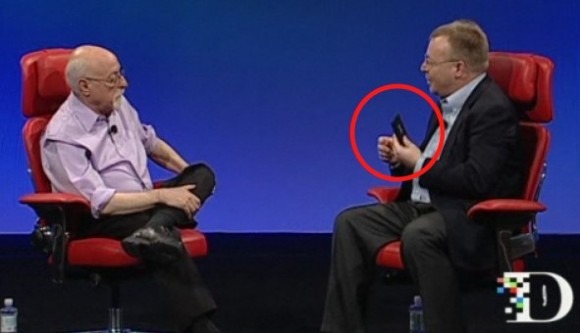 We've already mentioned the Windows Phone prototype Nokia CEO Stephen Elop says he's already carrying; now the chief exec is taunting Walt Mossberg with unannounced devices at D9. Speaking at the conference this week, Elop said "I carry around all forms of innovative hardware, and there are a number of interesting products still coming from Nokia."
It's unclear whether the device that Elop whipped out of his jacked pocket was a Windows Phone handset or the MeeGo smartphone which is confirmed to be arriving this year. The CEO refused to allow Mossberg to see the device – or even to turn it on – leading him to suggest that it could well be "a piece of inert plastic."
Elop laughed that off, pointing out that it was a matter of record that he was already using Windows Phone prototype – though, again, not confirming that the handset briefly shown was using the Microsoft OS. We're hearing rumors that June could well be an "interesting" month for Nokia, and not just because of Symbian Anna showing up on the X7 and E6, though we'll have to wait to find out more.
Update: According to Nokia Conversations, the company's official blog, the handset Elop showed is "not running Windows Phone." That could mean it's a device based on another platform, or that it's not actually loaded with any OS whatsoever.