Nokia And Nicki Minaj Light NYC For Lumia 900 Debut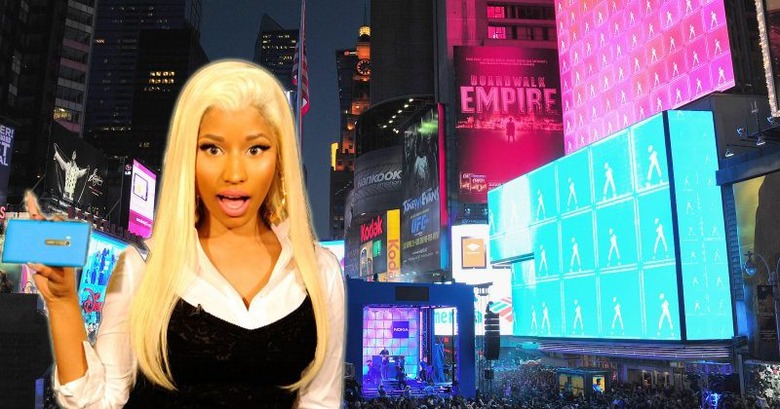 Nokia lit up New York City's Time Square for a Lumia 900 extravaganza on Friday, turning to Nicki Minaj and the CGI specialists behind i-Robot for a music and light show in keeping with AT&T and Microsoft's ambitions. The event – which followed the London deadmau5 event for the Lumia 800 in November last year – paired a remix of Starships with a 200ft high video show and live dancers, a costly spectacle that will demand more than a few $99.99 AT&T Lumia 900 sales if Nokia, Microsoft and the carrier want to make their money back.
Over 5,000 hours of work apparently went into the video effects, with a team of CGI specialists slaving solidly for three weeks to produce enough content for the nine screens Nokia commandeered. A temporary server brought in to sync all that video was wired up with eight miles of cable spread over four square blocks, Nokia says.
[vms a60d6a1afaf7859c5076]
As for the music, Minaj performed a live remix of Starships by DJ and producer Doorly, on a specially constructed stage. Nokia hadn't actually told the crowd who was performing, keeping full details a secret and only promising a suitably eye-catching spectacle.
The Nokia Lumia 900 itself will hit AT&T shelves tomorrow, April 8, priced at $99.99 with a new, two-year agreement. For all the details as to whether the Windows Phone holds up to the light show, check out our full Lumia 900 review.
[polldaddy poll=6077968]