No Transformer Prime 3G/UMTS version says ASUS Germany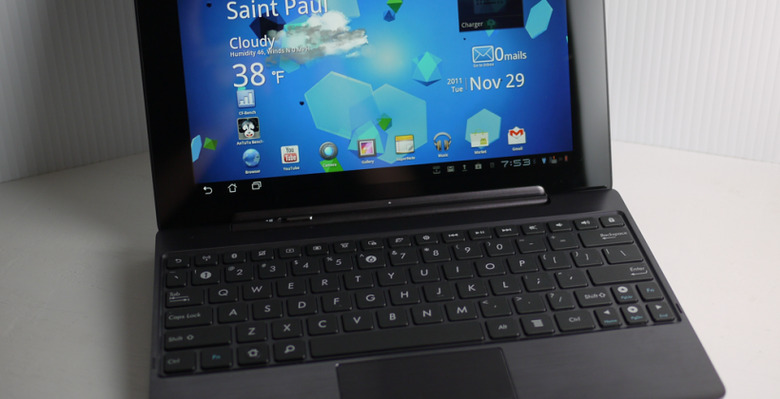 While the ASUS Transformer Prime has finally hit the SlashGear test bench and – in a few days time – store shelves, for some the package won't be complete until a 3G version of the Tegra 3 tablet is available; unfortunately, that's looking increasingly unlikely. Despite suggestions last month that ASUS would consider a 3G Transformer Prime if the market demanded it, the company's German division has thrown cold water over the prospect, claiming the minimal demand for UMTS 3G models means they're not going to be produced.
"This time there will be no model with UMTS. We want to emphasize that we are aware of the strong demand for UMTS models in Germany and would like to serve. However, in many other countries' UMTS networks are not so common and so the worldwide sales volumes for UMTS models are not particularly large. Furthermore, most UMTS pads are sold in Germany through the Telco channel and there are 1 EUR especially subsidized products requires a contract, the price point may not make an Eee Pad Transformer Prime unfortunately" ASUS Germany (translated)
Asked on the company's German Facebook page whether a UMTS Transformer Prime was in the pipeline, ASUS admitted that while it was aware of some demand, limited support for UMTS worldwide meant it would not be cost-effective to develop. That's an unusual stance, given UMTS/HSPA is used across Europe, in Asia and – on carriers like AT&T and T-Mobile, albeit using different bands – in the US.
What seems reasonably likely is that ASUS isn't convinced either that customers would stomach the cost of an unlocked Transformer Prime 3G with the price of a pentaband UMTS modem integrated, or that carriers would sufficiently subsidize such a model to make it worthwhile producing. Of course, that's not to say that ASUS in the US might not put together a CDMA/EVDO Rev.A or even LTE version of the Transformer Prime for Verizon, for example, since the German division is only talking about UMTS.
More on the ASUS Eee Pad Transformer Prime in our full unboxing with hands-on first-impressions!
[via NotebookItalia]