No, Samsung hasn't sold 1 million Galaxy Fold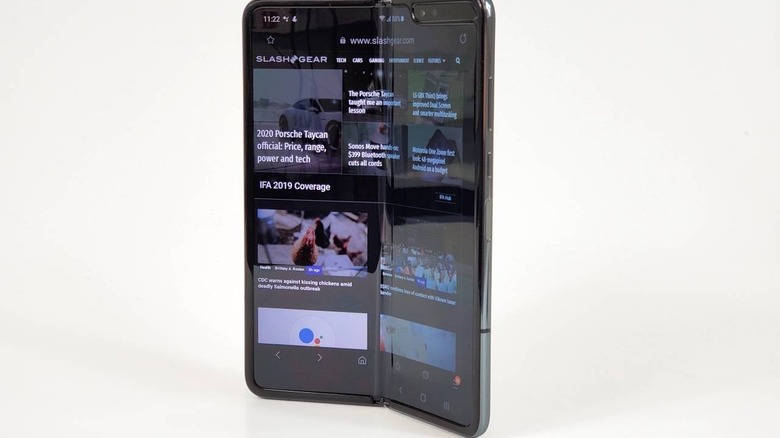 Samsung has not, in fact, sold one million Galaxy Fold smartphones, with the company forced to deny reports that it hit an unexpected milestone with its folding flagship. The $2,000 Android phone had a troubled launch earlier in 2019, with Samsung forced to abort sales only days before early-adopters were expecting to receive their handsets.
That came after early reviewers discovered several deal-breaking flaws with the design, not least that the folding OLED screen was far too easy to damage. Samsung took the Galaxy Fold back to the labs and came up with a handful of tweaks to help avoid grit from getting underneath the screen, and to discourage owners from inadvertently peeling off the top display layer that, initially, resembled a temporary screen protector.
The company was upbeat when it make a second launch attempt for the phone later in 2019, though even then it was surprising when reports earlier this week suggested it had already sold a million of the phones. That, it seems, was all down to a misunderstanding at TechCrunch Berlin, where Samsung Electronics President Young Sohn was a speaker.
He claimed that Samsung had already blown past its initial goal to sell 500,000 Galaxy Fold devices globally this year, and had sold 1 million instead. Now, though, a Samsung spokesperson has clarified that the exec made a mistake.
It seems Sohn confused the company's sales target for the year with actual sales. Samsung has not, in fact, sold one million Galaxy Fold devices, the company confirmed to Yonhap News. The spokesperson did not give an actual number for official sales.
Despite that setback – hardly the most embarrassing the Galaxy Fold has faced this year, frankly – Samsung seems gung-ho about foldable devices in general. Back in October, the company teased a second form-factor, potentially for the Galaxy Fold 2 in 2020. It could launch as soon as April next year.
That would be a clamshell design with a folding display that creased horizontally, rather than vertically. We've seen Motorola's new Razr adopt that layout, making for a device that's akin to a regular large smartphone when opened, but much smaller when closed.
Even there, Samsung could have some improvements to bring to the table. The Galaxy Fold 2 hinge could be "almost unnoticeable" it's suggested, using a new mechanism which avoids the conspicuous gap of the first-generation handset. It might also use an under-display camera, which might allow Samsung to do away with the cut-out notch in the upper corner of the current Galaxy Fold's larger, internal screen. That cut-out accommodates various sensors, including the selfie cameras.