No Man's Sky is finally finished, goes gold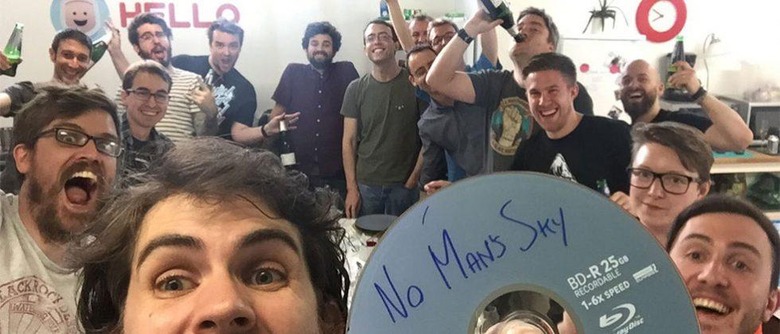 Well, No Man's Sky fans out there, it finally happened. The game is complete and has gone gold. The official launch date for the ambitious and delayed game is set for August 9. Sean Murray tweeted a pic of the development team over at Hello having a cold one in celebration of the completion of the game. I'm pretty sure that one dude on the left of the picture with the glasses is trying to eat the skull of the guy holding the disk.
If you have missed all the hubbub around No Man's Sky, the game was previously set to launch on June 21. Missing that launch date was a big deal since marketing materials touting the launch had been sent to stores like GameStop already. That forced GameStop locations to put a sticker over the launch date that simply said coming soon.
At the time of that delay, Hello still maintained that the August launch date would be met. In late May, Hello stepped up and confirmed the August 9 launch date for the PS4 and PC. It looks as if the extra seven weeks to work on the game and get it ready for retail did the trick. Sean Murray said when the new launch date was announced, "Making this game is the hardest thing I've ever done in my life, but we are so close now, and we're prepared to make the tough choices to get it right," he explained, adding, "Some key moments needed extra polish to bring them up to our standards."
Some feared that another delay would happen when Sky TV and Hello got into a tussle over the "Sky" portion of the name with Hello eventually winning that row and getting to move on with the name intact. Murray said at the time that the legal resolution was the end of three years worth of secret legal fighting.
SOURCE: Twitter