No Fallout 4 or Skyrim mods on PS4, Bethesda confirms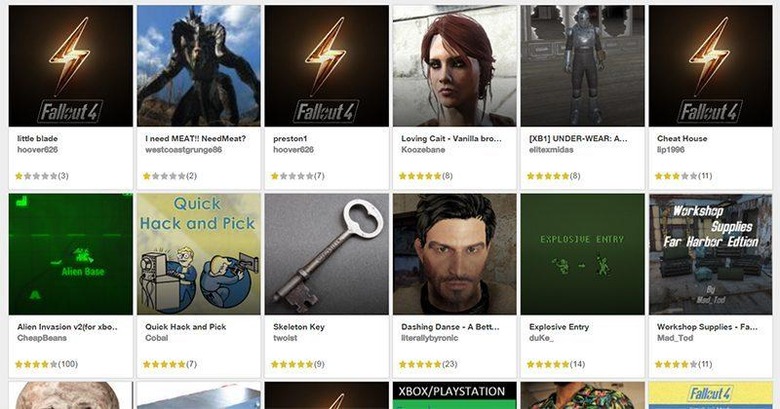 After players have been waiting for months now, developer Bethesda has revealed that its games on PlayStation 4 — specifically Fallout 4 and the upcoming Skyrim remaster — will not support the anticipated mods feature. Now, this isn't a case of Bethesda being jerks and having lied to us all this time, or even one of them not being able to get the feature to work on PS4. Instead, it seems that Sony has ruled that it will not approve user mods in a way that Bethesda feels they "should work."
When the highly acclaimed Fallout 4 was released last fall, it was announced that user mods would not only be available on the PC version, but on Xbox One and PS4 as well. This would be a very rare case for console games, but Bethesda has long been known for its support of user mods in its games, allowing players to create and share new content, environment rules, and ways of play that can significantly add to the life of a game.
"Our goal was to make mods easier and more accessible than ever before, for both the creators and the players," the developer has previously said. Fallout 4 modding tools were released for the PC in April, with the Xbox One version following in late May. The PS4 was originally supposed to get support in June, but it's clear now that won't be happening at all.
Bethesda writes in a post on their website:
"After months of discussion with Sony, we regret to say that while we have long been ready to offer mod support on PlayStation 4, Sony has informed us they will not approve user mods the way they should work: where users can do anything they want for either Fallout 4 or Skyrim Special Edition."
Sony has yet to offer any clarification on the matter, but Bethesda concludes that it remains hopeful to bring mods support to PS4 if Sony ever changes its stance. The developer still believes that user mods play an important part of Fallout 4 and Skyrim Special Edition (coming in October) on consoles, but they will not be available to PS4 players until future notice.
SOURCE Bethesda