Nissan's ProPILOT Self-Driving Tech Plays Safe For Public Launch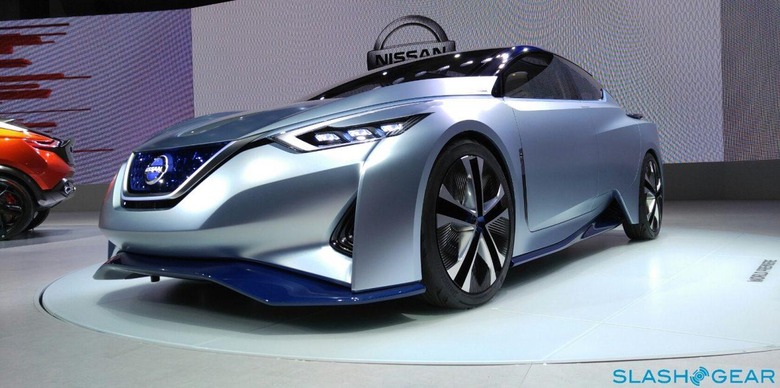 Japan's motorists are about to get their first taste of mass-market autonomous driving, with Nissan announcing it's bringing a self-driving minivan to public roads. The new Nissan Serena, a compact family car not sold in the US, will be the first of the automaker's models to offer ProPILOT, a combination of lane-following, traffic pacing, and more.
The system is similar to Tesla Motor's Autopilot, in that it's intended to offer convenience for drivers in a fairly specific scenario.
In Nissan's case that's the highway, and single-lane traffic only. ProPILOT takes charge of the accelerator, brakes, and steering, staying in the center of the lane while maintaining pace with the traffic ahead and adjusting speed as necessary.

According to Nissan it will operate between around 19 mph and 62 mph, though ProPILOT is capable of bringing the Serena to a complete stop should the vehicle in front slow to a halt. After that point, it can be reactivated by tapping the accelerator or the dedicated control on the steering wheel.
Interestingly, Nissan is relying on a solely camera-based approach for its self-driving system. A mono camera is mounted high in the car, around where the rear view mirror is, and which – thanks to Nissan and Mobileye's image processing – can build up a three-dimensional perspective of the vehicles ahead and the lane markings.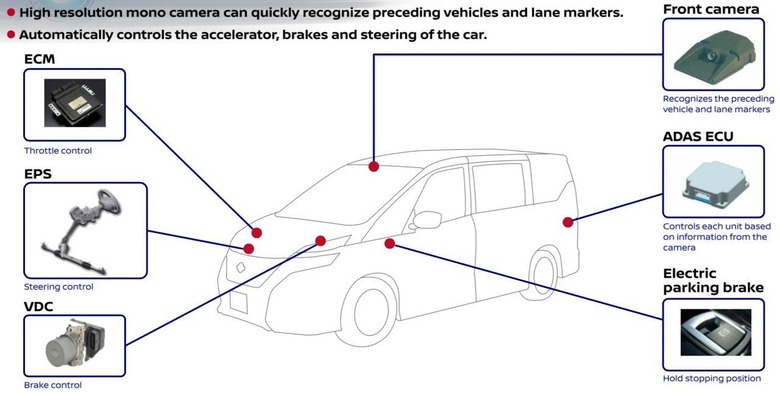 Systems from rival manufacturers often combine cameras with various other sensors, including ultrasonic and radar. Although several automakers have semi-autonomous options, their individual capabilities vary: in Tesla's case, for instance, Autopilot is designed to deal with multi-lane highways.
Nissan says it expects to bring ProPILOT to Europe in the new Qashqai come 2017, though while it is exploring availability in the US and China there's no specific release window planned.
Multi-lane support is expected to be added in 2018, complete with auto-lane-change, while the ability to drive autonomously with the ProPILOT system on urban roads and through intersections should follow on in 2020.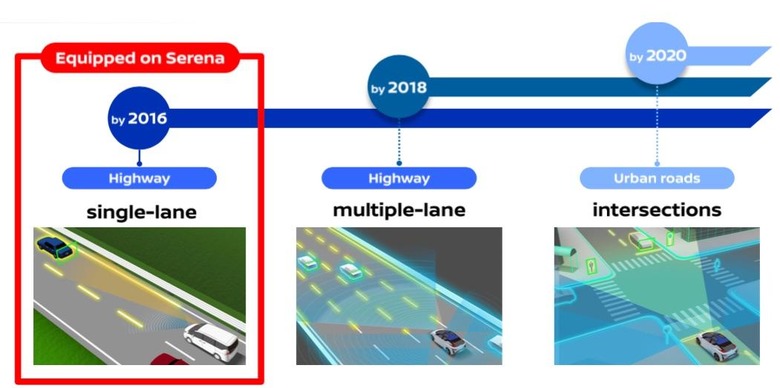 It's a gradual roll-out, certainly, and one which seems particularly deliberate given the controversy surrounding public use of fledgling autonomous driving systems. Tesla finds itself the poster child for that debate, given its enthusiastic deployment of Autopilot to Model S and Model X owners, and subsequent crashes that have occurred while the system was enabled.
Although Tesla maintains that Autopilot is not only safe when used correctly, but considerably safer than a human driver alone, the tendency of users to over-trust the capabilities of such systems may be their greatest weakness.
NOW READ: Inside Nissan's self-driving EV
Nissan began testing of its self-driving Leaf EV on public roads back in 2013, with its research & development chief promising autonomous driving was on the roadmap for 2020.
The eventual goal is an autonomous all-electric car, on the theme of the Nissan IDS Concept the company showed off last year.