Nissan's IDS Concept mixes autonomous EV with Google Now-style AI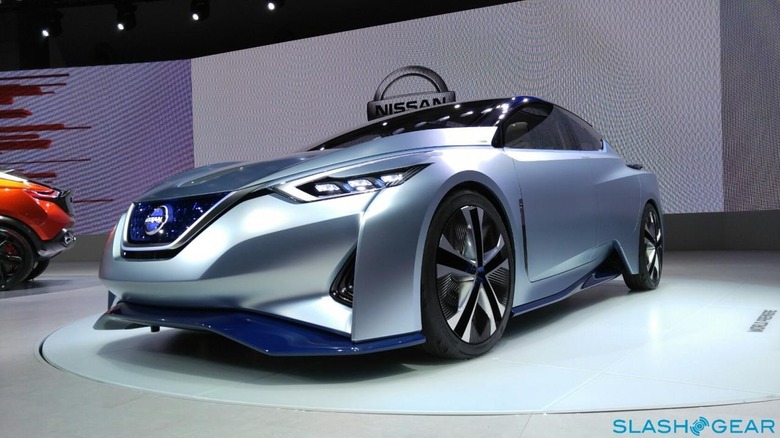 The newly-unveiled Nissan IDS concept car here at the Tokyo Motor Show isn't just a self driving car that happens to be electric, but a transformer too. Adjusting to meet each driver's own personal requirements – or simply taking the wheel itself – there's a manual drive mode for those who wish to go the traditional route, or alternatively the option to simply sit back, relax, and let the IDS chauffeur you around.
The car promises to learn your driving style and preferences, though to what extent – and exactly how – that's being done is still to be determined. In theory, at least, since it knows your schedule it can suggest the appropriate departure time, driving route, and even restaurant options along the way.
Inside, the steering wheel and rotating instrument cluster recede away when switched to autonomous mode. That leaves you with enough space to kick back and read a newspaper – yes, I'm going old-school while I'm surrounded by all this tech – with a beautiful iPad-like display appearing where the steering wheel once was.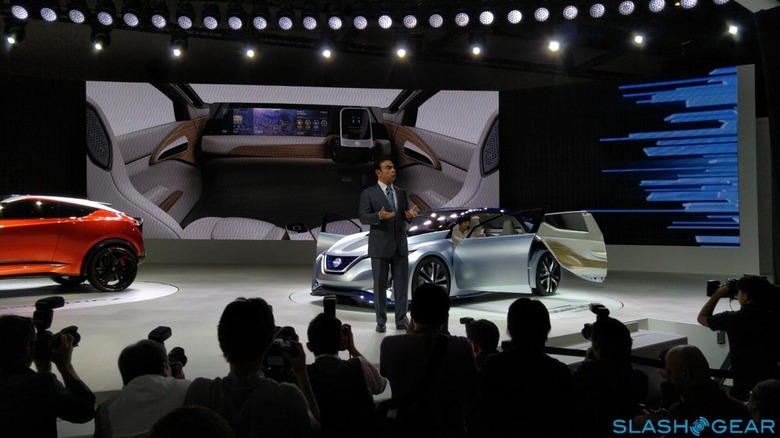 Similar to Mercedes-Benz's F 015 concept, all four seats can rotate inward giving you and other occupants a much more intimate, living room style setting.
It's perhaps best summed up by Nissan president and CEO Carlos Ghosn, who says "Nissan's forthcoming technologies will revolutionize the relationship between car and driver, and future mobility."
Even when you're in control yourself, the systems don't sleep. Instead, the, the same set of sensors and artificial intelligence continue to monitor road conditions, using a mixture of radar, cameras, and laser scanners to maintain a 360-degree view around the car.
It's often overlooked, but how self-driving cars communicate with pedestrians is a crucial aspect of autonomous technology. In Nissan's case, the designers outfitted the IDS Concept with a strip of LED lights wrapping around the outside of the car. Dubbed Intention Indicators, while in Piloted Drive mode the blue light is punctuated with white when pedestrians or cyclists are around, the patches moving as they track the passage of people around the vehicle.
It's a clever way of saying, "hey, I acknowledge your presence" without the IDS actually speaking.
Power, meanwhile, comes from a prototype next-generation 60-kilowatt-hour lithium ion battery with twice the density of today's Leaf EV. In theory that should dramatically increase the range, though Nissan is mum for the moment on exactly what that means in actual numbers. Were I a betting man, I'd say it's somewhere close to 200 miles for a full charge, considering the 30 kWh battery on the Leaf yields 107 miles of EPA-rated driving range.
It's not all that far-fetched, either. The technology to cram 288 cells into the same space as the existing 192 cells already exists today, according to Takao Asami, Nissan Alliance global vice president for research and advance engineering. In fact, there are vehicles with the 60 kWh battery already being tested on the road, but Nissan still needs to go through production engineering and product engineering phases before it can kick off full production.
Meanwhile, actually getting juice into those cells is courtesy of a wireless recharging system.
On a purely style basis, the IDS Concept is lightweight and has sharp lines, a low profile, and thin tires, which – along with the flat undercarriage – are all designed to be particularly aerodynamic. In fact, according to Nissan the wedge-like shape has an industry-leading drag coefficient of 0.2, with eye-catching features like the rear wing-shaped fender not only looking futuristic but benefiting airflow.
Though the shape might make it – in parts – to a production car, the materials might not. Keeping things lightweight is an all-carbon fiber body; right now, Nissan admits, it's overkill and extremely expensive, but with costs dropping in the future it could one day be a viable choice for the broader market.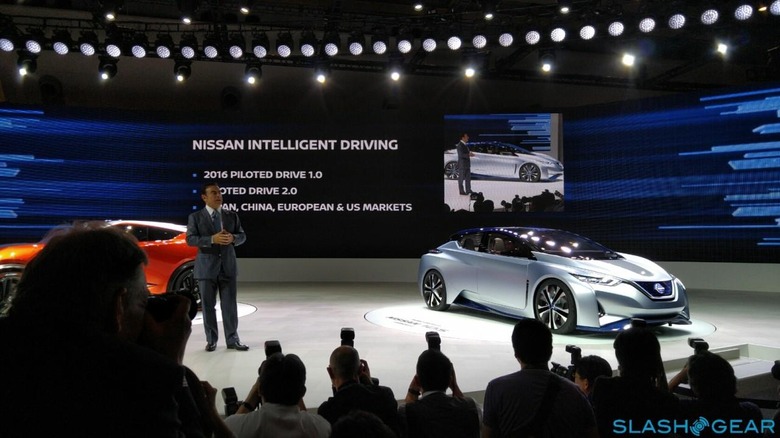 While a concept right now, Nissan has created the IDS it with a production roadmap in mind. The Intelligent Driving system takes the company one step closer to achieving its plans to offer autonomous drive technology on multiple vehicles by 2020 in cities around the world.