Nissan Leaf Self-Driving Car First-Drive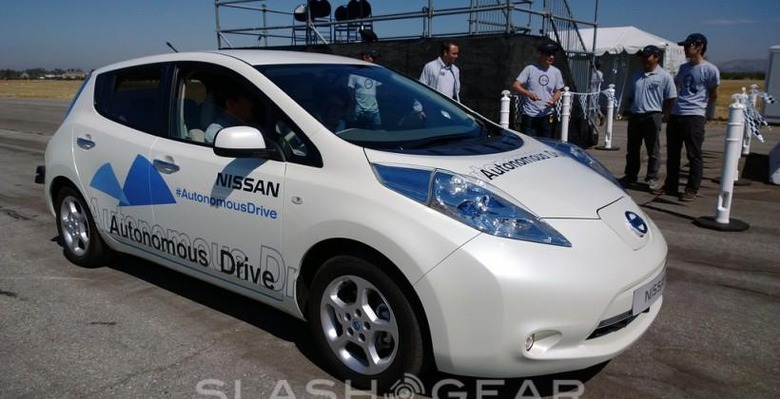 Autonomous cars aren't just the preserve of Google and MIT; Nissan has been working on its own self-driving technology, and we took a ride in the custom Leaf EV to see just how the future feels. The technology uses a special, second-gen version of the Safety Shield technology Nissan will debut on production models this year, upgraded with extra cameras and laser radar systems to identify and track other road users, pedestrians, and the surrounding terrain, and navigate through accordingly.
Safety Shield v.1 uses four cameras around the car to monitor for potential hazards, feeding the information to a 5.8-inch display integrated into the dashboard. It can flag up objects that might be in the driver's blind-spot, sound an alarm if they're tracking out of their lane, and highlight other moving cars.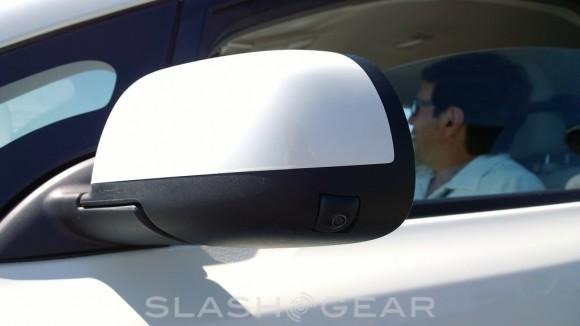 In this second-gen version, the Leaf EV's awareness of its surroundings has been raised to the next level. In addition to the original cameras there's now a LIDAR system – laser radar – integrated into the front and rear bumpers. Nissan's installation is a whole lot more discrete than Google's, however, the self-driving car prototypes of which carry drum-like LIDAR arrays on top.
Leaf-based Autonomous Car at Nissan 360:
Inside, the relatively low key fit-out continues. Where other autonomous car projects are filled with laptops, portable servers, and the like, the most obvious change in Nissan's custom Leaf is a big display mounted on top of the dashboard. That shows a dynamically changing map of the road around it, showing the road signs that the car has identified – such as "Stop" and "Yield" – along with graphics of other vehicles. Switching in and out of self-driving mode is done via the regular controls on the steering wheel.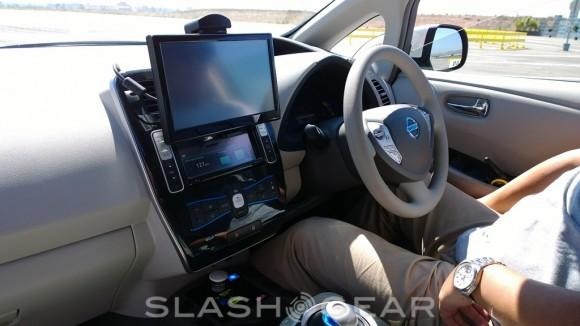 Once you're underway, just as with any autonomous car it's a feeling both eery and magical. The Leaf can follow the road as if a careful human was driving manually, pulling smoothly to a halt when necessary, and then pausing to allow other traffic past before moving off again.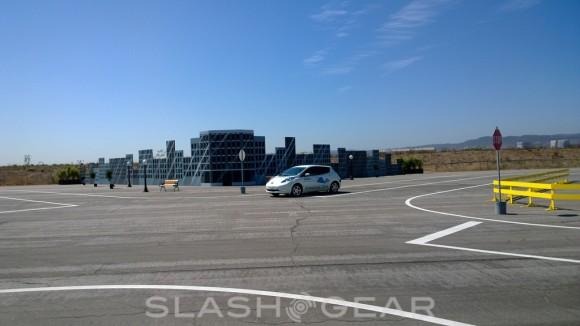 Lane-tracking isn't especially new – cars that warn when you're pulling outside of your lane have been on the market for some years now, and more recently there have been high-end models from Mercedes-Benz and others that can follow the road markings themselves – but Nissan adds to that with the ability to navigate around parked cars. As you can see in the video above, the Leaf automatically pauses for oncoming traffic when there's a car parked on its side of the road, then fires up the indicator and pulls out around the car when the road is clear.
As for when we could see Nissan's autonomous technology on the road, the company says it plans to take a somewhat different approach from Google and others researching such systems. Rather than wait until cars can be fully self-driving, president of the Nissan Technical Center North America and SVP of NNA R&D Americas Carla Bailo told us, the company instead sees it arriving piecemeal over the coming years, catering first perhaps to "contained communities" such as retirement communities where residents might simply order up an autonomous car to take them to the grocery store.