Nintendo DSi and DSi XL price cut coming September 12th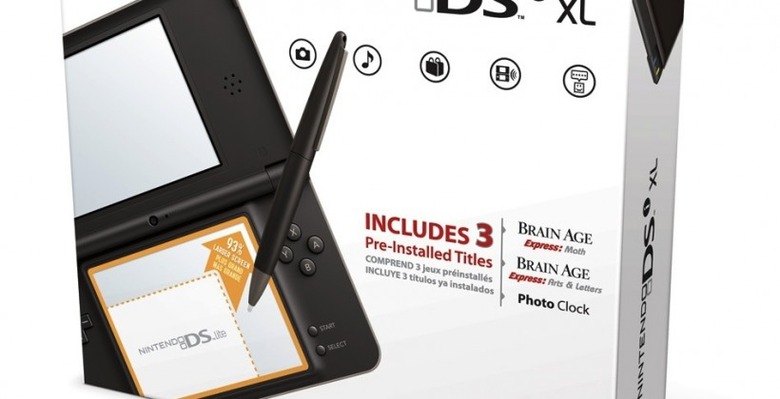 Nintendo has announced price cuts for the DSi and DSi XL, with the two portable consoles set to shed $20 apiece.  As of September 12th, the Nintendo DSi will be priced at $149.99, while the Nintendo DSi XL will be $169.99; the DS Lit will stay at $129.99 as before.
Nintendo are billing the price cut as a generous offer to US customers wanting to squeeze the value out of every dollar, though we'd also wager that tumbling DSi sales had something to do with it as well.  The company dropped Japanese prices for the handhelds back in June.
Of course, it also gives them the opportunity to clear stock ahead of the 3DS launch, about which Nintendo are expected to reveal more details come September 29th.
Press Release:
Nintendo Dropping Prices of Nintendo DSi and Nintendo DSi XL Systems on Sept. 12

Latest Versions of Best-Selling Portable Video Game System in History to Be Priced at $149.99 and $169.99

REDMOND, Wash.–(BUSINESS WIRE)– Nintendo is dropping the suggested retail price of its Nintendo DSi™ and Nintendo DSi XL™ video game systems. Effective Sept. 12, the new suggested retail price of the Nintendo DSi system will be $149.99, while the new suggested retail price for the Nintendo DSi XL system will be $169.99. The Nintendo DS™ Lite model will remain at a suggested retail price of $129.99. The Nintendo DS family of video game systems is the best-selling in the history of the U.S. and worldwide. The new prices offer consumers tremendous value for their money while providing access to the best portable video game experiences possible.

"We know shoppers want to get the maximum value out of every dollar they spend," said Cammie Dunaway, Nintendo of America's executive vice president of Sales & Marketing. "Our new Nintendo DSi prices make it easier than ever for consumers to access the tremendous variety of games, applications and social tools on the Nintendo DSi and Nintendo DSi XL systems."

The Nintendo DSi and Nintendo DSi XL systems offer consumers access to more than 1,300 packaged games and more than 200 downloadable games. Both systems feature two built-in cameras and photo- and sound-manipulation software that provide for a more social experience. Users can wirelessly upload photos to Facebook with the touch of a button (wireless broadband Internet access required). The Nintendo DSi XL system, which features a screen that is 93 percent larger than that of the Nintendo DS Lite, comes pre-loaded with software like Brain Age™ Express: Math, Brain Age Express: Arts & Letters, Flipnote Studio™, Photo Clock and the Nintendo DSi Browser.

Through the end of July, total Nintendo DS family hardware sales are more than 42.3 million in the United States alone, according to the NPD Group. Recent and upcoming software releases for the Nintendo DS family of systems include DRAGON QUEST® IX: Sentinels of the Starry Skies™ (now available), Professor Layton and the Unwound Future™ (Sept. 12), Pokémon™ Ranger: Guardian Signs (Oct. 4), Art Academy™ (Oct. 25), Mario vs. Donkey Kong™: Mini-Land Mayhem! (Nov. 14) and Golden Sun™: Dark Dawn (Nov. 29).

Remember that Nintendo DSi features parental controls that let adults manage the content their children can access. For more information about this and other features, visit http://www.nintendodsi.com.

About Nintendo: The worldwide pioneer in the creation of interactive entertainment, Nintendo Co., Ltd., of Kyoto, Japan, manufactures and markets hardware and software for its Wii™ home console and Nintendo DS™ family of portable systems. Since 1983, when it launched the Nintendo Entertainment System™, Nintendo has sold more than 3.4 billion video games and more than 565 million hardware units globally, including the current-generation Wii, Nintendo DS, Nintendo DSi™ and Nintendo DSi XL™, as well as the Game Boy™, Game Boy Advance, Super NES™, Nintendo 64™ and Nintendo GameCube™ systems. It has also created industry icons that have become well-known, household names such as Mario™, Donkey Kong™, Metroid™, Zelda™ and Pokémon™. A wholly owned subsidiary, Nintendo of America Inc., based in Redmond, Wash., serves as headquarters for Nintendo's operations in the Western Hemisphere. For more information about Nintendo, please visit the company's website at www.nintendo.com.