Ninety7 Vaux Review: Echo Dot Speaker-Battery Cuts Alexa's Cord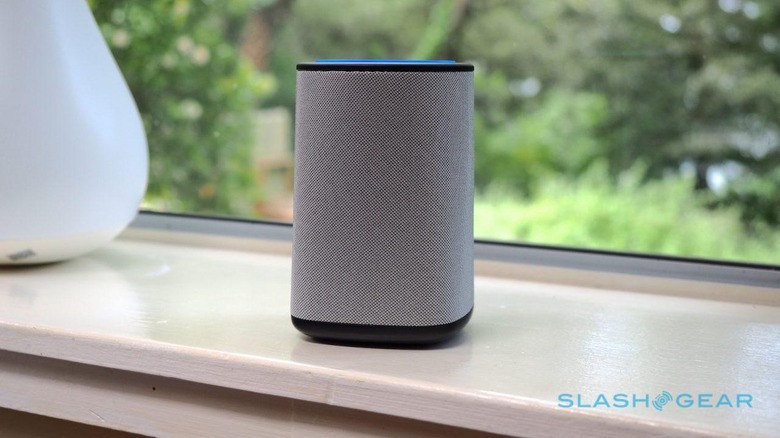 EDITORS' RATING: 8/10
It's easy to get hooked on having Amazon Alexa around, but though the affordable Echo Dot's always-listening microphones are good, there's no beating the true portability of a battery-powered speaker. Rather than splash out on an Amazon Tap, though, Nintey7's Vaux offers an upgrade route to make an Echo Dot mobile. For $49.95 you can not only cut the power cord, but boost Alexa's volume in the process.
At first glance you could mistake Vaux for a Sonos PLAY:1. At about 6.4-inches tall it has a square base but tapers in slightly to a circular top. Almost all of the sides are clad in fabric, either ash gray or black. The base is non-slip rubber. It's not really eye-catching, but it feels sturdy and well constructed.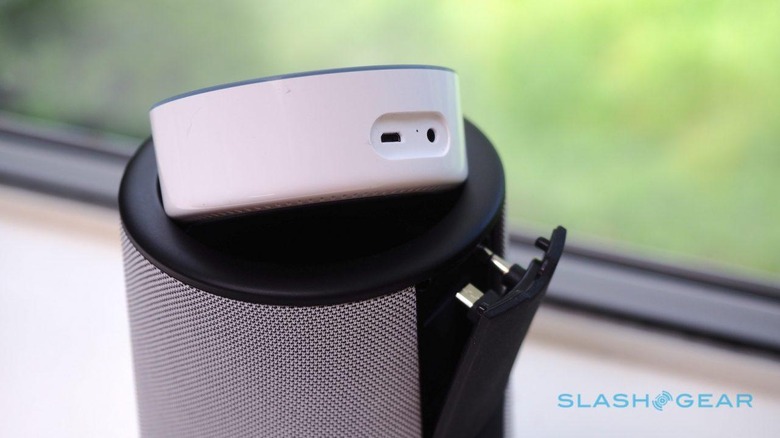 Setup is straightforward, too. Pull open a rubber flap on the back of Vaux, and there are two short cables: microUSB for power, and a 3.5mm plug for audio. Drop your Echo Dot into the circular bay at the top, line up the sockets at the back, and hook up the two cords; the rubber flap closes back up to keep things looking tidy.
The Echo Dot sits ever so slightly proud of the top of its bay, allowing you to see the color band that flashes when Alexa is processing or glows when you have an voice message from across the room. There's nothing actually holding the Echo Dot in place beyond the two cables, however. Still, I found I could turn the whole speaker upside-down and shake it, without the Dot falling out.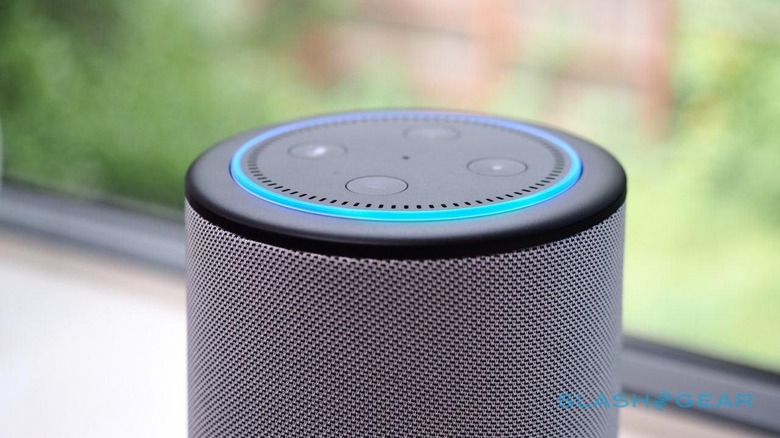 On the back of Vaux there's a power button, 3.5mm input for other audio sources, and a microUSB port. The latter relies on the USB charger that Amazon supplies with the Echo Dot; indeed, Ninety7 warns that it's the only power adapter you should use. Vaux works both plugged in permanently or from its internal battery.
In use, the experience is much like a full-sized Echo. All the Echo Dot controls still work for volume and microphone-mute, it's just that Alexa is much louder. Volume levels are similar to what you'd get from a regular Echo too, though Vaux does distort more at the top end of its volume scale. Bass isn't as thumping either, though treble and mids are solid.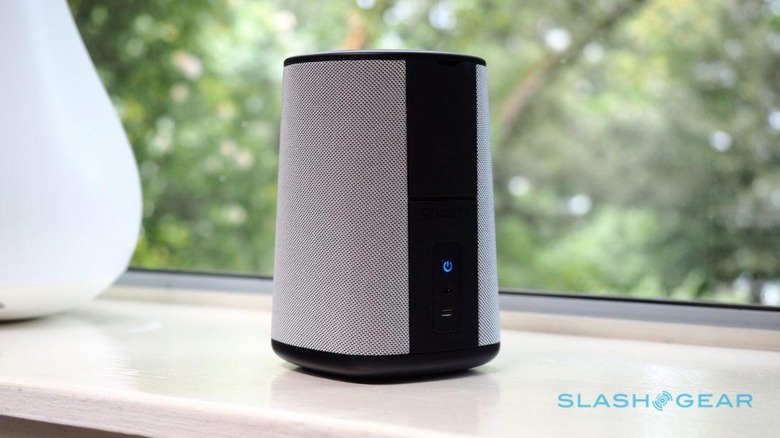 In short, it falls somewhere in-between the Echo Dot and the Echo in quality and power, as you might expect. Periodically Vaux makes the odd burp and pop, as the speaker or the Echo Dot itself goes into standby. If it's right next to you on the desk, you might find the very slight hiss annoying too; it's quiet, but noticeable if there's no background noise.
Nintety7 suggests you'll get six hours of battery life from a full charge. In practice, the Vaux lasted for around five hours of solid music playback at mid-volume range. Less than you'll get from many Bluetooth speakers, true, but being able to move your Echo Dot from one place to another – or take it outside – without interrupting its streaming audio is handy.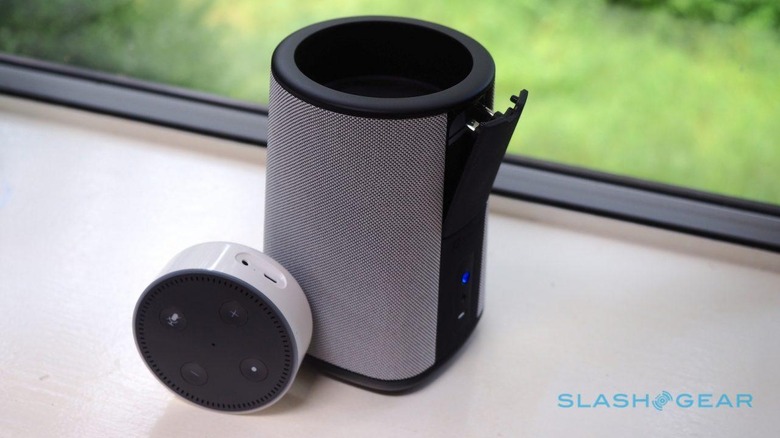 Vaux arguably made a lot more sense when the Amazon Tap still demanded you press a button to trigger Alexa. Since launching, though, Amazon pushed out a firmware update that did away with that limitation; now, like the regular Echo and Echo Dot, it'll listen out for the wakeword. Tap's battery life is several hours more than Vaux's, too, and it comes with a handy charging dock.
NOW READ: Amazon Echo Dot Review
Still, at $130 Tap is more expensive than buying both an Echo Dot and Vaux. Neither system is waterproof, but I found Vaux was better at catching my voice instructions from across the room. Honestly, if you want noticeably better audio quality than either offers, you'll have more impressive results hooking up a big external speaker – either wired or Bluetooth – to the Echo Dot, but then you lose the flexibility of a battery.
Wrap-Up
There are a few ways to take Alexa with you, and plenty of ways to get louder or higher-quality audio from an Echo Dot, but not that many options if you want some of both. Vaux's music improvements aren't going to wow audiophiles, and its battery life won't untether you for a whole day, but considering it's one of the cheapest ways to both amplify and cord-cut Alexa, those compromises seem acceptable to me. At under $50, Vaux is a no-brainer upgrade for those who dipped a toe into Amazon's voice-control ecosystem and found they can't quite live without Alexa's help.