Nexus 7 new vs old: the big pixel boost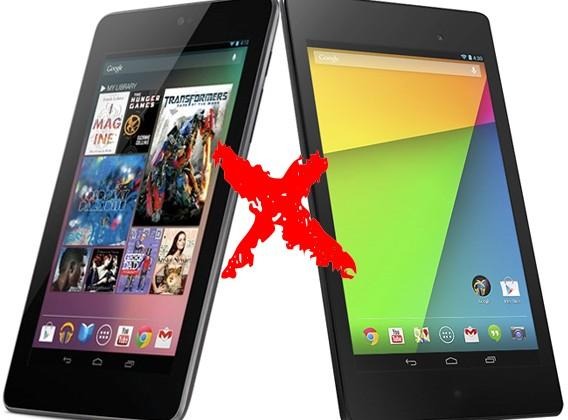 This week Google reveals the next generation in their
tablet line, keeping the name and amping up the display resolution to nearly double that of Samsung's newest effort. While this device takes the Samsung Galaxy Tab 3 7.0 to the cleaners with its display alone, the most important comparison we can make at this moment is between the Nexus 7 and its biggest competitor – its predecessor!
What you've got with the new Nexus 7, what we'll be calling Nexus 7 2 from this point on for ease in differentiation, is a machine that aims to feel rather similar to the original Nexus 7. The Nexus 7 2 works with a new back-facing camera (at 5 megapixels) where the original works with only a front-facing shooter. Both machines' front-facing cameras are the same 1.2 megapixels strong – on the surface – but we'll be the judge of which shoots better when we get them both set up next to one another in the field.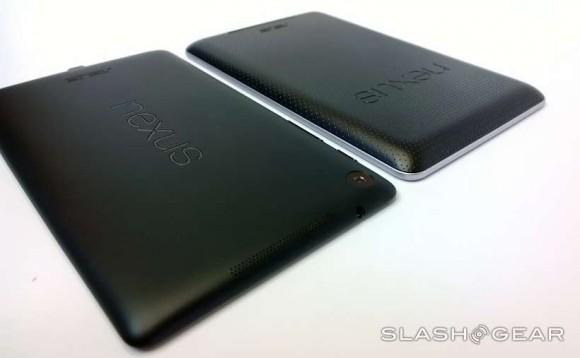 The Nexus 7 2 axes the
processor present in the original and brings on a
Snapdragon S4 Pro. This is a quad-core processor working with Adreno 320 graphics, this taking the tablet down an entirely different avenue for potential features.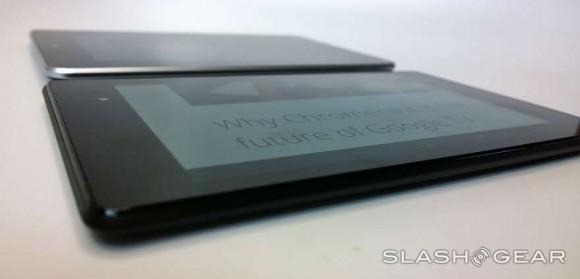 Where NVIDIA remains focused in the gaming universe – see SlashGear's
and note how often the Nexus 7 pops up – Qualcomm's approach in promoting processor power appears to remain a bit more subdued. Qualcomm's Snapdragon line lives in the
as well, and you'll not see NEARLY as much press coming from the big Q as you have from NVIDIA for the Nexus 7 and its Tegra 3. We'll see if this trend continues through this tablet's release.

To back these processors up, the original Nexus 7 has 1GB RAM (LPDDR3) while the Nexus 7 2 rolls out with 2GB RAM (DDR3). The original Nexus 7 originally (not for long, but they're out there) had an edition sold with just 8GB of internal storage – now both the original and this new edition start with 16GB internal storage and have a 32GB edition as well.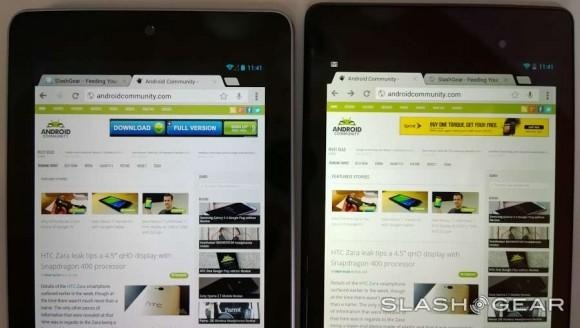 Below you'll see two close-up photos of the Nexus 7 (old and new), both shot with the
in 41MP mode by Vincent Nguyen. Why not, right?
The original Nexus 7 works with a 7-inch 1280 x 800 pixel IPS LCD display working at 216 PPI. The Nexus 7 2 brings on a 7-inch 1920 x 1200 pixel IPS LCD display at 323 PPI. That's the most dense display to exist on a tablet form-factor device thus far, and it far and away beats out both the "Retina" full-sized iPad (236 PPI) and the iPad mini (163 PPI).

The Nexus 7 2 has a different shape than the original Nexus 7, to a degree that will require new protective cases, skins, and the like to be made and used – wide open for casemaking opportunities! The original comes in at 7.81 x 4.72 x 0.41 inches (198.5 x 120 x 10.45 mm) while the Nexus 7 2 is 7.9 x 4.5 x 0.3 inches (201 x 114 x 8 mm). The original weighs a little more than the new iteration as well – 11.99 oz (340 g) for the old and 11.2 oz (318 g) for the new.
While the Nexus 7 starts at $199 for its 16GB version and ramps up to $249 for its 32GB version (and $299 for its 32GB, AT&T or T-Mobile versions), it's unclear what will happen to remaining stock once the new Nexus 7 2 is released in full. We do know that the Nexus 7 2 will change up the pricing scale slightly: 16GB will cost $229 USD while the 32GB edition will start at $269 USD.
And of course there's the software differences when this new Nexus 7 arrives, but the added abilities of this new model will cut down to minimal once the older model gets its own software upgrade – one we're sure won't be far off. Now it's on you!