Nexus 5 video shows KitKat early build, hardware from France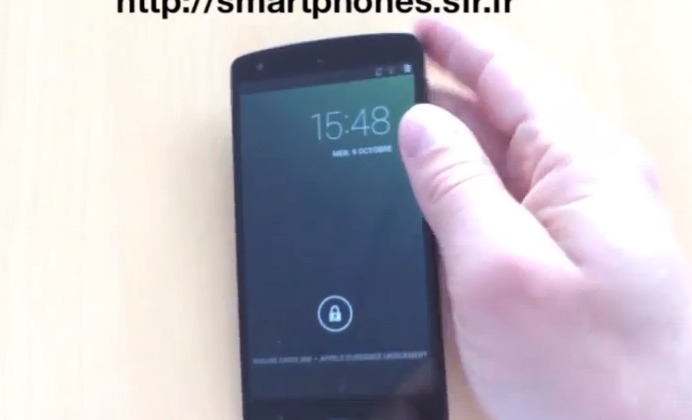 This morning a lovely piece of video has surfaced showing the LG-made Nexus 5 from all angles, complete with an early version of KitKat called Key Lime Pie. This device appears to be working with KitKat, but as you'll find in the menu pull-down the user attains right off the bat, he'll be heading down to the version of the software released to Google's developers before the name change. You'll also find this device's software moving swiftly – Buttery smoothness in full effect.
A lot of the changes made in the latest builds of Android 4.4 KitKat do not appear here in this particular hands-on video. You'll find the icons too to be less-than finalized, looking a lot more like Android 4.3 Jelly Bean. It's the hardware and the quickness with which the Qualcomm Snapdragon 800 processor is working, therefor, that you may want to pay the most attention to most in this early Nexus 5 vision for the future.
Up front, this device works with a lovely and massive display. On the back, you'll find a large camera lens, likely there for optical image stabilization, and a complete lack of the word NEXUS. The early nature of this hardware build is emphasized by the fact that NOT FOR SALE is ingrained in the back of this smartphone. This is just a bit different from the Italian leak we saw earlier this week.
You'll also find some odd locations of parts here and there. There is a single SIM card slot on the upper right-hand side, a couple of speaker grills with big holes at the bottom, and a microUSB port at the bottom as well, right up against the back panel cover for the battery within. It's not yet known if this device will allow the full removal of its battery or not.
The right side of this device works with a simple power button right above the SIM card slot, and at least one microphone hole (up top) near the single standard headphone jack. This piece of hardware continues to appear to be based on the LG G2 in kind, with a slightly modified build to make it Google's own.
Have a peek at the timeline below for more information on this upcoming release along with a whole lot more information on Android 4.4 KitKat as well!