Nexus 5 hardware photographed: launch imminent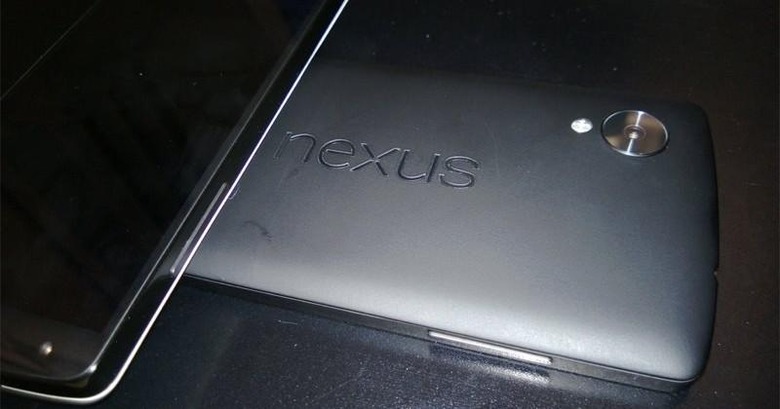 In terms of clues leading up to the launch of a product, it would seem that an overly abundant amount of photos, specifications, and business moves by Google have lead the way to the Nexus 5 this past month. What we're seeing today, here on the first of October, is a single photo that lends itself extremely convincingly towards the idea that an LG-made Nexus 5 release is right around the corner. Is this not the same device we've seen in FCC listings and KitKat teasers several times over?
The Nexus 5 has appeared in a (now edited) MacRumors forum post where a user by the name of weespeed suggests that this machine is ready for action. Unlike the device the Nexus 5 is almost certainly based on (the LG G2, that is), size seems to be minimal. Here's what may constitute as the first up-close encounter with the LG-made Nexus 5 to date.
"Got to handle the Nexus 5. It is smaller than the G2.

Didn't actually measure it, but holding it in the hand it is smaller.

It does feel good holding it. The black back cover feels like my Nexus 7.

The screen was ok, didn't wow me like the Note 3.

The bezel is very small." – weespeed
The image you're seeing above is indeed the photo posted by this user then quickly retracted. It's likely this device was not meant to be photographed or spoken of by this user – and in all likelihood, it was simply shared by someone at Google giving it a test run. Specifications persist, and as the finders of this forum post Droid Life suggest, there's no reason to believe the following has changed as yet.
NOTE: You'll also notice what may very well be a white iteration of the Nexus 5 laying on top of the black edition – will both be released at the same time? We shall see!
The Nexus 5 will likely appear with a 5-inch Full HD 1080 x 1920 (or thereabouts) resolution display with 442 PPI (therefor also possibly 4.97-inches in actual size, diagonally). It's also said that this machine will work with the Qualcomm Snapdragon 800 quad-core processor with 2GB of RAM under the hood with 16GB of storage as minimum, with an 8 megapixel camera at its back and a 1.2 megapixel camera at its front. Inside it's also suggested that a 2300 mAh battery will be joined by Qi-standard wireless charging.
Have a peek below at a collection of photos and FCC listing images of the supposed LG-made Nexus 5, and take a stab with us at the release date of all the information in tune. Will October be over by the time we see the Nexus 5 fully packed with Halloween-friendly Android 4.4 KitKat?